Focused on building high performance homes in the North Shore and Greater Vancouver, locally-owned Hasler Homes is celebrating 10 years of "Building the Future" in B.C.'s home-building industry!
The North Shore-based custom home-building company are the recent winners of the Canadian Home Builders' Association's 2021 National Awards for Housing Excellence in the Net Zero Home category for their Linda Vista project in North Vancouver.
Meaning "pretty view" in Spanish, Linda Vista exemplifies the best of what this Qualified Net Zero Builder has to offer, which is a strong focus on building an energy-conscious home through implementing renewable energy systems — such as the 40 solar panels installed on the roof.
There is high attention to detail throughout the home — from the high-efficiency windows that show off panoramic views of the surrounding landscape, to the high ceiling, glass wall, and skylight combination that invites in natural light. Linda Vista also incorporates many energy-saving and smart technologies, including an air-to-water heat pump and high-performance insulation.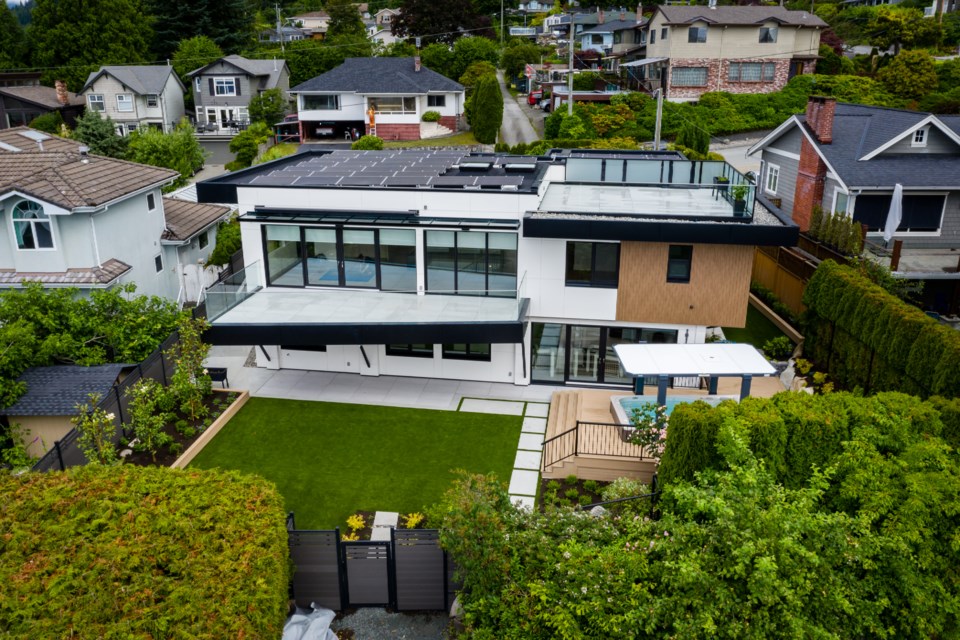 Linda Vista. Photo: Hasler Homes.
As homeowners become increasingly aware of their environmental impact, energy-efficient home construction has become a top priority for Hasler Homes, who aim to always be on the forefront with better home-building practices.
"In this coming year, we have a lot of clients that are really eager to do Net Zero builds," shares Greg Hasler, owner and founder of Hasler Homes.
As the leader of Hasler Homes, Greg was first introduced to the world of home-building through his involvement with a family friend's construction company. As someone with an aptitude for working with his hands, he found himself working in the construction field within a building company in West Vancouver, eventually landing in a leadership role within the organization.
"What I really fell in love with at first was looking at architecture and watching as architects brought ideas to life from a 2D drawing to 3D reality," says Greg. "When I started my own company, I would watch homeowners' expressions and see how excited they got when they saw the finished product. That to me is the stamp of approval and is the reason why I do what I do."
Over the last decade, Hasler Homes has built up a reputation as a top-tier, start-to-finish construction company focused on high quality and high performance custom homes and large renovations, with much emphasis on attention to detail and customer care.
"We've worked with a lot of really amazing homeowners in Greater Vancouver, from the Linda Vista build to our Del Monte and Edgemont projects," says Greg. "We get great opportunities to work with these people and bring their visions to life."
The Hasler Home team, or the "artists" as Greg refers to them as, are the ones who "bring it all to life and help pave the way to get us towards building these homes."
For Greg, having a team-oriented and values-driven group is key to Hasler Homes' success.
"I want a united team, because one person is not as good as having many people on board," says Greg, who also counts accountability, trust, transparency, and a family-first approach as crucial to his relationships with both his employees and their clients.
After 10 years in the industry, Greg recognizes that while there's still lots of work to do and more that their team is going to accomplish, he is very satisfied with how far Hasler Homes has come in their home-building journey.
"I believe this milestone gives us certainty that we've done a good job and are on the right path," Greg says. "I feel super lucky that we're in this position and I'm looking forward to the next 10 to 20 years."
For more info, visit haslerhomes.ca.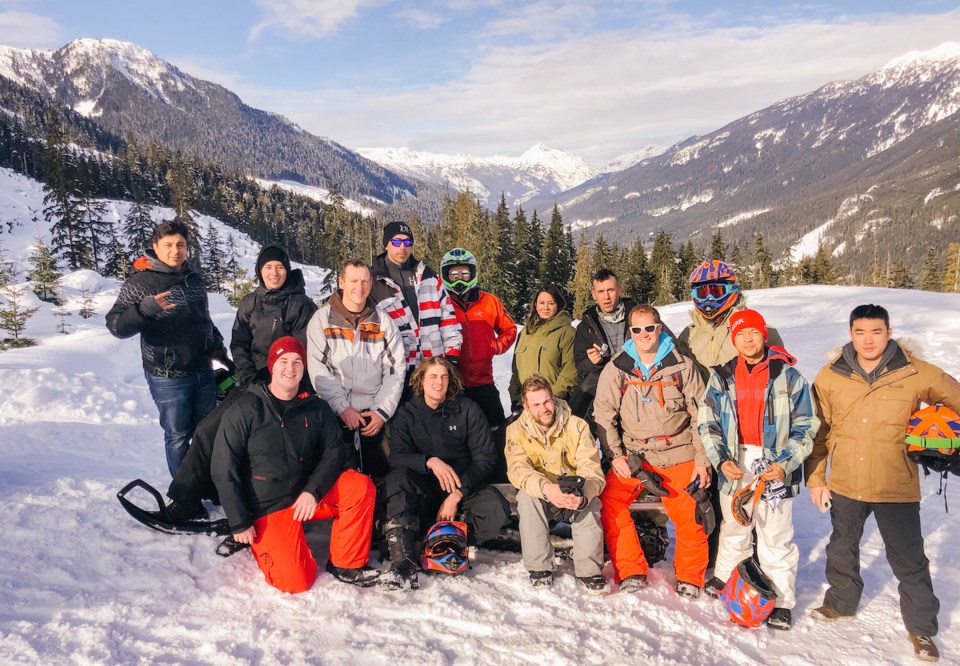 Photo: Hasler Homes.
In celebration of their company's 10 year milestone, Hasler Homes is giving one lucky winner an AWESOME Winter Getaway Package to one of their favourite team retreat destinations in B.C. — WHISTLER!
The Hasler Homes Grand Prize includes:
To enter for your chance to win, follow @haslerhomesltd on Instagram and like and tag a friend on their Instagram contest post by December 22, 2021. Winner will be selected and announced on December 23, 2021.
Good luck!