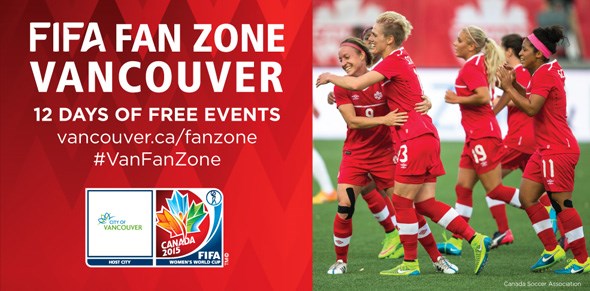 The 2015 Women's World Cup is on until July 5, and the City of Vancouver and FIFA are throwing a huge free festival in downtown Vancouver this summer to celebrate!
Just head down to Larwill Park at Cambie & Georgia to experience the Vancouver FIFA Fan Zone for twelve days in June and July. It's a free, family-friendly soccer celebration to welcome the world and share the spirit of the World Cup with Vancouverites and visitors.
There's a ton of stuff to do and see at the Fan Zone, including:
- Big screens: Live soccer match broadcasts on a big screen!
- Live music: A lineup of great local acts reflecting diversity and strong female performers will be showcased on the main stage.
- Soccer demos: See street soccer and youth soccer exhibition tournaments, plus professional freestyle footballer Laura Biondo will perform three 15-minute sets daily.
- Meet the athletes: Get autographs and high fives when players make appearances at the Fan Zone daily. Plus, the mascots will also be around!
- Hands-on activities: Challenge your soccer skills with shootouts, reaction challenges, skills drills with SFU & UBC women's soccer coaches, and more! Plus, visit the FIFA FAN EXPERIENCE to learn about the history of soccer and more.
- Food and drink: There will be food trucks themed by the countries playing that day, plus beer can be purchased in the main area. Free Coca Cola samples are available at the Perfect Serve tent.
- Contests and giveaways: Tweet a picture with the #VanFanZone hashtag and you'll be entered to win a pair of tickets to a Women's World Cup game!
Here's a fast look at the dates the Fan Zone is open:
Sat June 6 - 12 to 7pm (CANADA vs. CHINA match; opening match)
Mon June 8 - 3 to 9pm
Thu June 11 - 12 to 9pm (CANADA vs. NEW ZEALAND match)
Fri June 12 - 12 to 9pm
Mon June 15 - 12 to 8pm (CANADA vs. NETHERLANDS match)
Tue June 16 - 12 to 8pm
Sun June 21 - 9:30am to 8pm
Tue June 23 - 3 to 10pm
Sat June 27 - 12 to 8pm
Wed July 1 - 12 to 8pm (Happy Canada Day!)
Sat July 4 - 12 to 8pm (Third Place Match)
Sun July 5 - 12 to 8pm (Championship Final)
If you're ready to go: check out vancouver.ca/fanzone to get the detailed daily schedules of activities and more.
And you can follow the City of Vancouver on social media to keep up with Fan Zone happenings!
Hashtag: #VanFanZone
Twitter: @CityofVancouver
Facebook: /CityofVancouver
Instagram: @CityofVancouver
[SPONSORED POST]
This Content is made possible by our Sponsor; it is not written by and does not necessarily reflect the views of the editorial staff.