Hopscotch Festival, Canada's largest celebration of premium Whisky, Craft and Premium Beer, Spirits, Cider and Wine returns to Vancouver November 18 - 24, 2019 at the PNE Forum.
Need your spirits raised? We've got just the ticket. Well, four tickets to be precise.
Hopscotch Festival is back and bigger than ever! The multi-day celebration of whiskey, spirits, beer and wine will feature Master Class Tastings s, dinners and an epic grand 2-day tasting event, hosted at the 50,000 sq. ft. PNE Forum in Vancouver.
The Grand Tasting Hall will be filled with thousands of guests, plus 450 Craft and Premium Beers, Scotch and other Whiskies from around the globe, as well as vodkas, tequilas, gins, rum, ciders, wines and other amazing products. This is an absolutely AWESOME opportunity for anyone that loves, appreciates, or is simply fascinated by craft and premium libations, as attendees will get to sample some of the greatest spirits, beers and wines currently available to the public. In addition to tastings, High Point LRS will be there as the resident on-site liquor store that will sell almost all of the spirits/wines available to taste, some of which are extremely rare and can only be found in Vancouver at this single event.
Hopscotch Festival will also serve a selection of spectacular food courtesy of local restaurants, food vendors and chefs. Guests will make their way around the room, enjoying their favourite drinks, making some friends, listening to incendiary live music, eating some food and discovering plenty of new libations along the way. Hopscotch encourages you to have fun, but please remember to drink responsibly.
Needless to say, Hopscotch is pretty special… but we haven't even gotten to the best part.
This year's festival is already 95% sold-out, fortunately, we've partnered with the festival to provide one group of 4 a Hopscotch experience like no other. Don't sleep on entering or purchasing tickets, as this year's festival is guaranteed to sell-out in the next few days. Follow this link to receive $5 off your ticket.
The Hopscotch VIP Tasting Experience Grand Prize includes the following:
• 4 Tickets to Hopscotch Festival
• 80 Tasting Tokens + Tasting Hall Access
• $100 Gift Certificate to Tacofino Hastings Commissary by the PNE Forum
• $100 Gift Certificate to the High Point LRS on-site store at Hopscotch Grand Tasting Hall
• 1-night stay at Stay for 4 in a Superior Two Queens Bedroom at the Exchange Hotel Vancouver
Total Value: Approx. $880CDN
You can enter via the form below, be sure to check out the bonus entries!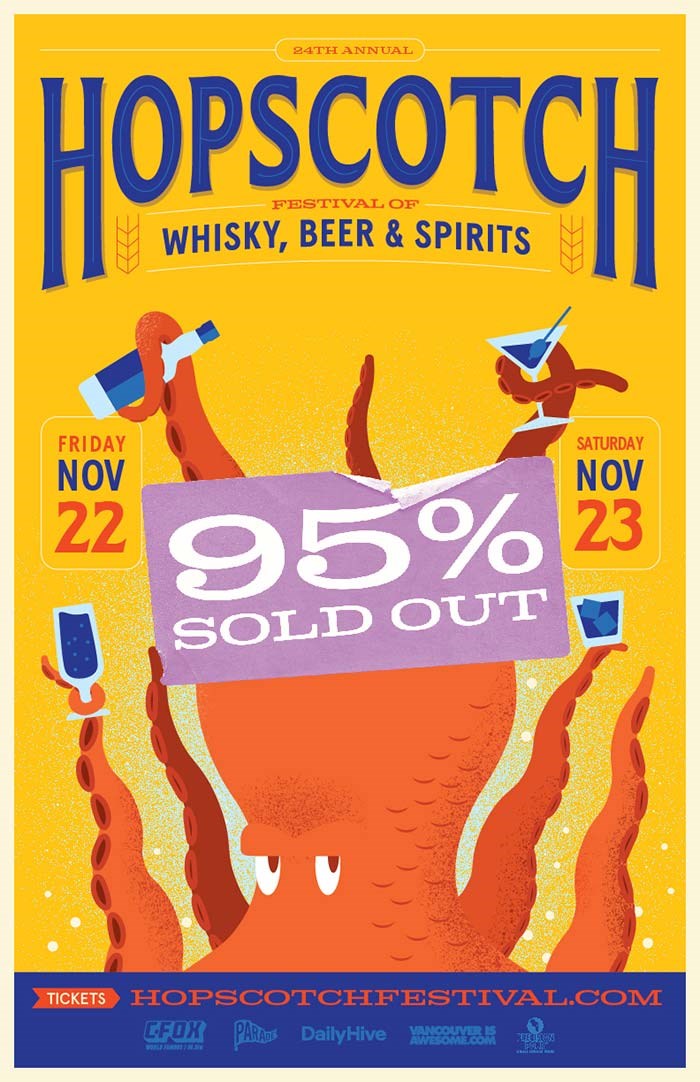 Vancouver's favourite all-out celebration of local and premium libations returns November 18 - 24, visit hopscotchfestival.com for more info.
Serving It Right Rules apply. Please drink responsibly and be sure to plan for a safe way home! You must be 19+ to attend Hopscotch, 2 pieces of ID are required for entry. Tickets are non-refundable. High Point LRS gift certificate must be collected at the Grand Tasting Hall by contest winner. ID will be checked. Certificate is only valid at the onsite store and not at the High Point LRS Brick and Mortar store.