A where-to-apply guide for anyone seeking a job or career with meaning in Vancouver.
A job that you don't feel connected to will never be a career, at least not an enjoyable one.
If you're seeking a workplace that shares your same values, be sure to attend this year's Impact Career Fair. The mission of this unique career fair is to connect 400-500 job candidates with some of Vancouver's most forward thinking companies.
Attendees will be able to meet company representatives, learn more about the origin stories of each company, why they started, what their missions are, and how they plan to make a difference in the world. Check out some of the attendees below or learn more about the career fair HERE.
Galvanize: Software that protects citizens around the world
Recently the Vancouver-based software company formerly known as ACL announced their rebrand to Galvanize. The change comes after a radical expansion of their services, yet the one thing that hasn't changed is their commitment to helping organizations stomp out fraud and waste. For 30+ years, Galvanize has delivered groundbreaking risk management software to over 7,000 public companies and governments in over 140 countries around the world. This mission is reflected in the Galvanize name, which communicates the protective layer that their software solutions bring, helping organizations and individuals to do heroic work.
Galvanize earns their superhero status by producing software used to identify instances of fraud and illicit financial transactions funding organized crime. In one example of modern-day superheroism, they partnered with the Secretary of State in Oregon to help dismantle a Mexican drug cartel that was fraudulently using food stamps and channeling the money to Mexico. Whether they're taking down drug cartels or increasing corporate productivity, Galvanize is empowering individuals and organizations around the world to create a brighter future for us all. If you're interested in being a software superhero you can learn more about careers at Galvanize and their AWESOME employee benefits HERE.
The Joseph Richard Group: hospitality that makes a difference
If you're looking to join a team that's passionate about hospitality and meaningful acts of kindness, we have the company for you.
The Joseph Richard Group (JRG) owns and operates over 25 establishments, including public houses, restaurants, a boutique hotel, a winery and liquor stores. With an unwavering commitment to exceptional customer service led by a team of like-minded, people-loving individuals, JRG is ultimately a community-driven enterprise at its core. The annual JRG Sleep Out aims to raise funds for youth Homelessness, while the JRG Community Day donates partial proceeds from each JRG Public House to local charities in each of their communities. JRG also supports local organizations such as Schools, Hospital Foundations, and various other charities, particularly Covenant House, Youth Unlimited, and Variety - The Children's Charity.
If you love making people smile, you'll love their signature Random Acts of Kindness program. Each year every JRG business is given three Random Acts of Kindness cards to give to their guests. Our team is encouraged to act on an instinctual feeling of thoughtfulness regardless of profit reports or job responsibilities. It simply includes waiving a guest's bill and matching that cost as a donation to a charity of the guests choice.
Whether it's over a cocktail or a charitable initiative, The Joseph Richard Group ultimately aims to brighten peoples day. To browse current job opportunities at JRG, visit their website HERE.
VoiceStory: sharing struggles through storytelling
If you're curious about the power of authenticity and vulnerability, or in need of a little inspiration or motivation, look no further than VoiceStory.
VoiceStory Live is a monthly speaking event created to provide a safe, positive space where any adult, regardless of age, gender, ability, race or sexual orientation, can share a moment of their lives and learned experiences that might help to inspire others who are stuck in the Sea of Suck.
These events are NOT about promoting a business, pitching a product or trying to sign you up for a program, it's about combating social isolation and finding connection in our shared struggles, despite our differences.
With topics ranging from mental health in the workplace, to vulnerability, curiosity, grief and shame, these monthly speaking events are truly cathartic experiences. Ultimately VoiceStory is about creating moments where we can drop our guard and find support, relief and comfort in knowing that we're not alone. It's all about people telling their authentic stories of facing their fears, overcoming adversity, accomplishing achievements, and experiencing great adventures. People empowering people through storytelling to create connection and community. If you'd like to attend or speak at next month's VoiceStory, you can learn more at their website HERE.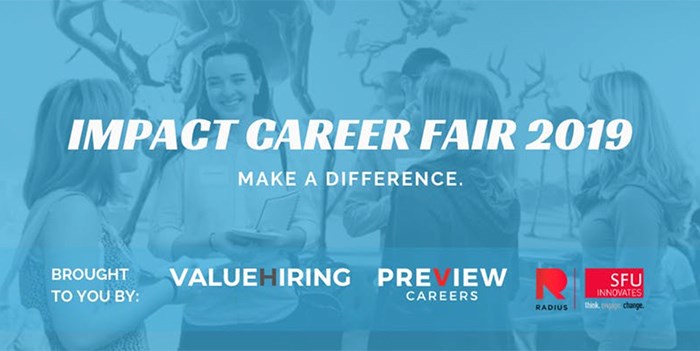 The Impact Career Fair brings a fresh, values-forward, and impact driven approach to recruitment by connecting mission-driven companies and candidates with the same values.
If you're craving a career with meaning attend the Impact Career Fair on May 29, 2019 at SFU's Segal Graduate School of Business. RSVP HERE.
IMPACT CAREER FAIR
When: May 29, 2019 (6:00pm - 9:00pm)
Where: Segal Graduate Centre (500 Granville St)