A good shower can set the tone for your day, energizing you to start your morning on the right foot, or for your evening, allowing you to unwind after a day's worth of activity.
In your shower space, you have quality time to yourself — to think, to be still, and even to sing your heart out to your favourite song.
Your shower is an essential part of your day-to-day life, so it makes sense to invest in your shower space to make it your sanctuary for self care in your home.
With elevated style and an intuitive interface, the smart showering solutions found in the brand new KOHLER® Statement™ and Anthem™ showering collections grant you complete control over your ideal shower configurations — including temperature, volume, and spray.
Through Statement specialized showerheads and Anthem digital valves and controls, you can activate the best showering experience every time you step into your at-home spa.

Photo: KOHLER
Personalize your shower with smart valves and controls
KOHLER was the first to transform showering with the introduction of the digital shower system, allowing users to customize their shower's water, lighting, sound, and steam for a multi-sensory experience.
Now, with the Anthem collection of digital valves and controls, you can experience the most advanced, intuitive, and immersive smart showering experience yet.
Anthem gives you independent command of water outlets for precise temperature, water volume, spray selection, and more. You have complete control over each shower component and can create and save presets of your preferred settings to enjoy the perfect showering experience each and every time.
Anthem's digital control centre offers a set of preconfigured hydrotherapies, with each designed to provide targeted showering experiences to help you Wake Up, Warm Up, Cool Down, Shine & Tone, and Sleep Simple.
The sleek, minimalist, and accessible digital control interface features a matte touch screen, easy-to-read, universal iconography, haptic feedback, and language options. Wi-Fi connectivity puts the control of your custom shower at your fingertips or your voice. Additionally, the built-in eco mode promotes mindful water usage by letting the user conserve water through the use of a single outlet.
Anthem's digital control pairs seamlessly with the KOHLER Konnect™ app and other KOHLER Konnect products, enhancing the overall smart home experience with complete connectivity throughout the home, with a wide range of customizable settings that are easily accessed through the app and via voice control.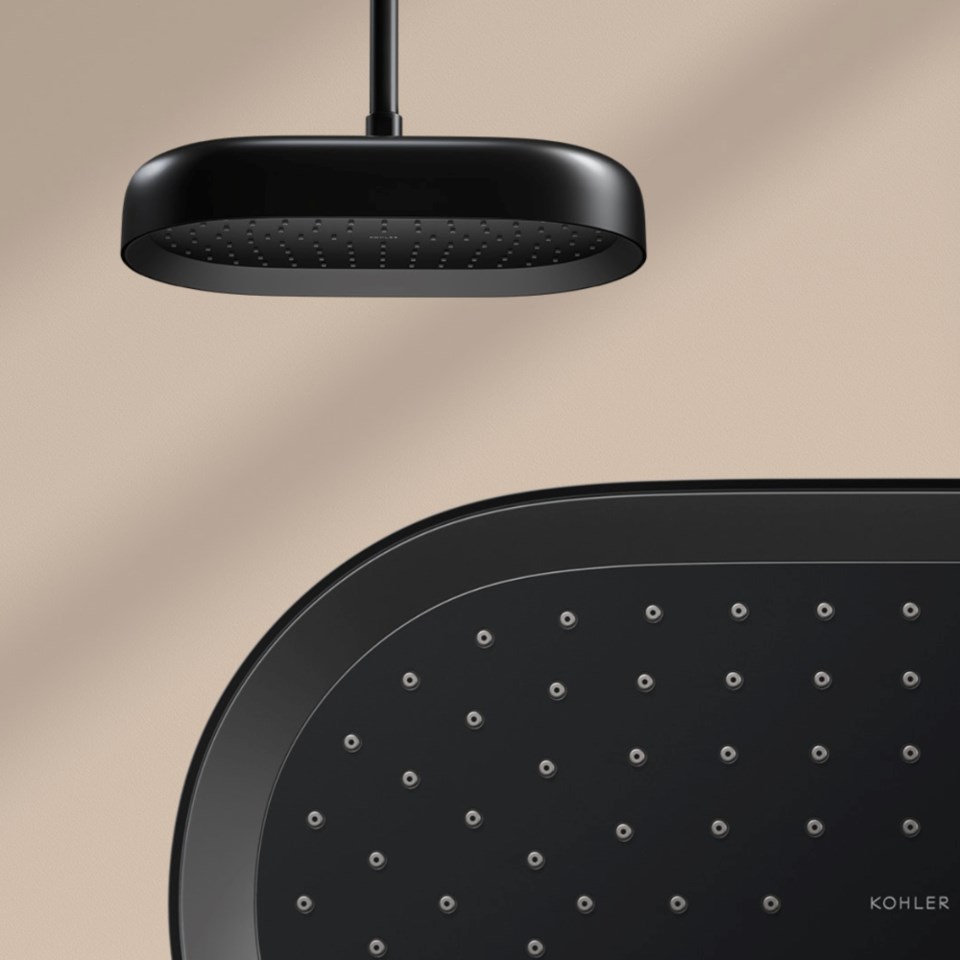 Make a Statement with your showerhead
With a variety of shower spray functions, the Statement showering collection helps you achieve the wellbeing environments you desire, from targeted massaging sprays to ease the muscles to full-coverage rinsing sprays to relieve stress.
Simple to use and adjustable for all heights, Statement rainheads come in both single-function and multifunction use, with the choice between round and oblong showerheads. Single-function and multifunction wand hand showers are also available and are ideal for more targeted massage sprays.
Each rainhead features Katalyst™ air-induction technology, which efficiently mixes air and water to produce large water droplets and deliver a powerful, consistent, full overhead spray experience.
The Statement showering collection is offered in a full range of rich KOHLER finishes, from vibrant brushed moderne brass to matte black.
KOHLER's vast range of shower products are elevating the possibilities of showering experience in every home. Shop now at kohler.ca and find a KOHLER location near you.