Chutzpah! Festival will feature genre defying performers from around the around the world from October 24 - November 24 in Vancouver.
Chutzpah! Festival has been showcasing the world's most daring artists and performers to eager audiences in Vancouver for over 19 years. With critically acclaimed artists from Canada, England, Israel, Italy, El Salvador, the USA and beyond, this year's festival is staged to be its most eclectic offering yet.
To help guide you through this month's jam packed schedule of performances, we've partnered with Chutzpah! Festival to highlight the can't miss events, which include a very special performance by internationally celebrated band Yemen Blues.
You can enter for a chance to win 6 tickets ($180 value) to this show courtesy of Chutzpah! Festival by entering our contest form HERE.
Here's everything else you should see at this year's Chutzpah! Festival in Vancouver.
She's always three steps ahead of the crowd. She has to be. She's "Quick Sand". In these fast-paced times, a lady can't stop moving. You never know what you might encounter next in this fun house world we're living in. So, Sandra takes control, bringing a mélange of musings, music, and whimsy – "never boring, j'adoring" is her motto, covering the waterfront of the outrageous, quotidian, and glamorous! Performing with a three-piece band, this iconic performer will make for a fun and memorable Halloween night.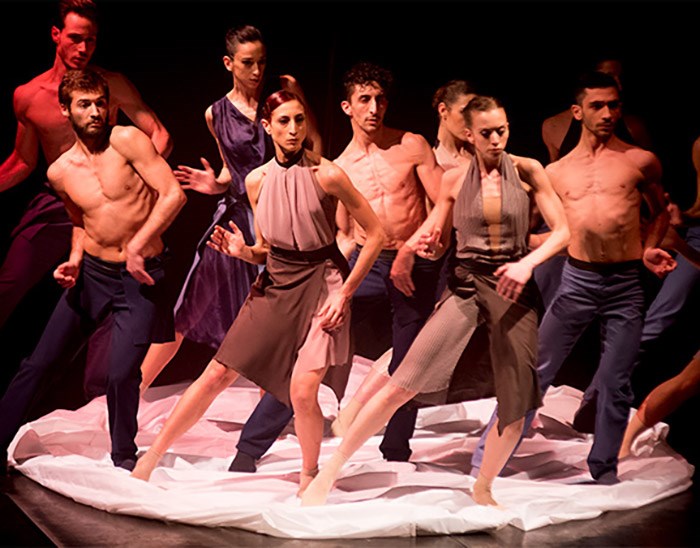 Italy's MM Contemporary Dance Company returns to Chutzpah! with the Canadian premieres of GERSHWIN SUITES - choreographed by Michele Merola, and SCHUBERT FRAMES – choreographed by Enrico Morelli. Michele Merola has created Gershwin Suites using some of Gershwin's most captivating music as soundtrack, and a new composition by Stefano Corrias, to bring together a rich mosaic of musical scents. The work, which is inspired by the paintings of Edward Hopper, is danced with versatility and passion. Franz Schubert's extraordinary music interprets the contrasting feelings of love, tension, melancholy and regret, but also of hope. A collage of famous beautiful pieces by Schubert is the soundtrack of Schubert Frames, choreographed by Enrico Morelli and danced with vibrancy by this extraordinary group of dancers. Opening for MM Contemporary Dance is a world premiere choreographed and performed by Chutzpah! Dance Artists-in-Residence Alexis Fletcher and Andrew Bartee.
Chutzpah! Festival is proud to present the Canadian premiere of The Diary of Anne Frank LatinX. American Jewish director, Stan Zimmerman, is taking on the important work with his own modern-day twist, recontextualizing the young teenager's account of WWII with a retelling set in present day Los Angeles during ICE Raids of LatinX families Safe Houses.
Iris Bahr: November 12 - 13, 2019
Iris Bahr is an award-winning writer, actor, director, producer and host of the hit podcast X-RAE. Her critically acclaimed solo show, DAI (enough), has had a hit run Off-Broadway, has toured around the world, and won the prestigious Lucille Lortel Award for Best Solo Performance. Bahr brings us her famed stand-up and characters from DAI (enough) balancing "pungent humour, bittersweet pathos, and a sublime charm." (LA Weekly)
AvevA: November 14, 2019
Chutzpah! Festival presents the West Coast premiere of Ethiopian-Israeli singer and songwriter, Aveva Dese. A rising star in the Israeli music scene, AvevA's music fuses traditional Ethiopian sounds and groove with her soul-pop songs, producing an aesthetic with universal appeal and a fascinating intercultural connection. AvevA sings powerfully in both English and Amharic about society, freedom, and love. With her talented band, AvevA has played many of the popular festivals in Israel as well as venues in France, Germany, England, Canada, Russia and the United States, including a special show at the Kennedy Center in Washington, D.C.
The Canadian premiere of COLORING by choreographer and Artistic Director Chuck Wilt is an episodic dance inspired by themes of identity, unity, and mutual respect through researching queer histories, drawing inspiration from personal narratives and bodies of artwork from members of the LGBTQ community. Joining the eight versatile, superb dancers is guest drag queen and cellist, Rose Nylons.
UNA is a bi-coastal dance company based in New York City and California. This full-length work has been praised as "one of radical vulnerability...eloquent sincerity...the performers dance with their skins turned inside out" (The Dance Enthusiast). Opening for UNA is a new duet, The Other Half, created and performed by Chutzpah! Artists-in-Residence, Vancouver's Vanessa Goodman and New York-based Belinda McGuire, with Lighting Designer James Proudfoot.
Join Chutzpah! Festival for a very special Closing Night performance and celebration of a week-long Inclusion project of sharing, exploring, and creating through art. Internationally renowned disability and mental health advocate and stand-up comedian Pamela Schuller and Brooklyn-based professional dancers and choreographers Troy Ogilvie and Rebecca Margolick will perform stand-up and solo dance work, respectively, in a shared evening of dance and comedy.
That's not all! There are dozens more events happening this month as part of Chutzpah! Festival 2019. To learn more, visit chutzpahfestival.com