Vancouver's known for its efforts in sustainability and is globally recognized for its high environmental aspirations. Hitting its highest note to date, the city's tallest residential tower, CURV by Brivia Group in partnership with Henson Group, will boldly punctuate Vancouver's skyline in 2029, rising 60 storeys with 360-degree unobstructed views at 1083 Nelson Street.
CURV is the shape of a new era, born from the vision of combining luxury and sustainability with a nature-inspired, sleek yet sophisticated design aesthetic as stunning as it is eco-friendly. Positioned as luxury minimalism, the tower prioritizes both luxury and purpose, with the most exacting standards: Passive House, the only internationally recognized standard, is considered the most rigorous voluntary energy-based certification in the design and construction industry today.
"CURV is a luxurious and prestigious residential development project not only because of the advanced technologies and the Passive House standard incorporated but also the well-thought-out amenities and exclusive living choice located at the pinnacle of downtown Vancouver," says Kheng Ly, founder, president and CEO of Brivia Group.
"To be able to create a project that not only stands out for its avant-garde architecture crafted by top-tier international experts but also raises the standard for energy efficiency, carbon emissions, and air quality represents a great accomplishment for us. We're proud that CURV is set to become the tallest passive house tower in the world, and the tallest residential building in Vancouver."
Lifestyle, beauty, and comfort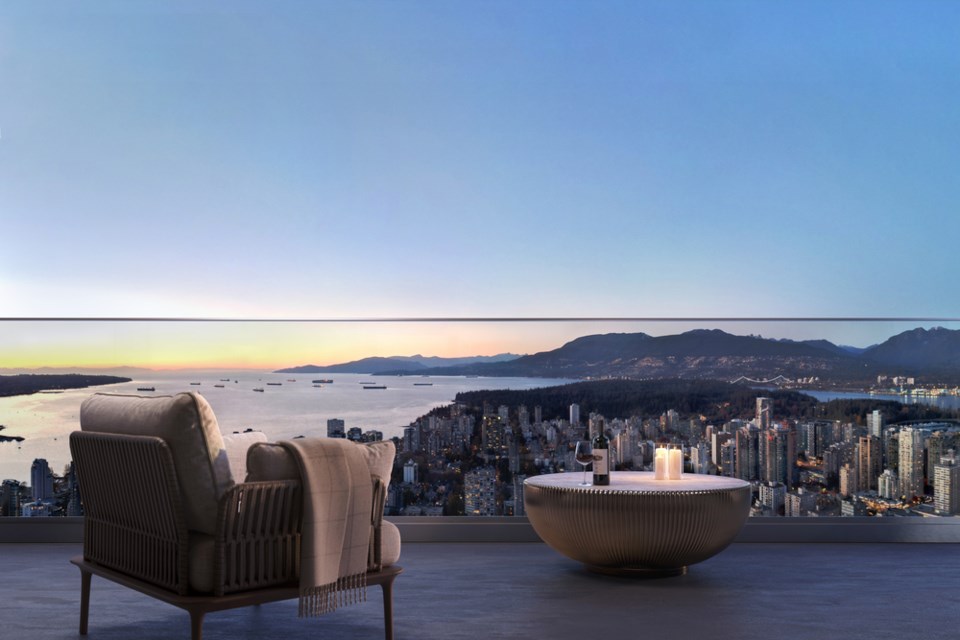 With a 97-walk score, 100 transit score, and 91 bike score, CURV's location sits on an urban artery that encourages car-free mobility, motivating residents to live an active lifestyle in the heart of the city while contributing to reducing carbon emissions.
Architect Tom Wright of WKK Architects—whose signature design is Dubai's Burj Al Arab hotel—combines CURV's aesthetically pleasing elements while keeping mindful of the planet's well-being. He likens the CURVed shape to a fresh green shoot breaking through fertile earth, minimizing its physical footprint while maximizing space and potential in the above 358 condo residences, plus rental and social housing components.
Andrés Escobar in collaboration with Lemay_id imparts tranquillity as the interior's essence, a timeless, minimalist and elegant design, crafting CURV to be a home of peace, contrasting with Vancouver's dynamic character.
Exclusive and futuristic (technologically speaking) amenities fit every taste and ambiance, from a state-of-the-art gym, yoga room powered by Lululemon Studio, and sauna, to a multi-sport simulator room. Residents can enjoy the best of both worlds by participating in the active Vancouver lifestyle while also channelling the laid-back, tranquil West Coast vibe, all from the comfort of their own homes.
Indulge in the Sky dining area (BBQ, pizza oven) and SkyBar while taking in breathtaking views of the city skyline. Explore the garden with your loved ones and take in a movie at the outdoor cinema. Relax, unwind, and feel your stress melt away with an indulgent soak in the SkySpa hot tub pool, and more.
The future of living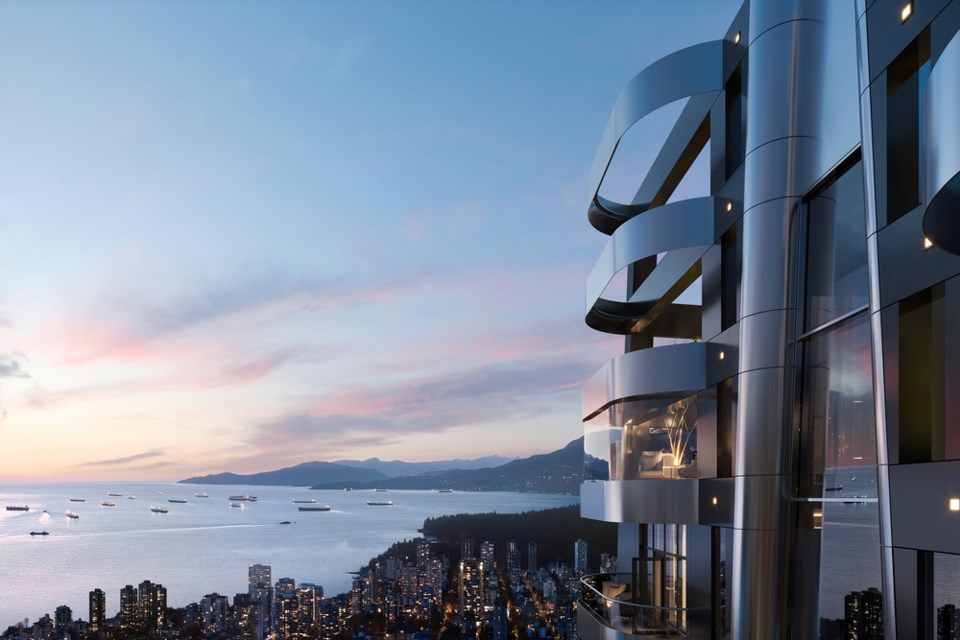 With Vancouver's Green City Plan and net zero carbon emissions goal by 2030 in all new constructions, CURV's urban design and development standards reflect the city's efforts, consuming up to 90% less heating and cooling energy than conventional buildings and substantially reduced carbon emissions.
The building is fitted with a high-efficiency Heat Recovery Ventilation system and a domestic hot water system designed to keep energy consumption to a minimum. In-suite appliances will be ENERGYSTAR® rated or better, such as contemporary European kitchen appliances and wine fridges (in select homes).
"All these technologies will improve air quality, temperature insulation and sound insulation with the ultimate effect of reducing carbon emissions and lowering overall energy costs," explains Ly.
"We truly believe this socially-responsible and environmentally-conscious project is going to push more sustainable elements in the industry," Ly says.
"Regardless of the type of purchaser, whether investors or end-users, we believe the world has shifted towards being more conscious about the well-being benefits brought to our communities. CURV will contribute to benefit our future generations, and it's this vision that we endorse for the future."
Interactive presentation gallery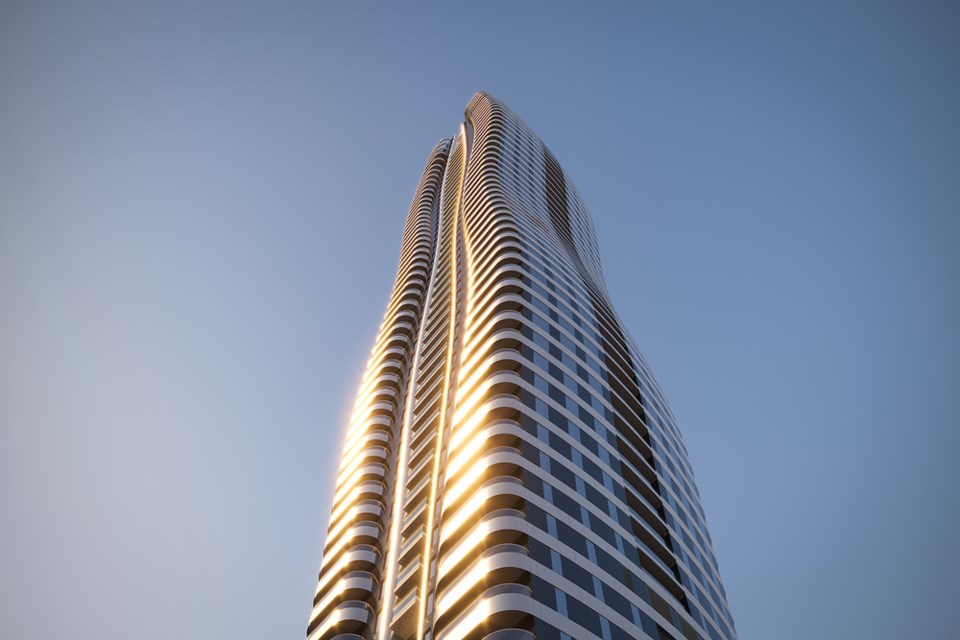 Experience the SmartPixel 3D simulation tool, which features floor plans, amenities, a virtual tour of some bedrooms, and a Passive House category with 3D illustrations, explaining CURV's durability structure.
You'll also have the opportunity to learn more about the experts behind CURV, their vision, and their extensive portfolios. This presentation gallery opens its doors to the public as of May 27th. Contact BakerWest Real Estate today to book a preview tour.
For more information or to book a tour today, visit theCURV.ca.