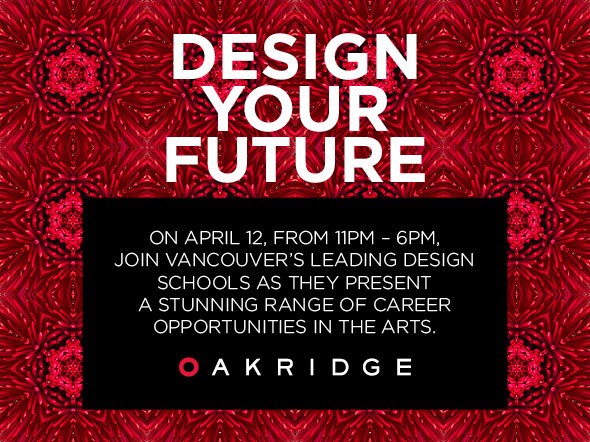 Got your eye on a future in design? Pay very close attention. Oakridge is collecting together the city's best instructors in art and design of all kinds, and hosting a Design Fair in the shopping centre. All so students can get a very real sense of their future in the field – and find some serious design inspiration while they do.
The Design Fair will feature dynamic, interactive & visually rich displays from all the top schools in fine arts, fashion, interior, photography, make-up, graphic, and various other programs. The Fair takes place Sunday, April 12 from 11:00am - 6:00pm in Oakridge's West Galleria.
The following schools will set up displays in the centre:
- Art Institute of Vancouver (fashion, interior, graphic, animation, game design)         
- Emily Carr University of Art & Design (fine arts)
- Langara College (Design Formation program, photography, fine arts, film)
- LaSalle College (fashion, make-up, jewellery design)
- Kwantlen Polytechnic University (Chip & Shannon Wilson School of Design, interior, graphic)        
- Vancouver Community College (fashion, interior)
- Visual College of Art and Design (fashion, interior, graphic, game design)    
It makes good sense that Oakridge should host an event like this; they're a proud supporter of the arts of all kinds, with various arts and culture events in and around the property throughout the year. And naturally, as a major hub of fashion, lifestyle, and home décor in this city, Oakridge is also pretty heavily invested in fashion and design.
The Design Fair promises to be a landmark event for young design hopefuls in this city.
It's all aimed at showcasing the breadth of design instruction (and inspiration!) we have available to us here, and showing students that they can indeed have a very bright future in design. Right here in Vancouver.
When: Sunday, April 12 from 11:00am - 6:00pm in the
Where: Oakridge Centre, West Galleria.
More info HERE.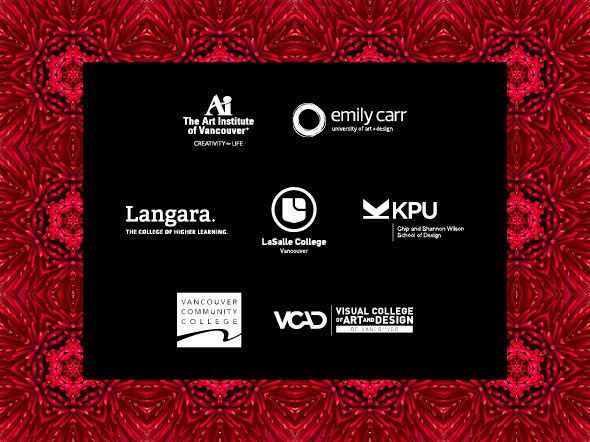 [SPONSORED POST]
This Content is made possible by our Sponsor; it is not written by and does not necessarily reflect the views of the editorial staff.