From preparing for your kids' day to managing your own jam-packed schedule, there's a lot to juggle as a parent today.
Meal prepping homemade baby food at the start of the week can make a huge difference in ensuring your growing child has the freshest ingredients with all the daily nutrients they need when they're feeding throughout the week. As well, this advance prep work ends up saving parents lots of valuable time in the long run.
If you're a parent who's constantly on-the-go and on the hunt for smart solutions for baby food meal prep and your other daily parenting responsibilities, look no further than Quark!
The Vancouver-based company's intelligently-designed parenting solutions feature a suite of innovative smart products, aimed at making day-to-day tasks for your little one easier so you can parent better. Their line of intelligent baby products simplify cooking to meal prep, feeding at home or on-the-go, storing food, and everything in between.
Quark was created by Canadian parents, for Canadian parents. With a combined 25 years of experience, Quark is dedicated to developing breakthrough products to simplify everyday parenting for Canadian families.

"My partner and I were blessed by the birth of our daughter Hannah in March 2021," says Quark Founder and CEO, Garett Senez. "As we started shopping in the baby category, we were struck by the high cost of what were relatively generic baby products. Over time, we also experienced how many items were simply not optimal - for us and our baby. That's why we developed an assortment of intelligent and affordable baby products that are more functional, easier to use, and easier to clean."
"Designed in Canada, Quark products are made to simplify everyday tasks", says Senez. We are committed to providing innovative, safe, and high-quality essentials for both parents and little ones alike.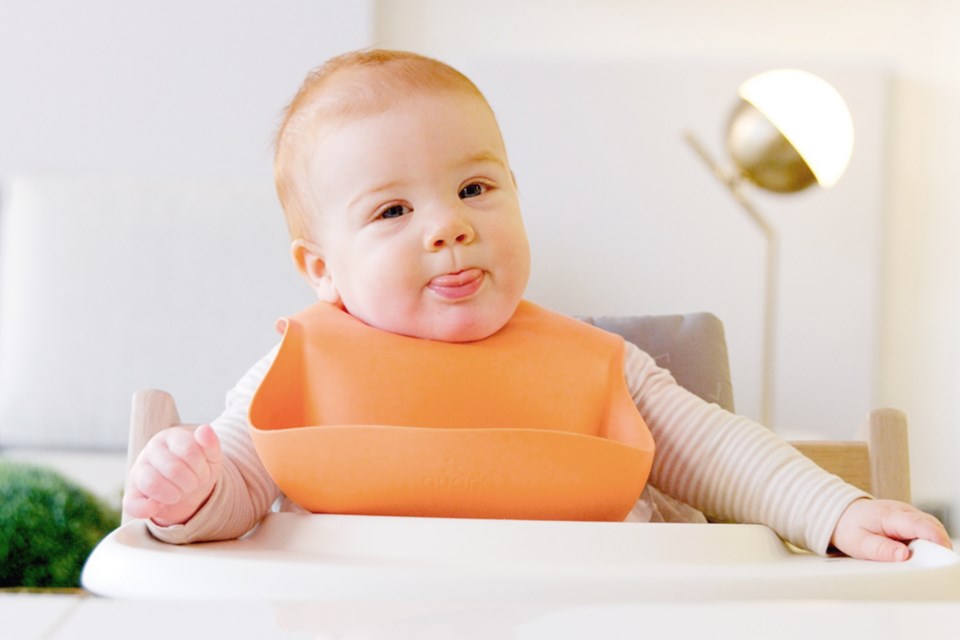 Hannah with Quark Feedi™ Essential 5 Piece Dining Set. Photo Courtesy of Quark
The latest product in Quark's Baby's product line is Quook, a 5-in-1 smart baby food processor that simplifies prepping baby food by combining cooking, blending, cleaning, sterilization, and milk warming in as little as 10 minutes. It's no longer about simple purees anymore, Quook gives you the ability to cook everything from fruits and vegetables, to complex proteins such as meat, poultry, and fish.
With a sleek feature set and a digital touch screen control panel, Quook is the must-have countertop appliance to make fresh and healthy homemade baby food quickly and with a touch of a button. Designed to replace 3 appliances, you can cook, blend, and clean – all in the same device. It's designed better and built better - with a large capacity blending cup, easy to clean wide mouth reservoir, removable blade, and 100% dishwasher safe components.
What's more – Quook has a built-in steam sterilization cycle so you can sterilize everything from baby bottle tips to car keys - and even has an integrated bottle warmer so you can give your baby bottle a hot bath, heating milk safely and evenly, while preserving nutrients at the same time.
These baby food recipes from Quark feature six different ways to make delicious and nutritional purees for your little ones — with simple ingredients, even simpler preparation, and an estimated cooking time of between 5 to 20 minutes — using the all new Quook device!
Spinach, Avocado & Mint Easy Greens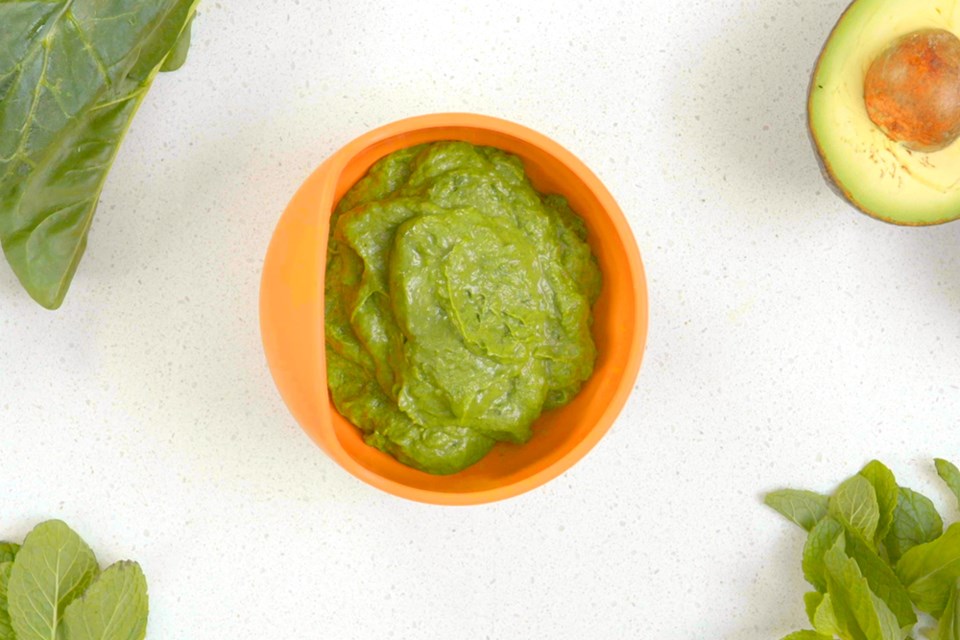 Photo courtesy of Quark
This Spinach, Avocado & Mint Easy Greens Puree is nutrient-rich, packed with healthy fats from the superfood spinach, and is suitable for your baby's first weaning. Prep time is 6 minutes and servings are 4 portions. Pro tip: You can turn this puree into a flavourful morning smoothie by blending with almond milk and serving with ice turns.
Parsnip & Pea Puree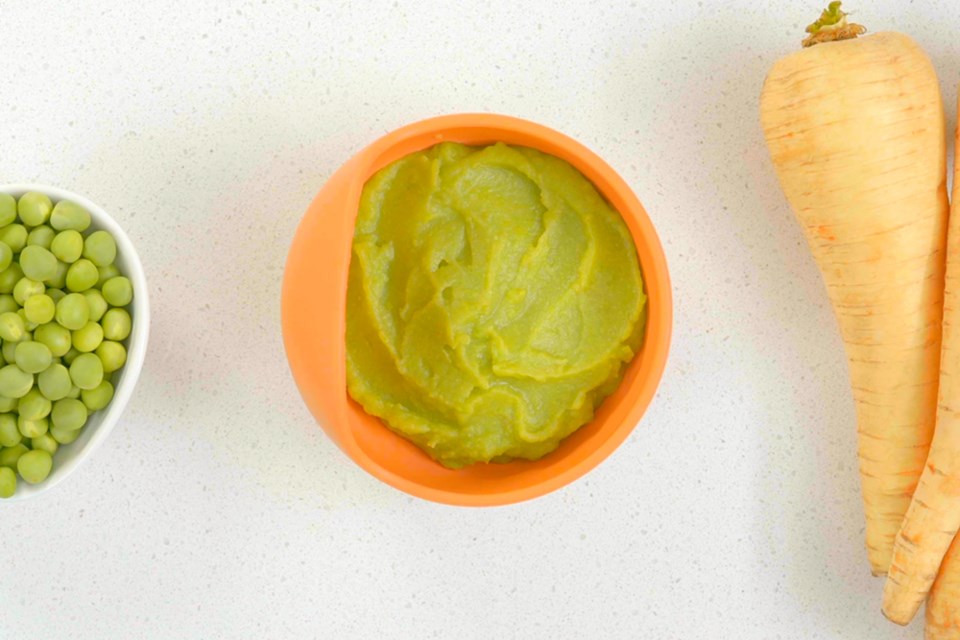 Photo courtesy of Quark.
Sweet to taste with a hint of spice, this Parsnip & Pea Puree offers some additional mild sweetness from every baby's favourite teething snack, frozen peas. Add in a little ginger or honey for an extra kick! Prep time is 12 minutes and servings are 4 portions.
Strawberry, Banana & Apple Puree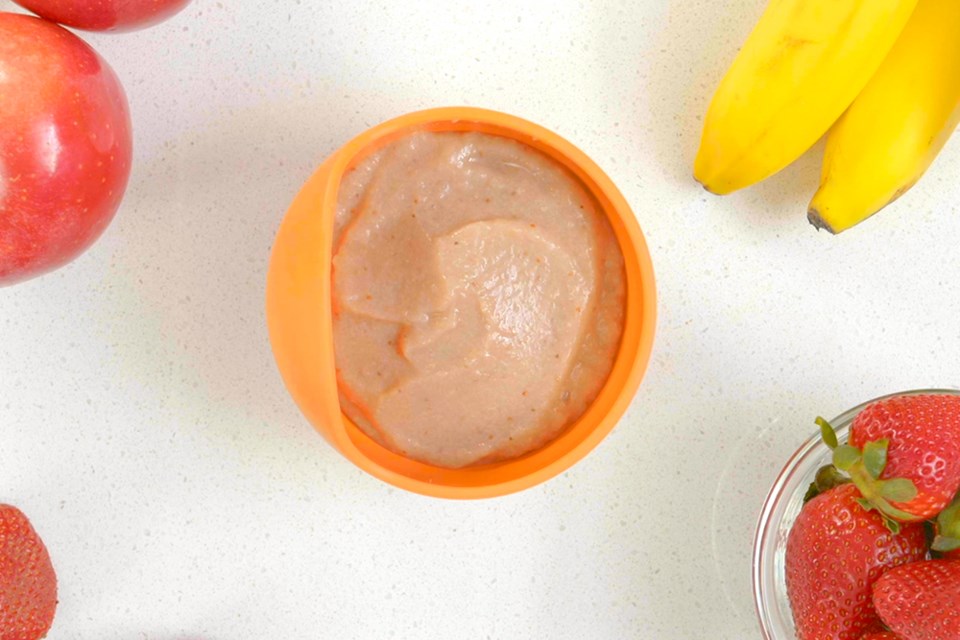 Photo courtesy of Quark.
Strawberry, Banana & Apple Puree is a great way to introduce your little one to the classic strawberry and banana combo. Add some ice and you've got yourself a delicious, healthy, and filling teething smoothie! You can even serve the puree with natural yogurt or add it to breakfast porridge for extra tasty meals on the go. Prep time is 18 minutes and servings are 3-4 portions.
Broccoli & Sweet Potato Puree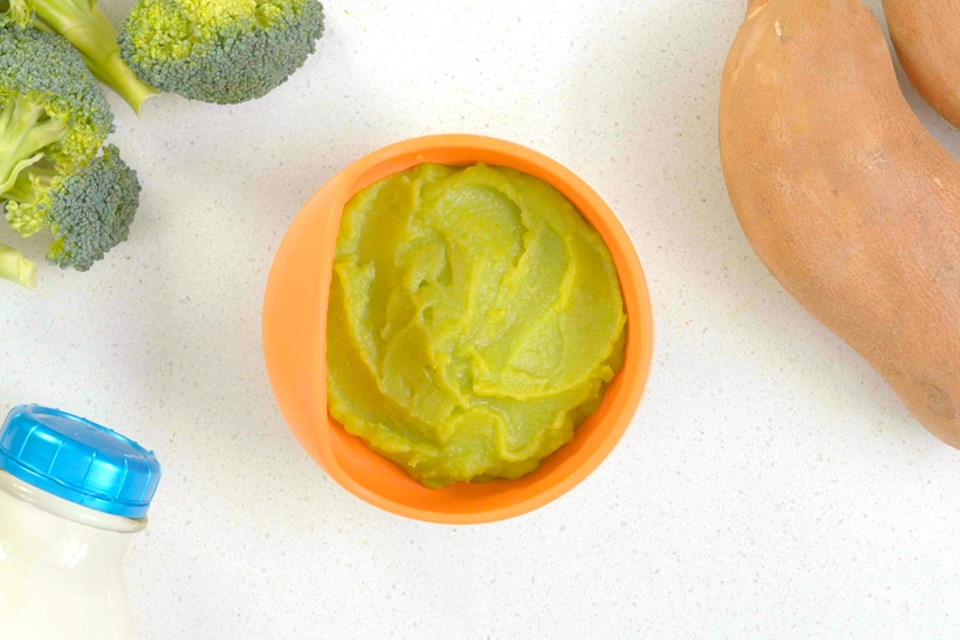 Photo courtesy of Quark.
Broccoli & Sweet Potato Puree is a tasty way for your baby to explore new tastes and textures for the first time. Experiment with different vegetables, like carrots or peas, for a quick variation to the recipe. Prep time is 20 minutes and servings are 3-4 portions.
Chicken, Potato & Carrot Puree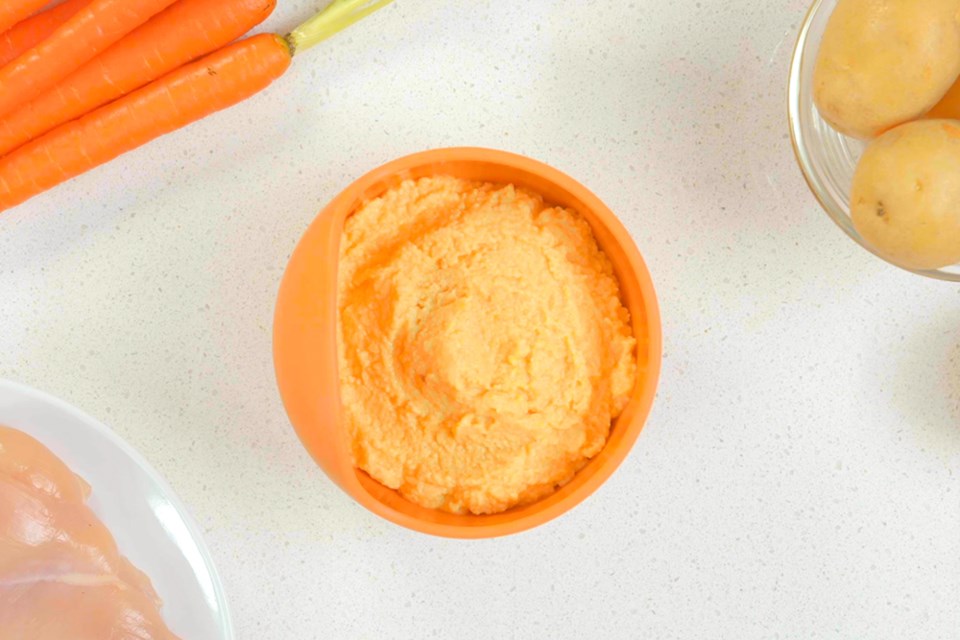 Photo courtesy of Quark.
This Chicken, Potato & Carrot Puree will give your little one a taste of true home cooking. Substitute chicken with any fish, poultry, or tofu for endless variety to a timeless classic. Or, spice it up with savoury herbs and you've got yourself a real dinner winner. Prep time is 20 minutes and servings are 4 portions.
Strawberry, Salmon & Leek Puree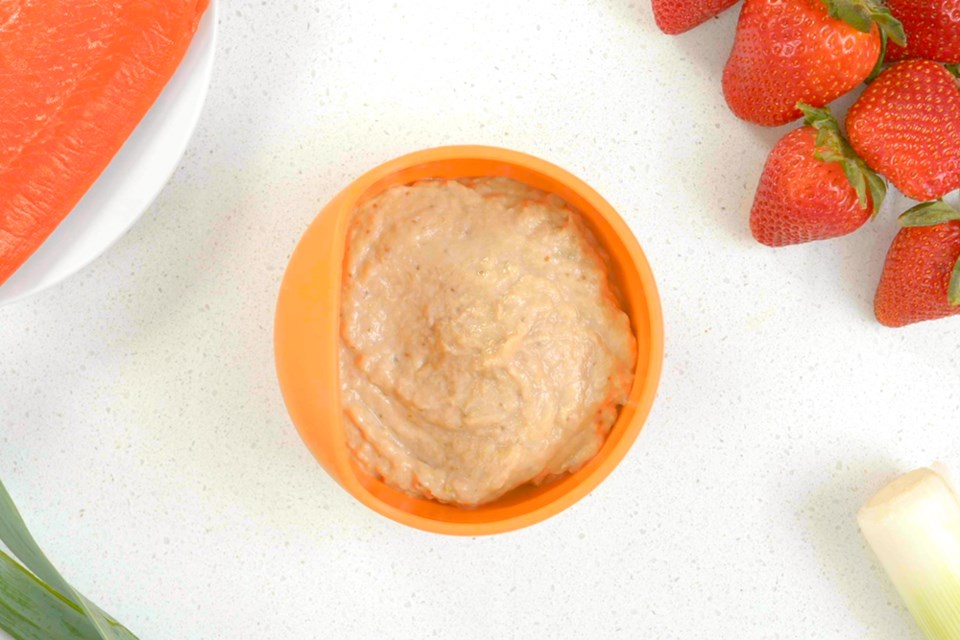 Photo courtesy of Quark.
This sweet and savoury Strawberry, Salmon & Leek Puree is rich in omega 3 fatty-acids and antioxidants, thanks to its primary ingredients, salmon and strawberries. Strawberries can be replaced with other antioxidant-high fruits like orange, mango, or blueberries. Prep time is 20 minutes and servings are 4 portions.
Quook can be easily paired with Storii, Quark's stackable, all-purpose food storage containers. Parents can store baby meals in advance with peace of mind with innovative features such as leakproof lids and an integrated cooling system.
For safer feeding for first time feeders, try Quark's fruit feeder, Fruuti, which is designed with advanced technology to propel food through the food-safe silicone extrusion top with a twist of the rotary base, which can also stand on flat surfaces for easy filling and added hygiene.
Quark's collection of intelligent baby products has the whole meal preparation system in mind to make parenting extra streamlined, allowing YOU to parent better!
Quark Baby products are now available at Walmart, London Drugs, Indigo, Amazon, and quarkbaby.com.