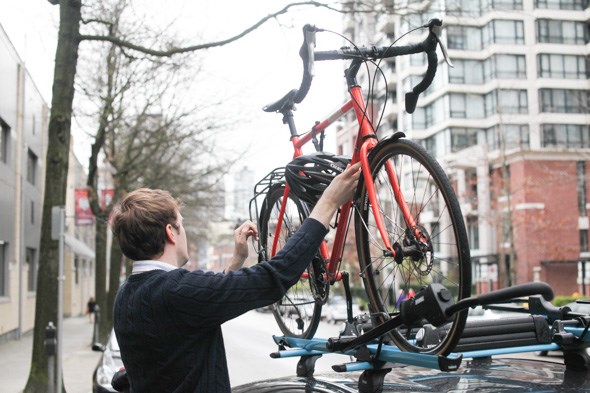 Being in a city as bike friendly as Vancouver, I was excited to make use of the electric blue roof racks found on Evo's fleet of Prius Hybrids. Since we have been having a string of bad weather lately, it was no surprise when it started pouring rain during our outing to Granville Island recently. One of our friends – who had biked to meet us at Granville Island from Kitsilano - was without rain gear and sentenced to being drenched. This was our moment to make use of the handy roof racks. 
When we finished our little tour around Granville Island, the rain started becoming more intense (our friend Pat immediately regretted his outfit) so we booked an Evo that was sitting nearby in parking reserved just for the car share outfit. Never having used a bike rack before, I remembered Evo had a TUTORIAL on their website about the roof rack! We all gathered inside the car and watched the step by step instructions.
Easy! We grabbed the keys from the glove compartment and were able to safely load the bike onto the rack in just a few minutes.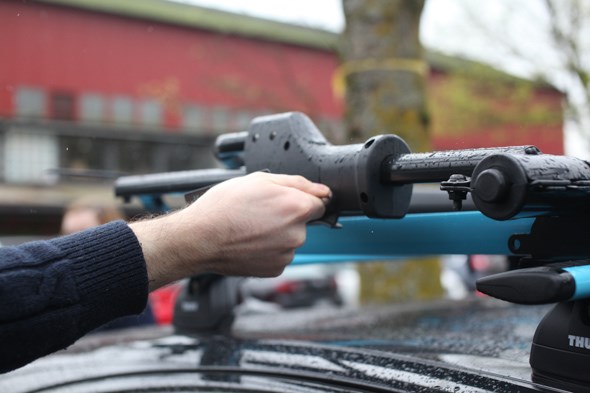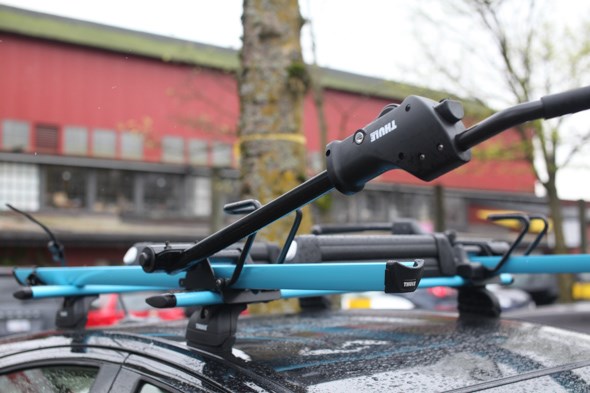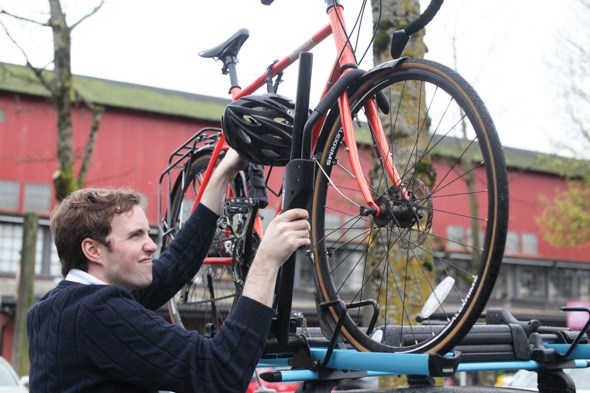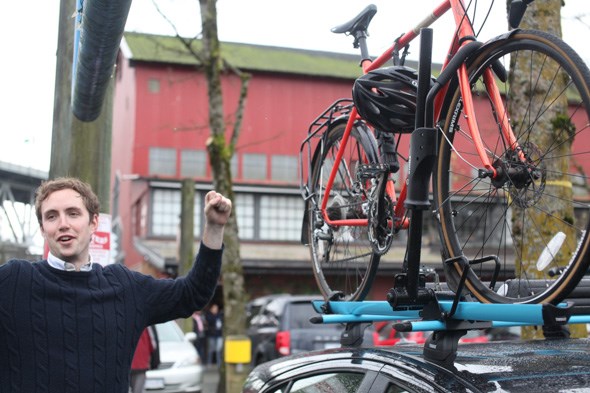 Although we just had one two-wheeler on top, Evo easily fits two bikes in the racks and can go anywhere you'd like to take your bikes (well almost anywhere, with a bike on the roof the car is over height, which means undergrounds and tight spaces are a no no)!
I usually don't drive anywhere to go biking (I ride there and back) so I didn't think I would use this feature that much. But then, I thought of all the times I had biked somewhere and been caught in the rain without proper gear because of how unpredictable this city's weather can be. A car share that accommodates other modes of transportation, like biking, means getting around the city is not only that much easier – but is just way more convenient when the weather doesn't cooperate. I can confidently bike further out knowing that if it starts to pour, I blow a tire or just get tired, Evo will get me, and my bike, back home.
Vancouver is Awesome readers get free Evo Car Share registration + 30 minutes of free driving. Just use promo code EVO2EVO, but join soon because the offer expires April 30th!
Also, don't forget to enter to win a $750 Arc'teryx shopping spree courtesy of Evo HERE!
[SPONSORED POST]
This Content is made possible by our Sponsor; it is not written by and does not necessarily reflect the views of the editorial staff.