If you want to be right where the wild things are this summer, look no further than the mountains of Southeastern B.C.
Although the town's mountain scenery is remarkable year-round, nothing beats seeing the vast fields of alpine wildflowers throughout late July and early August.
This year, the annual Revelstoke Wildflower Festival takes place from August 3 to August 7, scheduled during the estimated peak of the wildflower bloom. You'll see common alpine wildflowers, with their diverse colours, brightening a visit to the alpine landscape.
There are five days of wildflower-themed events and outdoor alpine experiences during this year's annual festival. Whether you'd like to drive, hike, bike, or take a scenic gondola ride to Revelstoke's wild spaces, wildflower viewing opportunities are accessible to everyone.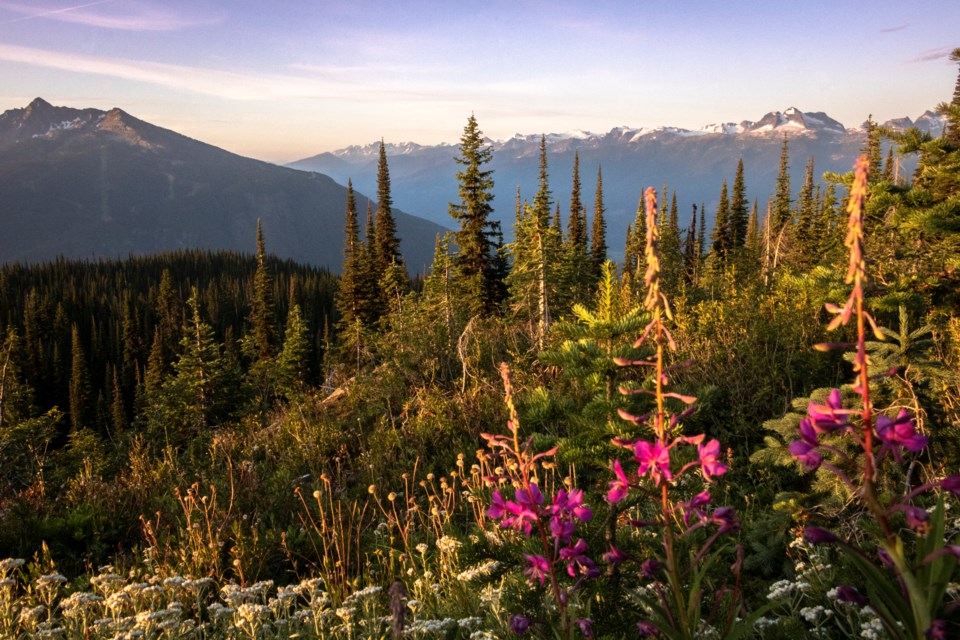 Things to do during the Revelstoke Wildflower Festival
Enjoy the activities in downtown Revelstoke
Unwind in Revelstoke's charming downtown core with plenty of activities and events to choose from. Bring your best smiles to drop-in outdoor portrait sessions with a local professional photographer. Try some fresh produce and indulge in artisan wares at the local farmers market. The Columbia Shuswap Invasive Species Society (CSISS) invites wildflower enthusiasts to explore the impact of invasive species and to learn how to identify them in person.
During the months of July and August, Arts Revelstoke's REVY. Live Outside concert series brings free live music every night to Grizzly Plaza. The line-up includes artists from B.C., Canada, and worldwide, spanning across a multitude of music genres, including indie, folk, rock, country, reggae, roots & blues, and more. With live performances, dancing, patios, and food trucks, a visit to Revelstoke during the annual Wildflower Festival is definitely something to look forward to this summer!
Drive the Meadows in the Sky Parkway
Winding over 26 kilometres uphill, the paved road of the Meadows in the Sky Parkway is made for cruising. This scenic road gains 1365m of elevation from downtown to Balsam Lakes. As you make your way up Mount Revelstoke, you can admire the subalpine wildflower meadows, the forests of cedar, hemlock, spruce, and fir, and views of the town of Revelstoke below.
Locals tip: The car park at the summit often fills up. Ride your bike or carpool with friends and arrive after lunch to secure your spot. Don't forget your Parks Canada Pass!
Hike the national parks
Located next to Mount Revelstoke and Glacier National Parks, Revelstoke is the perfect base for hiking. Intermediate hikers can trek through the meadows of Eva Lake, and tack on Miller and Jade Lakes for greater elevation gain. More experienced hikers can tackle Hermit Trail, renowned as Glacier National Park's steepest trail.
You can go on guided educational walks or take advantage of the watercolour painting station and create your own wildflower masterpiece.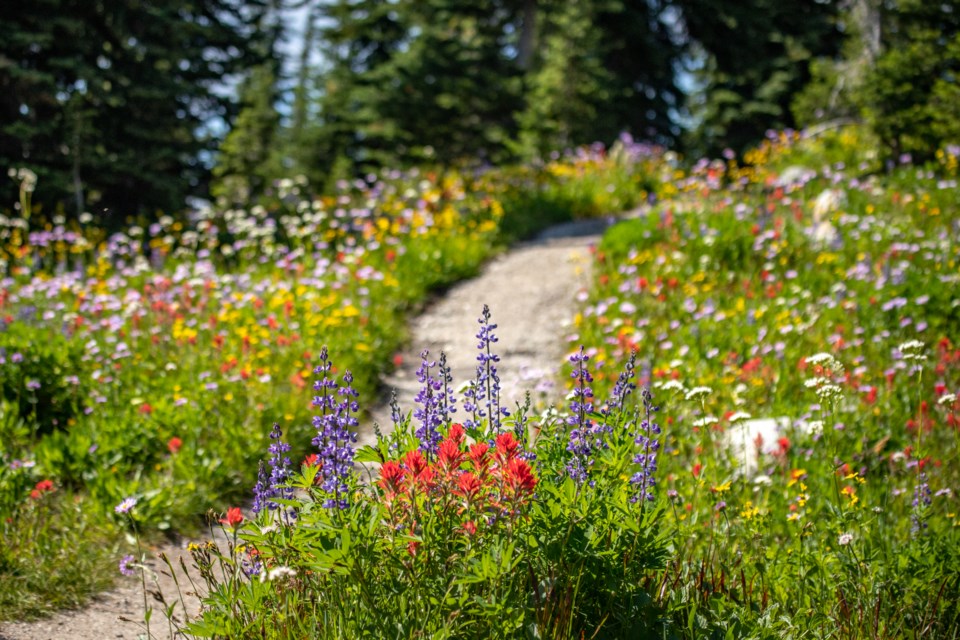 Ride the alpine trails
Pedal your way up to the flowering meadows. Revelstoke's alpine epics allow for access to incredible views of the Selkirk and Monashee mountains.
Intermediate mountain bikers will enjoy Frisby Ridge for an out and back cross country ride through the stunning alpine. Advanced riders should head over to Keystone Standard Basin for a more challenging heart-pumping alpine adventure.
Check out the view at Revelstoke Mountain Resort
Revelstoke Mountain Resort's Revelation gondola ride offers stunning alpine views during a 15 minute ascent up Mount Mackenzie.
At the top, you can take an easy stroll to Split Rock Falls or, for those up for a challenge, hike Greely, The Stoke Climb, or Mackenzie Ridge. You'll find vast fields of wildflowers accompanied with 360 degree views of the Columbia Valley and the mountains beyond.
Revelstoke Mountain Resort is hosting many events during the festival, including a guided hike & paint workshop with a local artist and a high tea at Revelation Lodge.
No matter which way you choose to see the wildflowers, you can be assured that a stay in Revelstoke will be a well-rounded and exciting adventure.
For more info on the Revelstoke Wildflower Festival, go to seerevelstoke.com/revelstoke-wildflower-festival.