Whether you're a parent preparing the family for another school year or a student looking at another year of academia, back to school can be stressful… and expensive.
We'd all love to be a life-hacking internet sensation that prepares endless healthy meals in cute mason jars, but sometimes, that simply isn't possible. That's why we've partnered with the More Rewards WIN-WIN Event at Save-On-Foods to highlight the best ways to transition from fun-in-the-sun to fun-in-the-library as effortless and affordable as possible.  
With a little planning and a lot of savings, another year of learning can be a win-win for everyone. Here's how to do it.
EXPECT THE UNEXPECTED
First things first, don't be so hard on yourself. No matter how much you plan or budget, sometimes things are bound to go wrong. Whether it's an unexpected expense or a nearly impossible early morning schedule, it's important to remember that some things are just out of your control. Don't doubt yourself, it's just that time of year. Okay, now onto the practical stuff...
READYMADE VS. TAKEOUT
Rather than holding on to your idea of how you thought back to school would go, it's important to be flexible and give yourself the time to rest in order to tackle the new season. Pick up a few pre-made meals during your next grocery shop, they'll come in handy when things go off the rails and are still way cheaper than take out. Whether it's an emergency frozen pizza, readymade salad or fresh rotisserie chicken, these items can keep you on track and on budget, even if they weren't part of your original plan.
SHOP SALES, USED, AND PLAN FOR NEXT YEAR
Ain't nothing wrong with used textbooks and school supplies. Whether it's a thrift store, garage sale or online purchase, shopping used is a great way to keep your spending in check. Keep note of annual sales that pop up every year and plan big purchases around these dates (Labour Day, Black Friday). In any event, when this year's done, gather all of your household's school supplies and stow them away somewhere safe. If you can get through the summer without losing all those glue sticks and scissors, you might be able to save yourself some extra spending money for next year.
OUTSOURCE IMPORTANT DAILY TASKS
From fuel delivery to grocery delivery, you can find a digital solution or app for almost anything. The Save-On-Foods Online Shopping service lets you place grocery orders online, which will then be handpicked by a personal shopper and delivered to your door. Prefer your avocados a little extra ripe? No problem, just let them know when you place your order. You can pick home delivery or pick up in store and you can even filter search options by what's on-sale, ensuring you save money every week of the school year.
CASH IN YOUR POINTS
If you're like us, your wallet is overflowing with Rewards points. Whether it's free groceries or a free tank of gas, back to school is a fantastic time to cash in your points. The More Rewards program lets you earn points on groceries, fuel, home insurance and more at over 1,500 partner locations. In return, you can use your points for daily necessities or even put them towards FREE vacations, gift cards and restaurants. There's nothing like planning your next holiday after coming off a summer break.
WIN WHILE YOU SAVE
Back-to-school also means Back-to-Winning. The More Rewards Win-Win Event at Save-On-Foods is back with over 2 MILLION prizes to be won! Play for your chance to win awesome prizes like FREE groceries and FREE fuel for a year. Say goodbye to "please play again" because in the Win-Win Event every ticket is guaranteed to win either free grocery products or bonus More Reward points, which can be used for savings on everything from food, to fuel,to gift cards and travel.
 This year's More Rewards Win-Win Event also features AWESOME grand prizes, including a round trip vacation package to London, England,1 of 3 prizes of 1 MILLION More Rewards points, 1 of 3 prizes of grocery delivery for a year and daily prizes of $50 Save-On-Foods gift cards.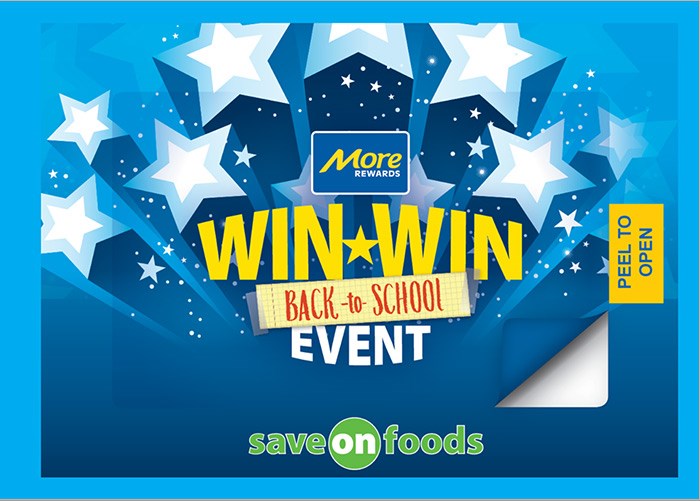 The More Rewards Win-Win Event at Save-On-Foods is helping you save this back to school season. To learn more about saving and winning, visit winwinevent.ca
This Content is made possible by our Sponsor; it is not written by and does not necessarily reflect the views of the editorial staff.