Vancouver's bar scene has absolutely exploded in recent years, but South Granville has long had a reputation for mixing, shaking, stirring and slinging some of the best drinks in town.
With a diverse food scene peppering the vibrant street from the south end of the Granville Street Bridge to 16th Avenue, it makes sense that Vancouver's most stylish neighbourhood would also be home to some of the city's best cocktail programs.
To get an insider's look at what's available, we asked some of the South Granville's expert bartenders and bar managers about the drinks they love making the most. The area however, has more than a few expert opinions. With dozens of innovative bars and restaurants within walking distance of each other, South Granville is truly a hidden hotspot for amazing food and drink.
Cheers!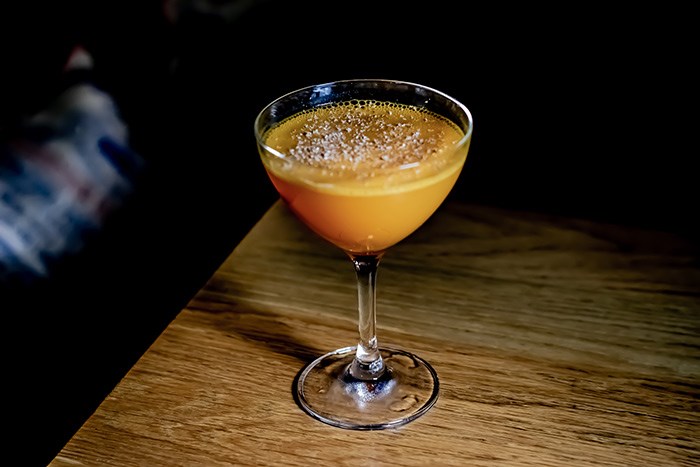 Signature cocktail: Rabbit Season
Expert: Andrew Schneider, bar manager at Vij's Rangoli
"The name of the drink stems from the classic cartoon feud between Bugs Bunny and Elmer Fudd. The passion fruit intensifies the surprisingly fruity nature of carrot juice, with ginger adding another root spice complexity. Lemon and lime freshen up the drink. Pisco is an unaged grape brandy (this one is from Chile) with hints of white flowers and mild earthiness. The delicate nature of Pisco mirrors the refreshing character of the cocktail and adds lighter flavours to the intensely tropical and vegetal structure of the other ingredients."
As the younger sister to the acclaimed Vij's restaurant, Vij's Rangoli serves up bold flavours that make each dish feel like a celebration. Like their cocktail program, the food is vibrant, refreshing and complex.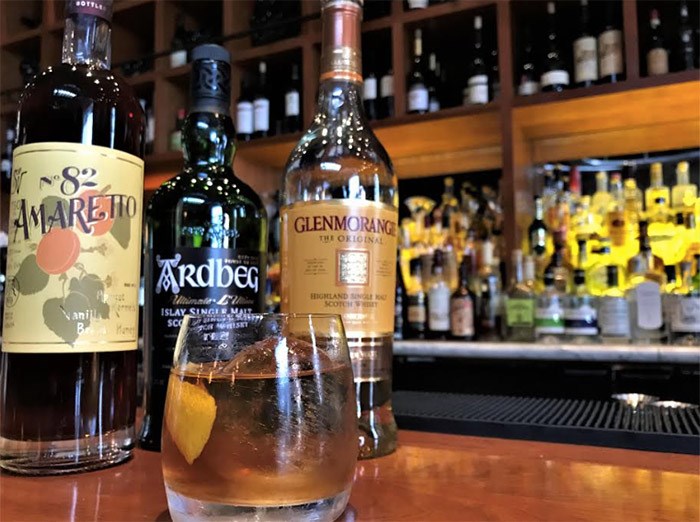 Signature cocktail: The Godfather of Vancouver
Expert: Stacey Ackerman, Bar Manager at West Restaurant
"My favorite cocktail is The Godfather of Vancouver. It is a modern take on the classic Godfather cocktail with a smokey, peated finish. It's made with Sons of Vancouver Amaretto, Ardbeg 10 year and Glenmorangie 10 year. The amaretto is an amazing local product and the Ardbeg adds all the smoke and peat. The Glenmorangie helps smooth it out and bring it all together. I enjoy a peated Old Fashioned cocktail and as soon as I tasted the amaretto I just knew it was going to taste amazing with a good peated scotch."
West serves contemporary cuisine inspired by the Pacific Northwest. Just like their Godfather cocktail, the menu boasts an elevated selection, of hearty, refreshing and soul satisfying dishes that pair perfectly with Vancouver's chilly autumnal weather.West Restaurant also has a a new Fall Harvest Prix Fixe dinner menu that runs Sundays through Thursday (also available Friday - Saturday until 6:00pm)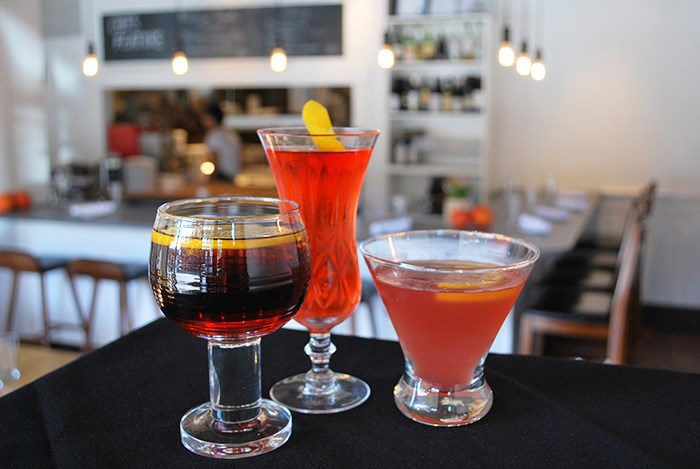 Signature cocktails: Amaroni, Sbagliato, and Pink Negroni
Expert: Jakub Palous, manager of Fiore Restaurants
"The idea behind our cocktail program is very simple. When I started working at Fiore I was looking for interesting Italian cocktails which are not too complicated to master. After couple hours of searching online and going through bartending books I noticed few different variations of Negroni, which made me dig deeper. The sky's the limit when we talk about Negoni."
Fiore's cocktail list includes 10 variations of the classic negroni cocktails, each of which pairs perfectly with the restaurant's offerings of handcrafted pasta and sourdough pizza.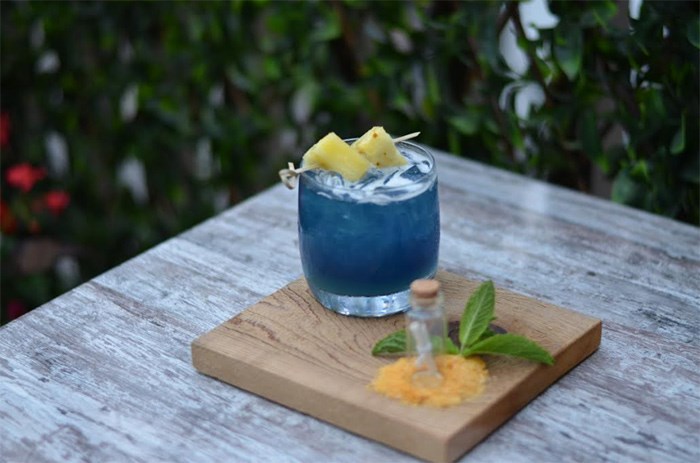 Signature cocktail: Castaway
Expert: Wanda Lai, owner of The Rise Eatery
"The Castaway is a tribute to all things tropical. The aroma of an island campfire greets you as your cocktail arrives on a torched plank, complimented by customized message in a bottle. Coconut rum provides the sweet and boozy base of this cocktail while Bitterhouse Daman brings a balancing grapefruit tartness to the mix. A squeeze of lime brightens up this deep blue abyss and to bring out just a hint of the salty ocean we add a dose of olive brine. A natural mix of butterfly pea flower lends the Castaway its beautiful ocean blue color. We then layer the lapping waves with a shake of pineapple foam, and finally crown it with a house-pickled pineapple skewer."
The Rise Eatery offers a contemporary mix of Asian fusion cuisine that aims to reflect the ethnic diversity of Vancouver. Both the food and cocktail menu are crafted with fresh, locally sourced ingredients and prepared in a way that's meant to be enjoyed amongst friends.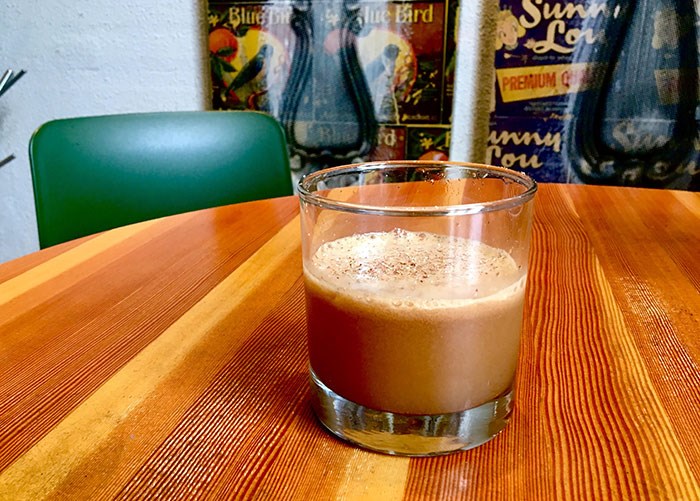 Signature cocktail: Chai Cherry Bourbon Sour
Expert: Natalie Maynard, bar manager at Heirloom Vegetarian
"The Chai Cherry Bourbon Sour is our take on a classic cocktail, with a twist. We combine bourbon, Odd Society Spirits' amaro, house-made chai concentrate, freshly squeezed lemon, shaved nutmeg, and a few drops of cherry bitters to finish. It's spicy, boozy, and warm in flavour - perfect for fall in Vancouver. In exchange for egg-whites, we use aquafaba as a plant-based foaming agent. Our drink menu is fully vegan and constantly evolving."
Heirloom has a reputation for taking an upscale approach to internationally inspired vegetarian food. As a  restaurant committed to serving up ecologically responsible and delicious food, Heirloom has managed to remain a standout amongst the city's finest vegetarian offerings.
Thirsty for more? There are so many more great cocktails to enjoy in South Granville. Be sure to check out Jamjar, Stable House, Bin 4 Burger Lounge. Cactus Club, Caffe Barney, Ouisi Bistro and Marquis Grill.
You can explore more of what South Granville has to offer by visiting SouthGranville.org