Don't pack your summer gear into storage just yet, because we still have a few more weeks of outdoor hangs to fit in before the season changes into fall!
The sun and the blue skies are shining, and your local park is calling your name for a last hurrah.
Here's everything you and your friends need for an epic park sesh to remember.
GAMES
No park sesh is complete without some park games!
There's a wide range of lawn games to pick up, from Pickle Ball and Croquet, to Bocce Ball and Kubb, and classics such as soccer and badminton. Pro Tip - There are lots of cool lawn games out there, we suggest bringing something new or unique to your park sesh to mix things up and make it that much more interesting.
With a deck of playing cards, there's no shortage of card games that you can play. So design a games kit that best suits your park crew and make the best of the rest of your summer.
Kubb at the park. Photo: Stanley Park Brewing.
SEATS
Everyone who's invited to your park sesh gets a seat at your metaphorical picnic table! With a large outdoor blanket on the grass and a folding camping bench, you can make sure everyone feels welcome.
Or, people can bring their own lawn chairs and beach towels if they want their own space — no judgment here. Just make sure you have a friend willing to head out early and be the group space holder on sunny days.
MUSIC
Set the mood for your hangout in the park with the right tunes. Play DJ by creating a Spotify playlist with a mix of park-friendly tracks, from low-fi beats to Top 40 hits.
For the best sounding portable Bluetooth speakers, BOOM 3 not only gives you a boom of sound but can connect with other Boom speakers to create 360° sound.
FOOD & BEVERAGES
What's a day at the park without some food and snacks to pass around and share!
In addition to the absolutely necessary BBQ foods like hot dogs and hamburgers, and snacks like chips and dip, you step up the selections at your next park sesh with a meat and cheese charcuterie board, fruits and vegetable platter, and freshly-baked cookies and muffins.
Or support your local eatery and grab some take out. We recommend munchable items such as wings or nachos.
Park Sesh Lager. Photo: Stanley Park Brewing.
And please don't forget to pack the drinks. Cold bevvies on hot summer days are a must!
Stay hydrated with your H2O, but also take advantage of the fact that many parks in Metro Vancouver are now allowing drinking with a selection from Stanley Park Brewing's lineup of beers — because their brews are meant to be enjoyed with a side of awesome outdoor adventures. Pro Tip: be ready for your park sesh with a cold beer delivery through the Stanley Park Brewstore.
The aptly-named Park Sesh Lager is a crisp, clean tasting and easy-drinking lager brewed for lazy days with your favourite people in any outdoor setting. Hopped with Sterling and Saphir for a balancing bitterness and light hop aroma, this lager is super sessionable with a small addition of Munich malt to provide a hint of sweetness to the otherwise dry finish.
Before you head for the park, pack all your beers and bites in a cooler backpack or a soft cooler bag, which are easier to carry than a traditional cooler and will keep everything fresh and cool for your day out!
From the brewery to your front door, you can order all your favourites online — with local beer delivery across Vancouver and shipping across B.C. available — through the Stanley Park Brewstore.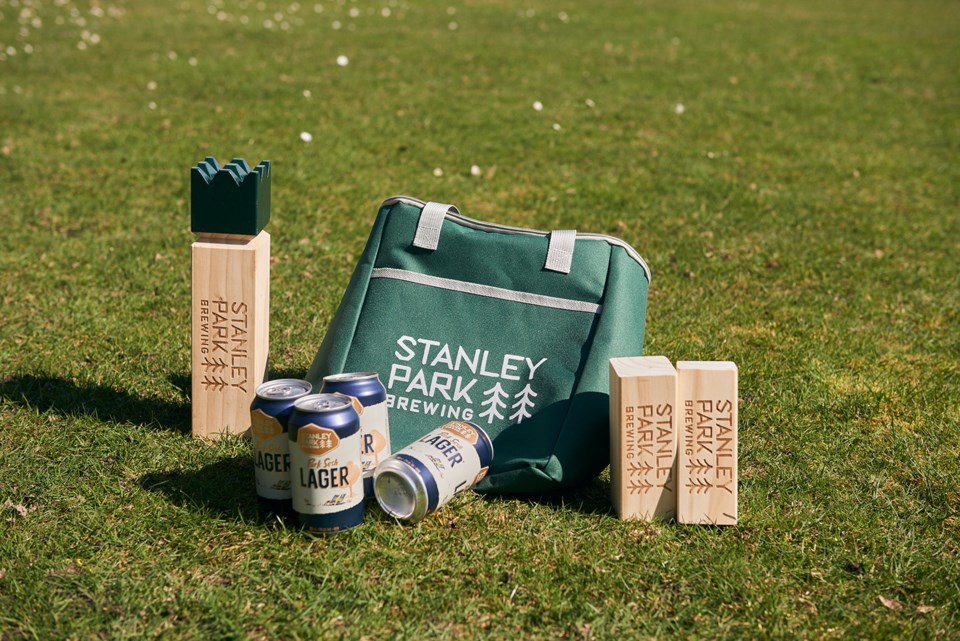 We've partnered with Stanley Park Brewing to give one lucky winner a curated EPIC Park Sesh Kit that includes all of the essentials you need for your next park hang in the city!
The Stanley Park Brewing Park Sesh Essentials Kit Grand Prize includes:
A Stanley Park Brewing Prize Pack (Valued at $40)
A Soft Cooler (Valued at $60)
2x Metal Koozies (Valued at $40)
A Folding Camping Bench (Valued at $125)
A Picnic Blanket (Valued at $50)
A Pickle Ball Set with Net (Valued at $200)
A Bocce Ball Set (Valued at $125)
A Kubb Set (Valued at $125)
A Croquet Set (Valued at $125)
A BOOM 3 Portable Speaker (Valued at $200)
Total Grand Prize Value: Over $1090 CAD
You can enter via the contest entry form below.
For additional chances to win, visit the Stanley Park Brewhouse and the Stanley Park Brewing website for 10 bonus entries each, and follow Stanley Park Brewing on Facebook and Instagram for another 25 bonus entries each.
This contest is open to B.C. residents and closes on September 23, 2021. The contest winner will be contacted via email on this date.