Imagine creating a neighbourhood from scratch. Turning an area three times the size of Granville Island from barren industrial land into a vibrant neighbourhood with riverfront pathways, parks, school, homes, shops and services. That's exactly what Wesgroup is doing at the city's best kept secret along Marine Way – River District. It's the largest and the last waterfront development in the city. It's a whole new major neighbourhood that is going to start evolving over the next two years. How awesome is that?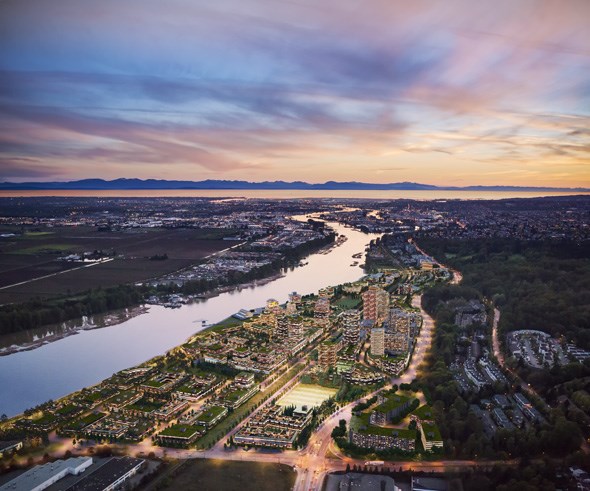 This transformation into an awesome new neighbourhood is just underway now and not many people know about it. But Wesgroup's River District aims to be the city's next Yaletown, just on a working river instead of ocean. Swap the freighters for tug boats and log booms. Swap the packed seawall with a quiet, 5 km riverfront pathway teeming with bird life, walkers, joggers and bikers and a similarly remarkable view.
Over the next few years, Wesgroup will be building many homes in this new community, as well as a European-style town centre featuring shops, cafes, restaurants, banks, a grocery store and more. The first homes at One Town Centre offer the opportunity to move into a brand new neighbourhood spanning 130 acres but best of all, residents will move into a vibrant community with shops and services opening at the same time as homes are finished. That's rare.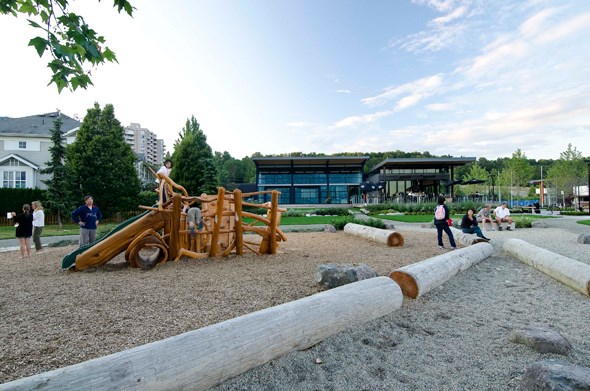 Designed by a world-class team of planners, architects and engineers, River District has taken years to launch, but it's worth exploring. Here are a few reasons:
1. In the coming years, River District will become its own mini-city complete with an old-fashioned town centre - a pedestrian-only plaza of shops, restaurants, grocery store, banks and other services.
2. The development is extraordinary in many ways – offering unprecedented, affordable waterfront living as well as access to Vancouver's largest and last new waterfront neighbourhood that will feature riverfront pathways, sports fields, a brand new elementary school, 4 daycare centres, 25 acres of park space, an already active and beautiful waterfront community centre, a waterfront restaurant (Romer's – already there and a popular destination) and a large amenity centre.
3. River District will have more residents than Yaletown - 7,000 homes and 15,000 residents including 7.2M square feet of residential space, 250,000 square feet of retail space, 260,000 square feet of office space. All told, that's bigger than the community of White Rock.
4. River District already has a beautiful, busy community centre that hosts yoga classes, movie nights, kids activities, sports leagues for adults, beach volleyball, nature walks and much more. Check it out here: http://www.riverdistrict.ca/events/
5. River District has already won 10 awards including "best neighbourhood and master-plan design." Watch out for some great upcoming events in the community this summer including the weekly River District Farmer's Market and other fun, family-friendly summer events.
Wesgroup's One Town Centre homes are now selling. For more details, check it out: http://www.riverdistrict.ca.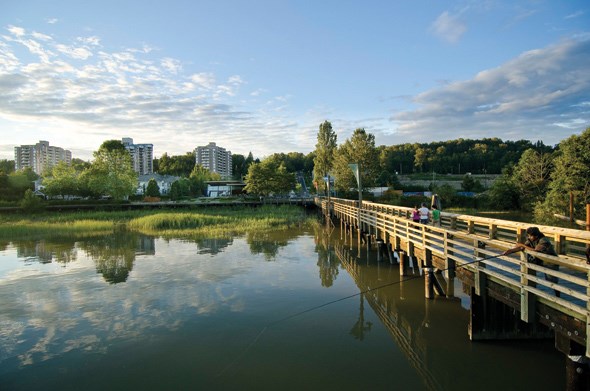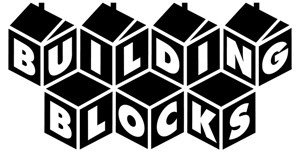 V.I.A.'s Building Blocks sponsored features offer intimate looks at real estate projects in and around Greater Vancouver, bringing you stories about the developers, the neighbourhoods and the homes themselves.