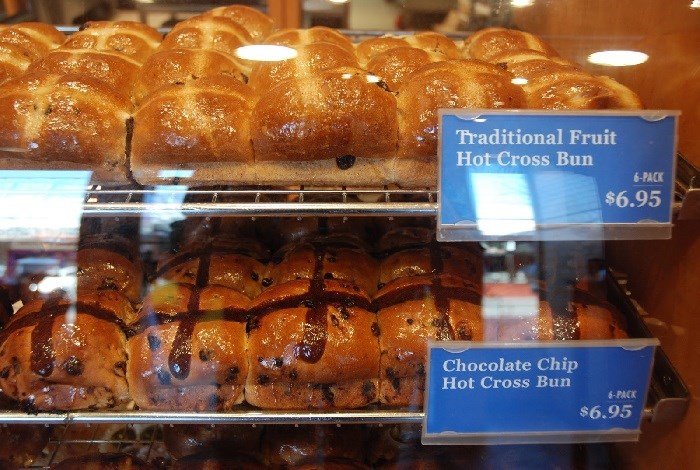 Hot cross buns are more than just a song played on the recorder in grade 3. They are soft, lightly sweet, doughy little buns with a cross on top. That ought to be common knowledge, but you'd be surprised how many people I've met that have never seen or tasted a hot cross bun before!
My grandmother grew up in Nottingham, England back when hot cross buns probably really were one-a-penny, two-a-penny. She, like many other war brides and future-grandmas, brought this British tradition with her to Canada and continued making them every Easter up until she passed away. Hot cross buns are made during the Easter season to celebrate the resurrection of Jesus (hence the cross), but baked within each little bun are spices, history, and superstitions! It was said that baking hot cross buns on Good Friday and hanging one by the kitchen door would ward off evil spirits and bring luck to your kitchen, preventing fires and ensuring no loaf of bread would ever turn out poorly. Taking hot cross buns on a sea voyage could prevent wreckage and ensure smooth sailing! These buns were so sacred, in fact, that in the 1600's the sale of any spiced bread outside of the Easter season was actually banned, and the punishment for anyone caught selling them was to forfeit all of their supply to the poor.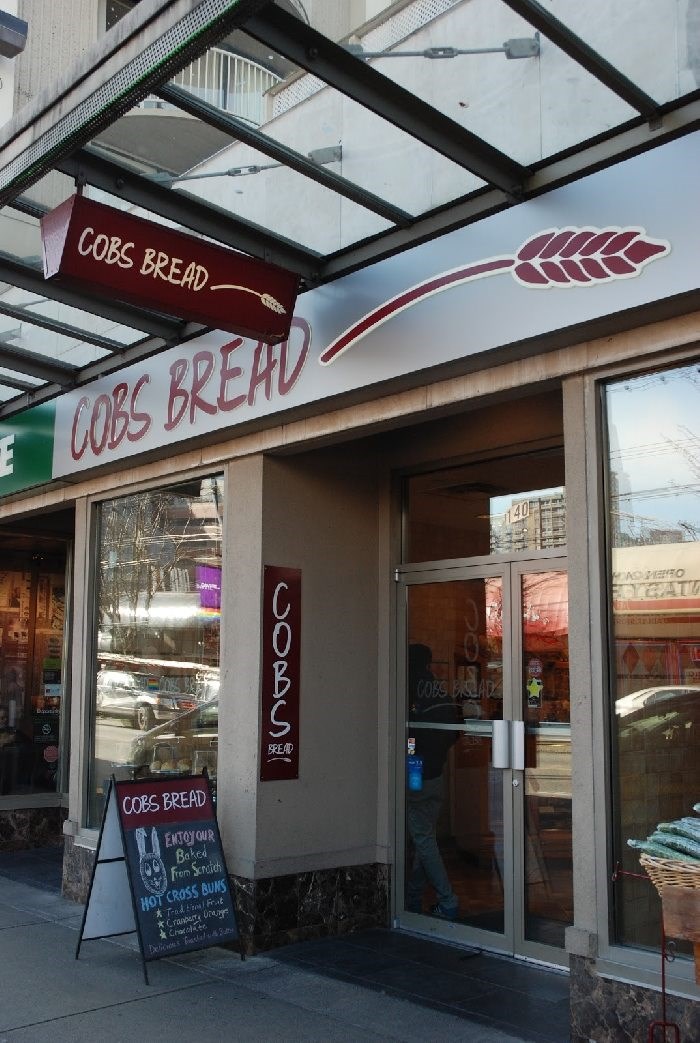 COBS Bread on Davie St.
Which brings us to today. With the sun shining and the cherry blossoms blooming, I started reminiscing about my grandmother's baking, and figured this would be the perfect morning to search for a hot cross bun. In spite of no longer being baked contraband, I haven't seen a hot cross bun anywhere outside of my grandmother's house. I headed out of my West End apartment, past a few heritage homes being torn down and replaced with condos, and headed down Davie Street. I didn't have to walk very far. The aroma of fresh-baked bread wafting out of the doors of COBS Bread began calling to me from halfway down the block.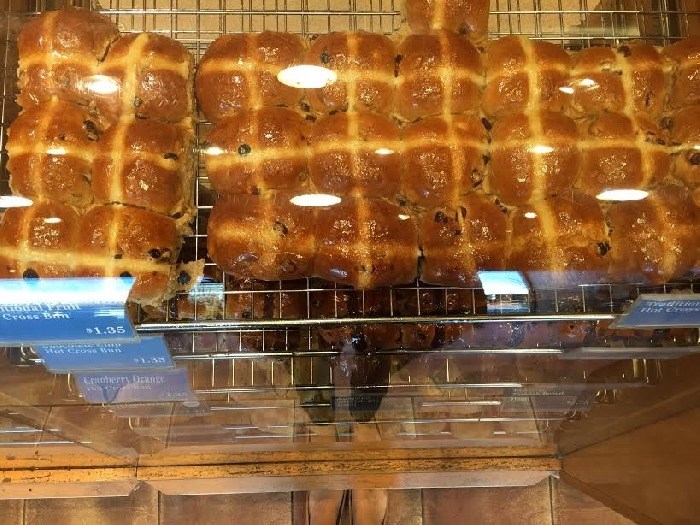 Hi yes hello, I'll have 6 traditional fruit hot cross buns, and maybe all of the chocolate chip hot cross buns.
I went in and spoke with Brinder Bains, the owner of the COBS Bread on Davie Street. She wasn't surprised at all that I was coming a month before Easter in search of the perfect hot cross buns. "In December, we start getting people asking when they're coming," she laughed. COBS bakes a traditional hot cross bun with raisins and currants (my go-to), as well as a chocolate chip hot cross bun (decadent, and perfect with an afternoon coffee), and a refreshingly zesty cranberry orange hot cross bun. Your local COBS Bread will be selling traditional hot cross buns baked fresh every day until March 30th, so if you haven't had a chance to try one, or if you're missing your grandma's home baking like I am, get in there now!
COBS Bread is more than just my purveyor of freshly made hot cross buns though, it's my local bakery. Every morning at 3am while the city lies asleep, the bakers of COBS Bread are starting up the ovens to make sure that they have enough loaves, scones and buns for the day ahead. Each location offers a huge variety of freshly baked bread, made from scratch with no preservatives and no sugar, from soft fluffy French loaves to high-fibre nine grain whole wheat loaves, all made with high standards and high quality ingredients. While they all offer the same fresh classics, each neighbourhood COBS is a little bit different. My local Davie Street COBS is known for their custard scroll, a creamy pastry topped with shredded coconut, and their German Rye loaf.
The Great Wall of Breads
Although COBS follows the old tradition of only offering hot cross buns during the Easter season, one rule that they adhere to year round is the donation of their baked goods to charity. At the end of every business day, the staff of every COBS Bread location packs up all of the leftover loaves, buns and pastries, and sends them to local charities within the community. I shop here not only because it's really, really difficult to walk past the sweet smell of fresh sourdough in the morning, but because COBS is part of my community, and I love supporting a local business owner knowing that they value giving back. I can sadly say though that it's unlikely that the charities in the West End will be seeing any day-old hot cross buns with me around. I only have until March 30th to eat these sweet little puffs of Easter heaven, and I'm not going to sit back and let that opportunity pass me by.
Bye COBS! The bread-gator was not for sale, sadly (yes, I asked).