The Christmas season is all about tradition, and Vancouver's favourite annual event has returned for the 2022 holidays.
On November 12, the Vancouver Christmas Market lit up Jack Poole Plaza and it's here until Christmas Eve. (Hello, carousel rides and Glühwein!)
Now in its 12th year, this German-inspired market is the longest-running and biggest event of its kind in Vancouver, welcoming hundreds of thousands of visitors each year.
Once again, the Market will delight guests of all ages with family-friendly activities, handcrafted European gifts, and live entertainment – complete with gourmet Old World eats and treats. Try Market favourites like cheese raclette, pork hock, mini Dutch pancakes, and much more.
An Old World Tradition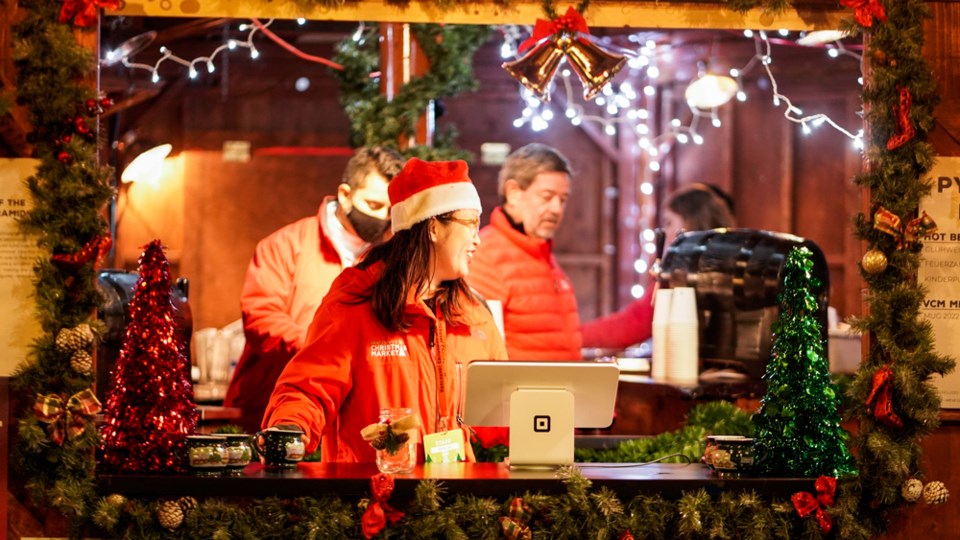 The Vancouver Christmas Market is proud of its authentic European flavour and activities. Inspired by European "Christkindlmarkts," it replicates the enchanting Old World experience with an array of German holiday traditions.
Time and again, the Market brings Vancouverites together with festive attractions, traditional dishes and handcrafted items – many of which are authentically European.
Bigger than ever
Thanks to the support of visitors young and old, the Vancouver Christmas Market has grown each year. This season, it's bigger and better than ever!
Guests are invited to try sweet and savoury foods, sip on some apple cider, and shop at more than 90 artisan huts. With festive foods and giftable goodies, the Market's shops have something for everyone on your Christmas list (and perhaps a little something for yourself!). Browse jewelry, natural soaps, candles, ornaments, clothing and much more.
As a bonus, enjoy dozens of food and drink options, onsite or to take home, including German-style bratwurst, soups, baked pretzels, Dutch pancakes and the German classic, schnitzel.
And what better way to get your holiday shopping done than with a glass of Glühwein in hand? Their vendors carry German and local mulled wine, beers, ciders and spirits.
New this year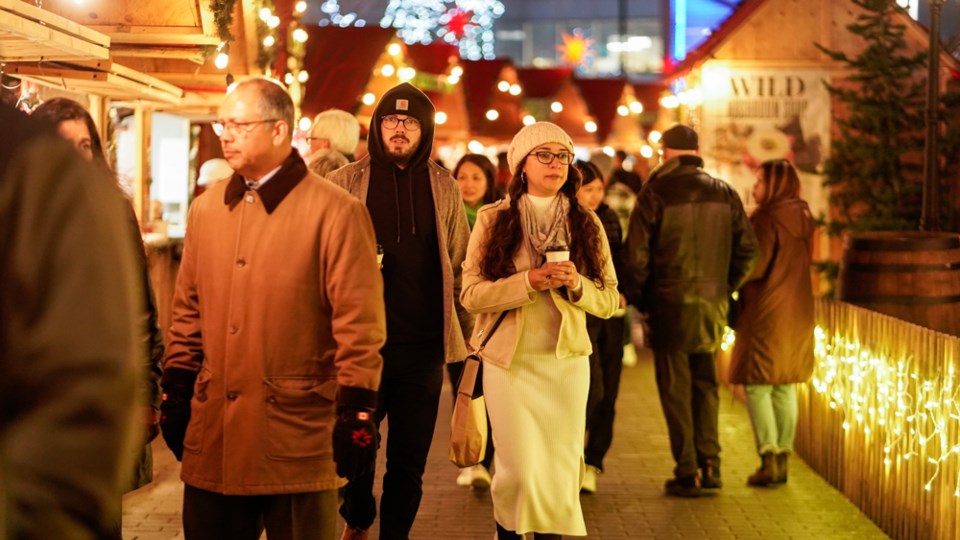 The Market has also added several all-new attractions this year to surprise first-time and repeat attendees alike.
Check out the augmented reality experience that connects Market-goers to classic Christmas characters. Explore three traditional Christmas stories as told through augmented-reality animations. Each story is posted on a large signboard at the Market; simply scan the QR code with your mobile device, and one of three Instagram filters – The Christmas Spider, The Snow Queen, or The Nutcracker & the Mouse King – will automatically launch with the animation. Take photos or videos and share them with your friends.
Marvel at the Schwibbogen, a traditional German decorative candle holder, often seen at Christmas markets in Germany. The Vancouver Christmas Market's own Schwibbogen, situated at the entrance, is an impressive 12.6 feet tall – perfect for a photo op. Meanwhile, the Market will be glittering under the brand-new Sky Curtain of lights (with more than 22,000 sparkling bulbs!), creating a mesmerizing canopy over the Market.
Last, but certainly not least, be sure to peruse to the Market's Entertainment Schedule for a daily variety of festive live music, DJs, kids' entertainment and more.
The 2022 Vancouver Christmas Market runs daily until Saturday, December 24, at Jack Poole Plaza (next to the Vancouver Convention Centre). Operating hours vary. General admission tickets, season passes, group bookings and additional information about the Market can be found at vancouverchristmasmarket.com.