Marc and Jenna's 1,500 square foot home in Mount Pleasant is a pretty great story of transformation. The one thing they instantly liked about this half duplex was the general layout, but there was quite a bit they didn't like as well: the colour scheme wasn't to their taste, there had been a fair bit of damage to the place over the years and, in their words, "The whole house needed to be updated". So they took on the project of renovating it and, as you'll see in these before and after photos, they did an incredible job of it.
DINING - BEFORE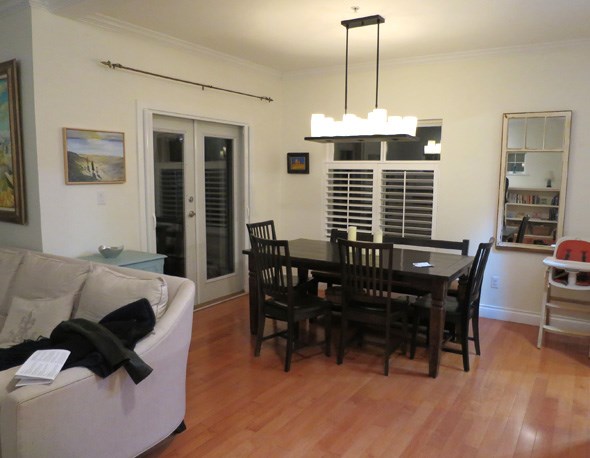 DINING - AFTER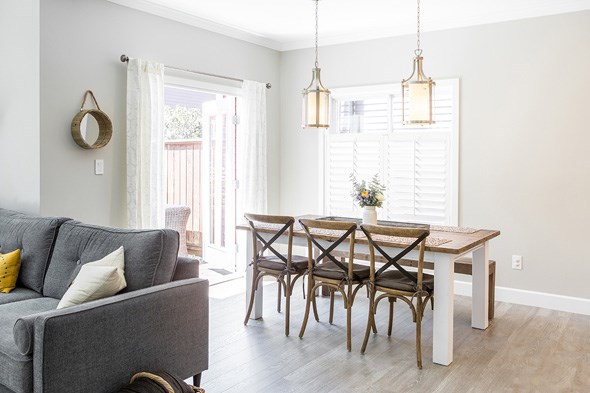 The biggest impact was thanks to the flooring. They chose a high-end laminate that looks and feels like engineered hardwood but doesn't dent or scratch easily. They painted everything from floor to ceiling and carried a neutral colour palette through the house. New window trims really dress up the rooms now, with privacy and blackout blinds for the south-facing home. Floating custom fireplace built-ins were also installed.
All lighting fixtures were updated to a consistent style and are mostly finished in brushed nickel. All door handles were also swapped to brushed nickel to match.
KIDS ROOM - BEFORE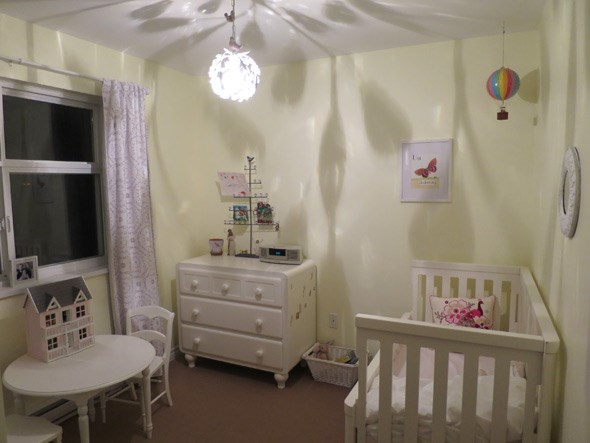 KIDS ROOM - AFTER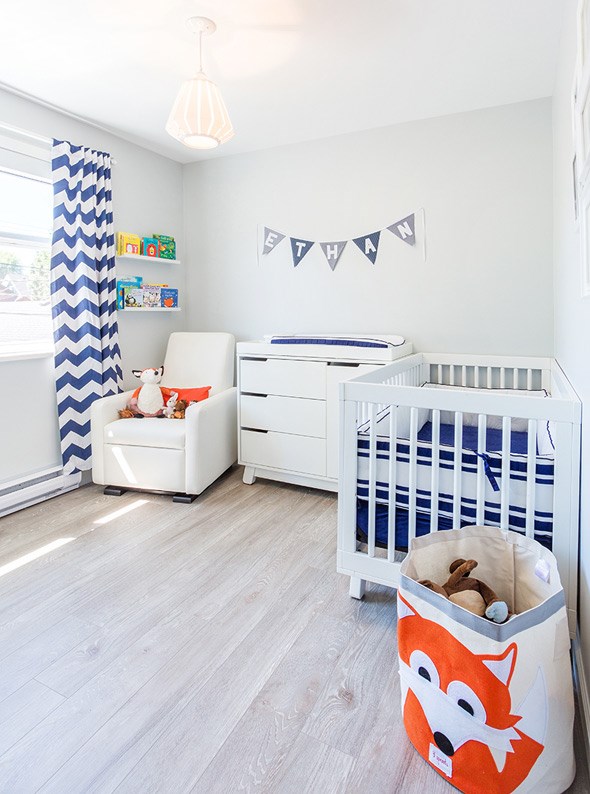 Knowing the bathrooms are small, they installed new toilets with a slim and sleek profile. Custom-made vanities on legs give more floor space and, as a bonus, match the kitchen cabinets as well. For the bathroom flooring, they choose a grey tile that's slightly darker than the laminate floor since they didn't want it to match too much (but still flow well).
BATHROOM - BEFORE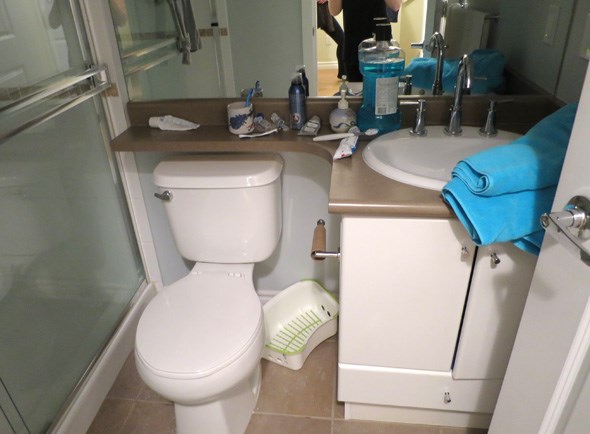 BATHROOM - AFTER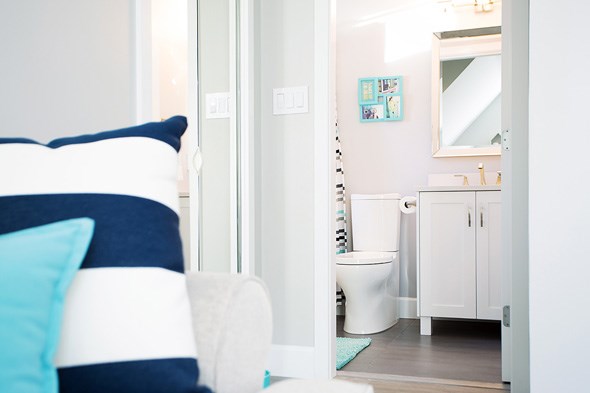 In the kitchen, taking down a wall separating the kitchen from the dining made the quickest and biggest impact. They refinished the cabinets from brown to white, changed the handles and added a low-maintenance quartz countertop. They purchased a new appliance package from KitchenAid which included a counter depth fridge, making the kitchen feel wider. Lastly, they replaced the previous kitchen sink and faucet with new and modern Kohler fixtures.
KITCHEN - BEFORE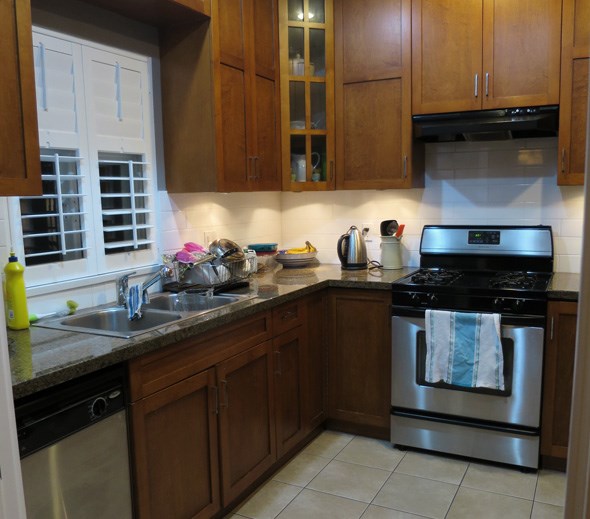 KITCHEN - AFTER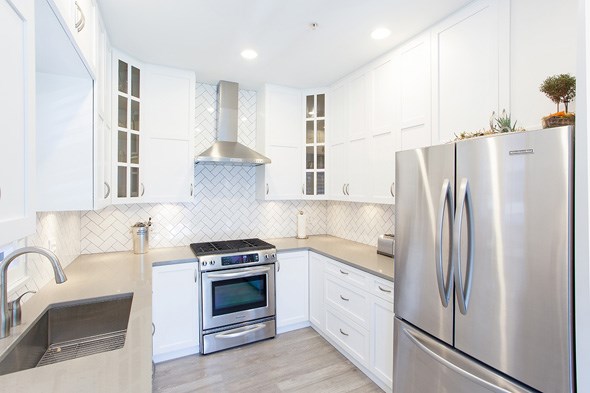 As for the outside, a backyard makeover meant the grass was improved, evergreens were planted, a herb garden was planted, and flowers were spaced out wisely. The trims were repainted and a big power wash improved the look of the siding and pavers.
If you're planning your own upcoming renovation, the team at Prospera can help you with planning for the expense. Interest rates are low, so now is a great time to upgrade
Overall this is one of the best looking reno jobs in the city, and we hope to take you into more like it in the future. Email us at contact@vancouverisawesome.com if you've done a reno to your property that you think stands up to this one!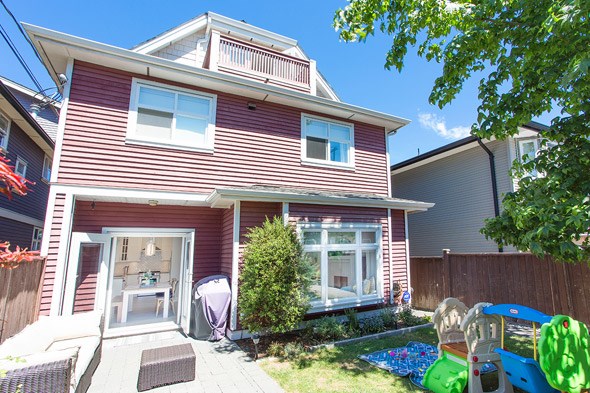 This Content is made possible by our Sponsor; it is not written by and does not necessarily reflect the views of the editorial staff.