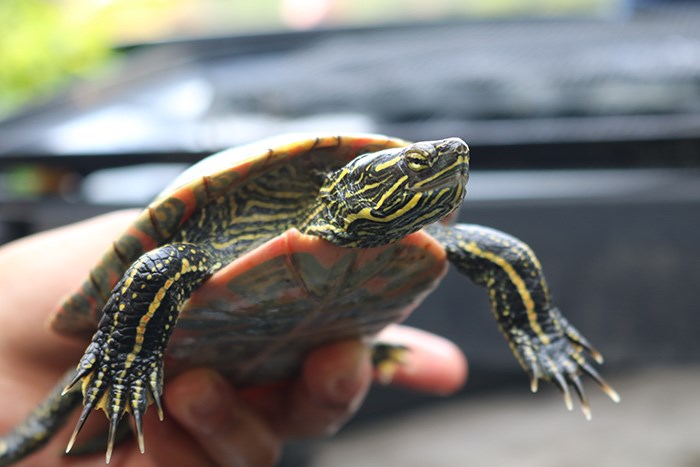 We all remember the story of the turtle and the hare… the tortoise won the race with a healthy can-do attitude and understanding of its own abilities. It's a great lesson for kids and maybe even more so for us adults, who often tend to burn out before we can even finish the race.
Well, in exactly one month we can relearn those lessons all over again at the Greater Vancouver Zoo's Turtle Dash and Hatchling run on September 14th!
The race will take participants through the entirety of the Greater Vancouver Zoo, where you will encounter animals from all around the world as you run the 1 or 5k race marathons through the zoo's acreage. Registration includes zoo admission so you can go back and visit your favourite furry friends after you've crossed the finish line. All race profits will go toward funding conservation projects, which include protecting The Western Painted Turtle; the only remaining native pond turtle left in B.C.
See the full route map below and click on the icons to learn more about the animals you'll meet along the route:
The Western Painted Turtle is named after the bright yellow stripes on its head, neck, tail and legs, and the glowing red on its belly. The Committee on the Status of Endangered Wildlife in Canada listed the Pacific Coast Population of the Western Painted Turtle as endangered in 2006, but in August 2013, an energetic group from the Western Painted Turtle Recovery team which included Greater Vancouver Zoo caregivers, released the first Western Painted turtles back into the wild, from the same location where their eggs were originally rescued one year prior.
When training for this year's 5km, remember to take things slow and listen to your body. Just like that old turtle taught us, slow and steady wins the race!
This year's Turtle Dash and Hatchling Run happen September 14th at the Greater Vancouver Zoo. You can learn more about the event and the Zoo's conservation projects HERE.