We hate to be a downer but summer officially ends on September 23rd...
With that in mind, we've partnered with Western Family to highlight the sweet summer activities you need to experience this summer in B.C. Savour every moment, because we've only got a few weeks of sunshine left!
Find the perfect lake, cove, or lazy river
Lush forests, colourful floaties, and beautifully clear waters are just a few of the reasons why the Cowichan River makes the ideal tubing experience.
Drink or dine on a patio
You will seriously regret not taking advantage of Vancouver's amazing patios once the rain returns. Best enjoyed while indulging in something sweet (of course).
Escape to the island, or any island!
One of the many perks of living in Vancouver is being just a ferry ride or two away from stunning ocean views, vast beaches and serene summer settings. Whether it's a quick day trip over to Bowen Island, or a long weekend spent surfing in Tofino, summer isn't complete without at least one trip to neighbouring island. If you aren't fortunate enough to make the trip however, at least grab a tub of Nanaimo Bar Ice Cream from Save-On-Foods.
Spend the weekend in Whistler, B.C.
Whistler boasts plenty of AWESOME ways to make the most of the remaining summer days and they're all conveniently located just up the sea-to-sky. If you're looking to unwind, be sure to check out this majestic open-air spa.
Get "buzzed" at Vancouver's finest coffee shops and cafes
If you're craving away to explore within the city, there's no better way than mapping out the city's finest coffee shops. Top rated coffee destinations in the city include Revolver, Nemesis, Elysian, Bird & the Beets, Nelson the Seagull, Caffe La Tana, 49th Parallel, and Greenhorn Cafe. Of course, nothing goes better with coffee than something sweet, so cap off your coffee bean excursion with a tub of Western Family's Espresso Almond Fudge Ice Cream for dessert.
Spend the afternoon at Granville Island
Whether you're enjoying buskers, eating local delicacies or browsing shops filled with local art and artisans, spending a hot day on Granville Island is a summertime must!
Go berry picking at a local strawberry farm
One of the best things about living in B.C. is having easy access to an abundance of incredible fresh produce grown right in the province. Summer means strawberry season which necessitates at least one trip to a local farm! Many local growers offer u-pick, which is a great way to get your hands on the freshest berries possible. If sweating isn't your thing, you can still enjoy fresh strawberry flavour with Western Family's Strawberry Jubilee Ice Cream, which is made right here in B.C.
Go on a BIG tour of Vancouver's microbreweries
With literally dozens of breweries in Vancouver alone we bet there's still a few that you've yet to discover. Grab some friends and sip your way through a warm summer night. Please just remember to enjoy responsibly.
Spend the day at one of the world's best beaches
Last year, Kitsilano Beach and Spanish Banks landed in the top #20 of Flight Network's round-up of the best beaches on the planet. While Shipwreck Beach in Zakynthos, Greece stole the top spot, Vancouver's sand-filled destinations remain a quintessential summertime activity in the city. Should you need to cool down, be sure to finish the day off with a bowl, cup, cone or tub of Western Family's limited edition Cool Summer flavours, which include Raspberry, Lime and Peach.
Enjoy international street food at the Richmond Night Market
Games, vendor booths, live entertainment and an insane amount of food are all a part of this epic summertime tradition.
Take a hike with the family
British Columbia is home to a vast number of breathtaking places to hike. However, not all hiking locations are suitable for children. Fortunately, there are a number of great places to hike near Vancouver that offer sweeping views that are also great for kids. Hey, you know what else kids like? Ice cream! If you're looking for an ice cream fitting for a post-hike reward, look no further than Sasquatch Trials, a brilliant blend of velvety Vanilla Ice Cream and Miniature Chocolate Peanut Butter Cups.
Spend the day in Stanley Park
Ranked the best park in the world, it would be a true shame to go an entire summer without at least one visit to the crown jewel of Vancouver. 
Also... eat ice cream, lots of ice cream!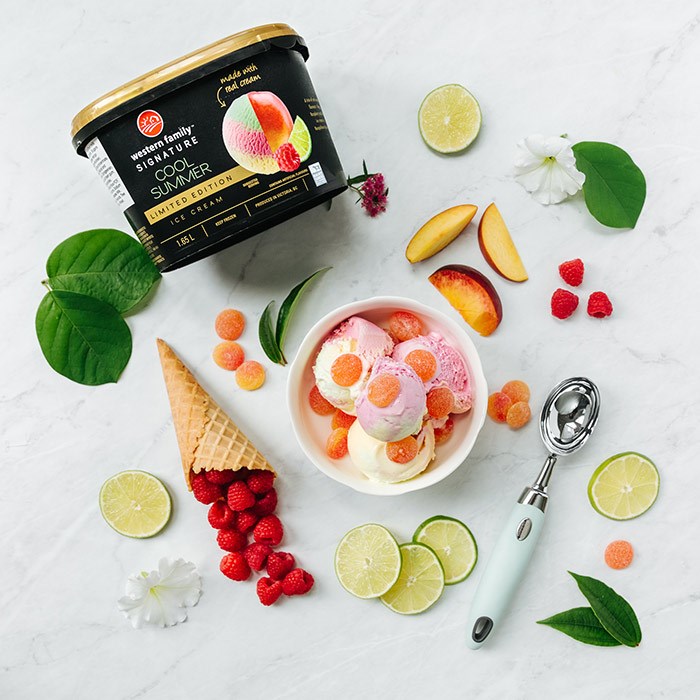 Western Family Signature Ice Cream is locally made in Victoria, BC with 100% real Canadian cream. Whether you're enjoying it with homemade dessert or fresh out the tub, Western Family products feature the highest quality ingredients and affordable prices that turn everyday occasions into moments to be savoured. Remember, this sweet time of year won't last forever, so get out there and explore (just make sure to pick up some ice cream while you're out).
To learn more, visit westernfamily.ca
This Content is made possible by our Sponsor; it is not written by and does not necessarily reflect the views of the editorial staff.