Vernon offers some of B.C.'s most scenic and diverse opportunities for getting back to nature, with routes ideal for all preferences and skill levels.
With this in mind, it's time to swap out your snowboard, skis and snowshoes for trekking poles, hiking boots and biking gear because we're breaking down the top 5 best hiking and biking trails in Vernon.
There's no denying that Vernon has some of the most stunning natural landscapes the Okanagan has to offer, and some of the best ways to authentically experience it is also one of the most simple - on foot or wheels!
Middleton Mountain
While its name says 'middle,' there's nothing half-done about this trail!
Middleton Mountain is ideal for getting your heart pumping as you zigzag up the trail and stairs to reach a grassland summit with sweeping, stunning and uninterrupted 360° views from various vantage points of Vernon, Kalamalka Lake, and Swan Lake.
Pro tip - be sure to keep your eyes peeled for the Prickly Pear cactus that bloom in June!
Predator Ridge
Don't let the name intimidate you. Predator Ridge offers 35 km of well-maintained multi-use trails with options suitable for all skill levels, comprising paved paths, natural earth and crushed gravel surfaces.
Through spring and summer, every Thursday morning, a hiking group meets to explore a variety of trails in Vernon and throughout the North Okanagan. It's the perfect opportunity for those looking to get active and meet like-minded trekkers.
Predator Ridge is also excellent for mountain biking, and they have some big plans to expand the bike trail network over the next couple years. Some of the locals' favourites include the technical Granite Trail and the fast and flowy Ellison Connector Trail.
Silver Star Foothills (and Beyond)
The Foothills portion of the Grey Canal Trail is a favourite for dog walkers, leisurely hikers and joggers looking to enjoy the beautiful rolling hills scenery and panorama views from Coldstream through Vernon and up the Spallumcheen Valley on a comfortable, packed dirt trail loop.
Silver Star Provincial Park also features the Sovereign network of mountain bike trails for intermediate to advanced riders. In other words, they're not for the light of heart. However, if you're a fan of rock slabs and technical features, these are the ones for you!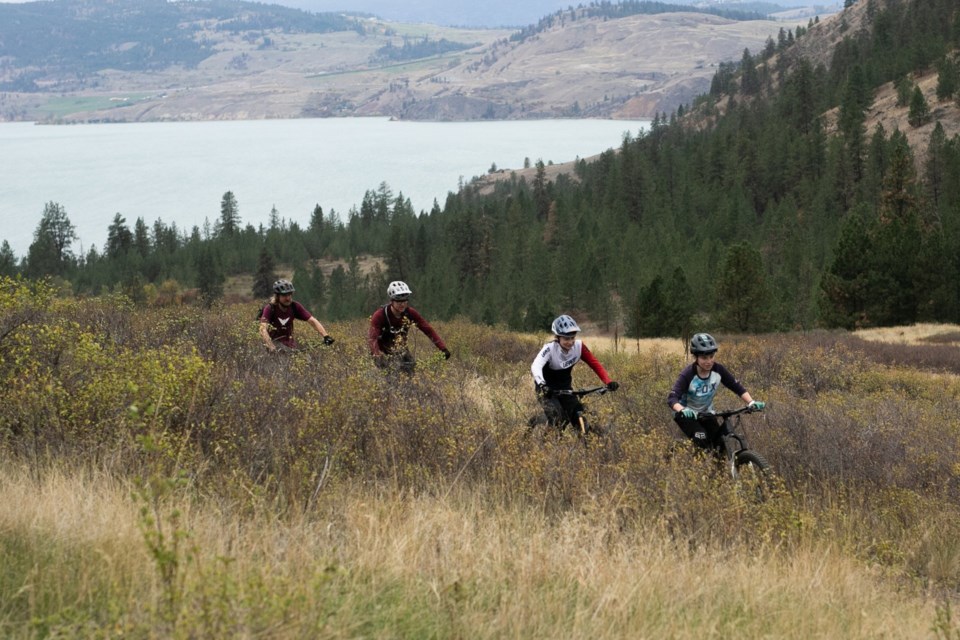 Kalamalka Lake Provincial Park. Photo: Jackson Parker
Kalamalka Lake Provincial Park
Kalamalka Lake Provincial Park has the largest concentration of North Okanagan Cycling Society (NOCS) supported bike trails in the Vernon area. From entry-level trails for beginners, like Gingerly, to the spectacular views from the Lookout trail, the park has something to suit all riders.
The 3,700-hectare park is also home to several hiking trails of varying difficulties. Hike up to the Turtle's Head for breathtaking viewpoints of the lake and surrounding areas. It's also home to the oldest known living tree in the Okanagan, a twisted, gnarly old Juniper perched on a cliff.
Ellison Provincial Park
Situated on the northeastern shore of Okanagan Lake, Ellison Provincial Park spans 220 hectares of forested benchlands towering over a rocky shoreline of stunning headlands and sheltered coves.
Ellison has a network of beautifully scenic multi-use trails, providing fantastic biking opportunities for all skill and comfort levels. The park also contains over 6km of easy walking trails, with portions of steep sections, for visitors to access several of the area's stunning natural features and breathtaking viewpoints.
The above examples are just a brief peak into the beautiful natural wonders that Vernon has to offer. So, what are you waiting for! We've supplied the inspiration, now's the time to head out on your next adventure.
To map out your hiking and biking adventure, visit tourismvernon.com.