In the heart of B.C. lies a land of unspoiled nature at its most rugged and beautiful.
Wells Gray Country — which encompasses the mountain communities in the North Thompson Valley centered around the town of Clearwater — is a place of grandeur and adventure, and it's simply stunning in the fall season.
B.C.'s fourth largest park and Canada's Waterfall Park, the massive wilderness area of Wells Gray Provincial Park transforms during the autumn months, as the world's only old-growth inland temperate rainforest changes from a sea of green to stunning palette of yellow and orange hues.
From waterfall walks to fly fishing, here are some ideas for a fall getaway to Wells Gray.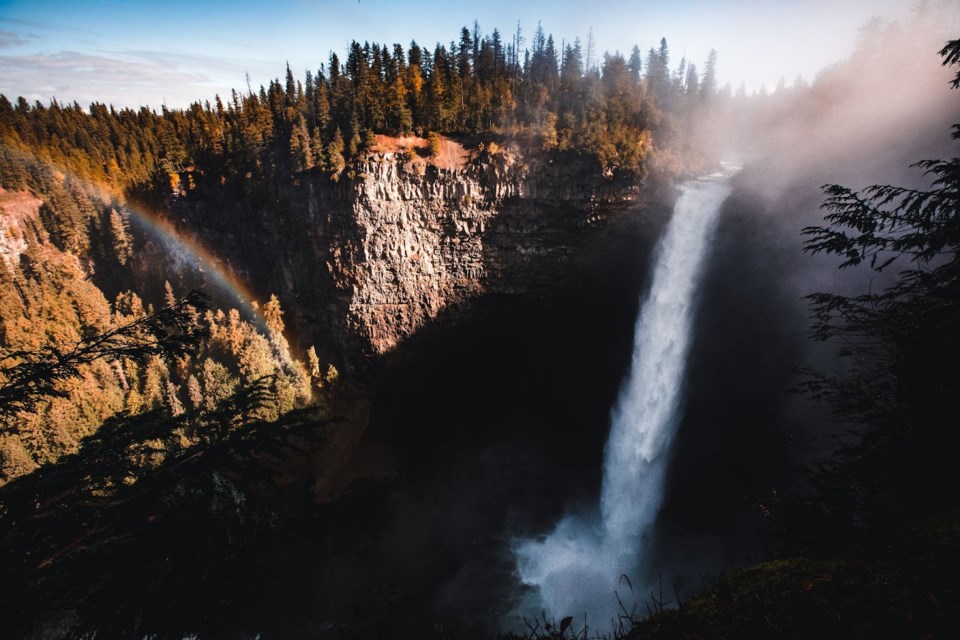 See the waterfalls
About half of the majestic 41 named waterfalls in the vicinity are found just minutes from Clearwater Valley Road — the main road through Wells Gray Provincial Park.
Plunging into a canyon from 141 metres in height, the iconic Helmcken Falls — the fourth highest waterfall in Canada — embodies the true power of nature. You can take in the view from the viewing platform, which hangs over the canyon for a panoramic view of Murtle River, or get up close and personal with a 8km hike along the South Rim Trail along the roaring river for a birds-eye view of the cascading waters.
Found 13 km up the main park road, Spahats Creek Falls is accessible through an easy stroll among the hemlock and cedar forest towards the viewing platform, where the falls plunge 80 metres through a keyhole in the rock face and into the river below.
After a 10 minute walk through an old growth forest, you will stand before the terraced waterfall of Dawson Falls, where you can watch raging waters cascade across 200,000 year old lava beds, creating a shallow veil of water spanning 90 metres across Murtle River.
Then, just downstream from Dawson Falls, the river splits into two as it makes its way around Cambrian rock formations, forming Mushbowl Falls. About 40 km up the main road, there is a pull-off for vehicles after crossing the one-lane wooden bridge.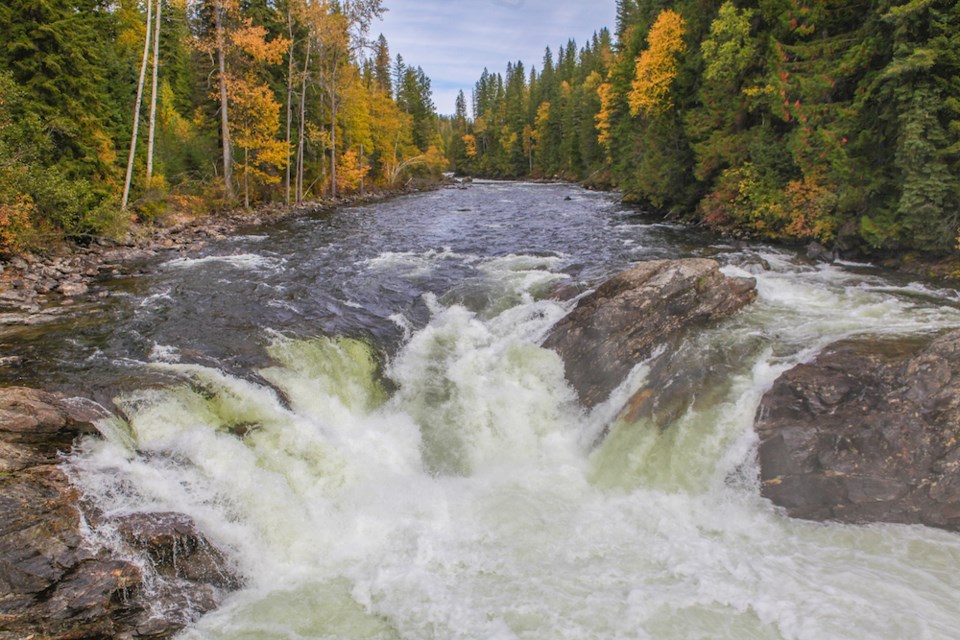 Take a hike
With over 200 km of hiking trails in Wells Gray, you'll have endless opportunities to follow the river deep into the old-growth rainforest, find secluded waterfalls, and take in stunning mountaintop views.
The Trophy Mountain Meadow trail (1 km) is a one-hour hike that takes you through the forest to the sub-alpine meadows. If you're looking for a more challenging trek, continue onwards for another hour towards Sheila Lake, and another hour of an uphill climb with epic panoramic views of Skyline Ridge as your reward.
Starting in Wells Gray Provincial Park and continuing 7 km back into the town of Clearwater, the Clearwater River hiking trail is lined with several types of untouched volcanic and river formations, including bluffs, natural land bridges, and the Triple Decker and Candle Creek waterfalls.
Ride the trails
The district of Clearwater is home to the Candle Creek Bike trail, a well-developed mountain bike trail network that takes you through the heart of the inland temperate rainforest.
Along the 32 km trail system, mountain bikers will enjoy the stunning fall colours and great views of the Clearwater and North Thompson Valleys and the Raft River Canyon. Plus, many of the trails are rideable in both directions, creating lots of opportunities for different loop combinations.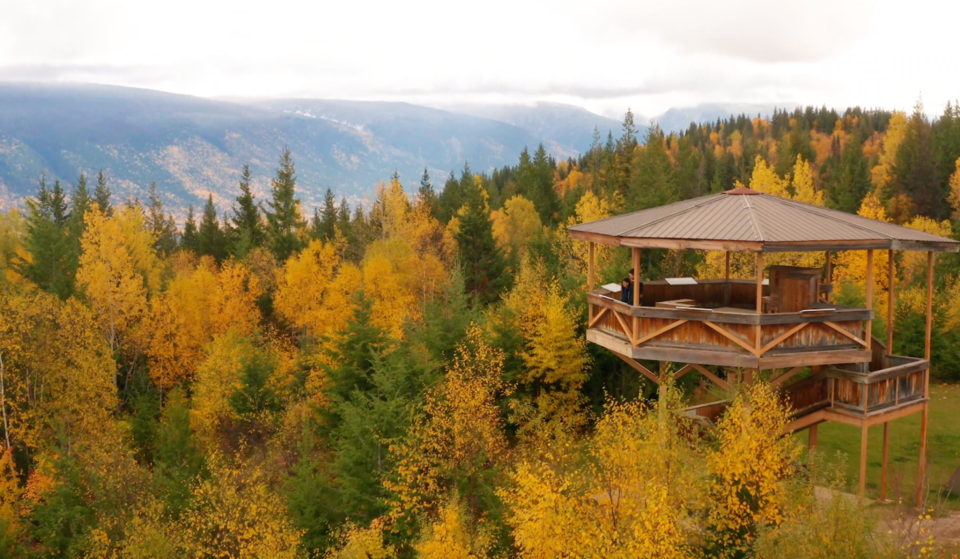 Cast a line
Angling for a fall fishing adventure? You'll find plenty to catch in and around Wells Gray country, a world-renowned destination for freshwater fishing on the lakes and rivers. With 50 lakes within a 1 hour drive of Wells Gray Provincial Park and Clearwater, there's plenty of opportunities to cast a line.
Start by exploring the lakes of Clearwater and Azure, where you can gaze at snow-capped peaks and waterfalls as you fish. At the remote bays of Murtle Lake, you can search for trophy-size rainbow trout that tip the scales between 7 and 11 pounds.
In Clearwater, you can visit the trout hatchery and rent a rod for free to try your luck on Dutch Lake, where you'll find rainbow trout, brook trout, and kokanee salmon. Over 3 million fish are released each year in the approximately 330 lakes in the area that the hatchery stocks.
Until the end of October, you can witness one of nature's most spectacular feats as sockeye salmon return to their spawning grounds in the Raft and Clearwater rivers, marking the end of a three-year, 4,000 km journey that takes them from Wells Gray Country to Alaska and back again. Take the short hike to Bailey's Chute and watch in awe as thousands of vibrant red salmon jump their way up the waterfall.
Score a hole-in-one
Soak in the stunning natural surroundings as you tee off on the groomed 9-hole, par 35 golf courses of Wells Gray's two full-service golf resorts — Lacarya Golf Resort and Wells Gray Golf Resort.
The design of these courses was intended to suit recreational players of every level, so golfers of all skill levels will find the courses entertaining and challenging. Even more, wildlife visitors often frequent these courses, making for some amazing encounters.
For something a little different, try some rounds of disc golf at the courses at Wells Gray Golf Resort and the Clearwater Ski Hill.
Go to wellsgray.ca for more ideas for your fall getaway to Wells Gray.