From voice-controlled personal assistants like Siri and Alexa to facial recognition on our smartphones, artificial intelligence (AI) has a large presence in our everyday lives.
That influence also extends to the world of art. To showcase the past, present, and future of AI in the creative field, the Vancouver Art Gallery presents The Imitation Game: Visual Culture in the Age of Artificial Intelligence from now until October 23, 2022.
Jointly curated by Bruce Grenville, senior curator at the Vancouver Art Gallery, and guest curator Glenn Entis, the feature exhibition surveys extraordinary examples of AI in the production of modern art and design around the globe.
The Imitation Game follows a chronological timeline that examines the development of artificial intelligence from the present to way back to its origins in the 1950s, when English mathematician Alan Turing introduced the Turing test, or the 'imitation game'.
Each of the exhibition's selected pieces emphasize the growth of machine learning and computer vision in cultural production across various disciplines, including animation, architecture, art, fashion, graphic design, urban design, and video games.
Some of the featured works on display that reveal AI's endless artistic possibilities include:
Sougwen Chung, Omnia per Omnia
Through a dynamic drawing duet between Sougwen and D.O.U.G._L.A.S. (Drawing Operations Unit: Generation_3 Live Autonomous System), the AI-driven art project explores the collaborations between an artist and a robotic swarm, human and machine, organic and synthetic, and improvisational and computational.
Scott Eaton, Entangled II
Informed by over 100,000 photographed nude portraits that have been fed into Eaton's AI tools, which are then instructed to meld and morph into photo-real imagery. In the 4k video projection of Entangled II, a mass of flesh and a swirl of body parts pours like water down a vertical screen.
MetaHuman Creator by Epic Games
Decades in the making, this tool for creating photorealistic digital humans that are fully rigged and ready to animate in mere minutes offers a startling and awe-inspiring look at the future of AI-informed animation.
Neri Oxman and the MIT Mediated Matter Group, Synthetic Apiary II
Using computational tools, the Synthetic Apiary II project monitors the behaviour of honeybees in building honeycomb structure creations, done to gather insights into how designed environments can be used in human architecture and design.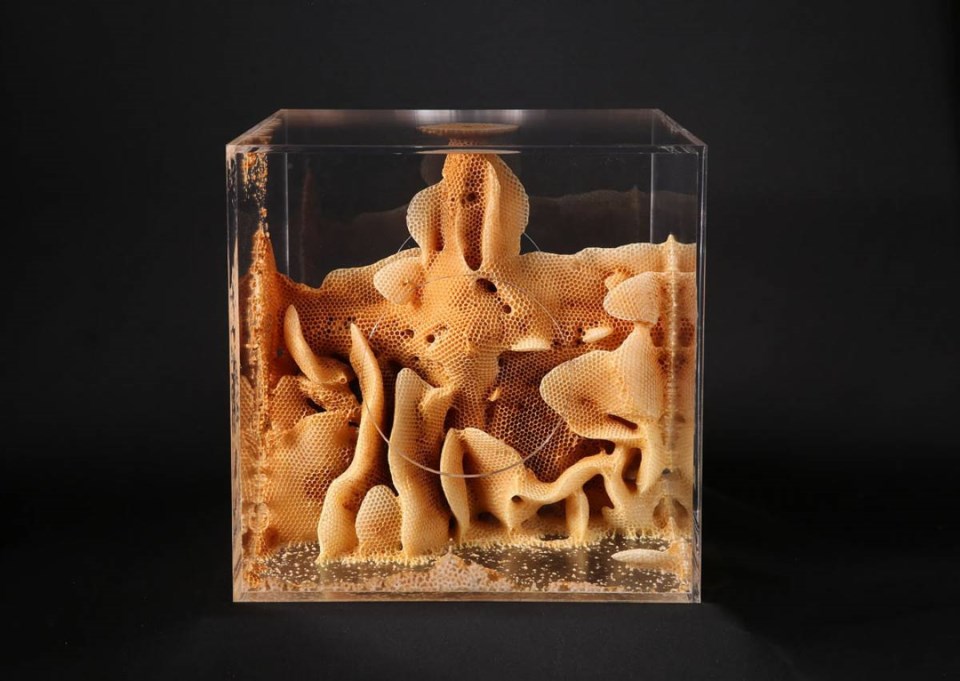 Some of the featured artists, designers, and architects in The Imitation Game include
*airegan
Stafford Beer
BIG
Ben Bogart
Gui Bonsiepe
Sougwen Chung
Muriel Cooper
DeepDream
Stephanie Dinkins
Amber Frid-Jimenez
Patrick Pennefather
WETA
The Imitation Game: Visual Culture in the Age of Artificial Intelligence runs until October 23, 2022. Visit vanartgallery.bc.ca to reserve your tickets today.