Finding a place to camp or go for an uncrowded hike during British Columbia's brief but glorious sunny season can be a struggle.
Not only has the BC Parks website crashed as people frantically try to book campsites, but also the most popular spots often book up within days. As a result, many folks end up camping in crowded areas or places they don't enjoy.
This spring, however, BC Parks has implemented a new booking system that allows campers to make B.C. camping reservations a couple of months in advance.
If you are looking for a free or inexpensive campsite to enjoy this summer, there is another feature that allows locals to get the best bang for their buck. It also shows recreation sites and trails across the province.
You can zoom in on the interactive map to see open recreation sites and trails, as well as information about each of the locations with pictures. Some of the information includes the number of campsites at a given location, how much the fees are, whether the area is maintained, how to access the location, and what kind of facilities are there (ie. tables, washrooms, etc).
It also gives directions on how to get to the recreation site and links to fire bans and other restrictions.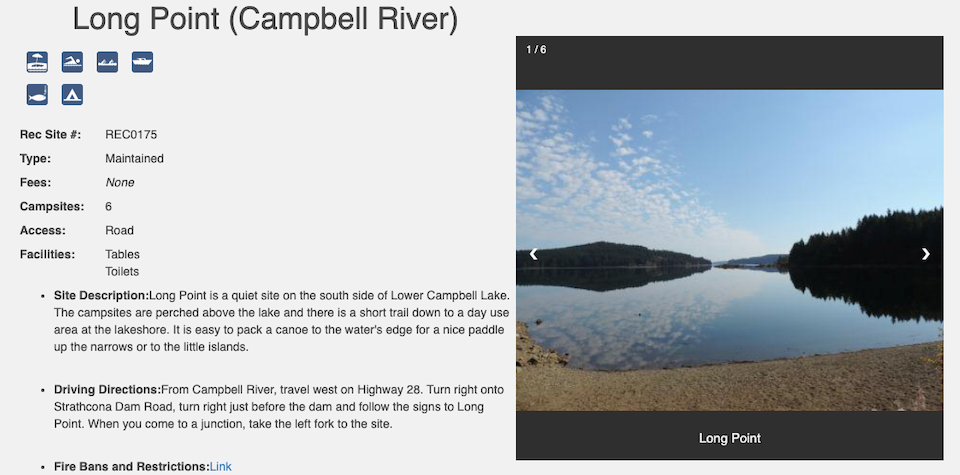 The website notes that large portions of the Thompson, Okanagan, and Kootenay Regions are currently closed to motor vehicles due to 2021 wildfires.
When using recreation sites and trails please respect camping rules and etiquette so everyone can have a safe and enjoyable outdoor experience.
As always, be sure to check current weather, terrain, and wildlife conditions prior to embarking on a hike. In addition, make sure that you know your physical limitations, tell someone where you are going beforehand, bring enough food and water, wear appropriate clothing, and never hike alone. Don't attempt dangerous poses for photographs.