Locals looking for deals on cruises visiting Vancouver in the new year can take advantage of a smorgasbord of deals this week.
Virtually every cruise line that visits the city over the next couple of years is offering a Black Friday Sale, with varying discounts on popular routes that stop at Canada Place terminal.
Holland America Line is offering up to 40 per cent off on select 2022-24 cruises to Alaska, Europe, Panama, the Caribbean, and more. If you visit the Black Friday Sale page, you'll see dozens of deals on cruises that stop in Vancouver, including many popular return routes to Alaska.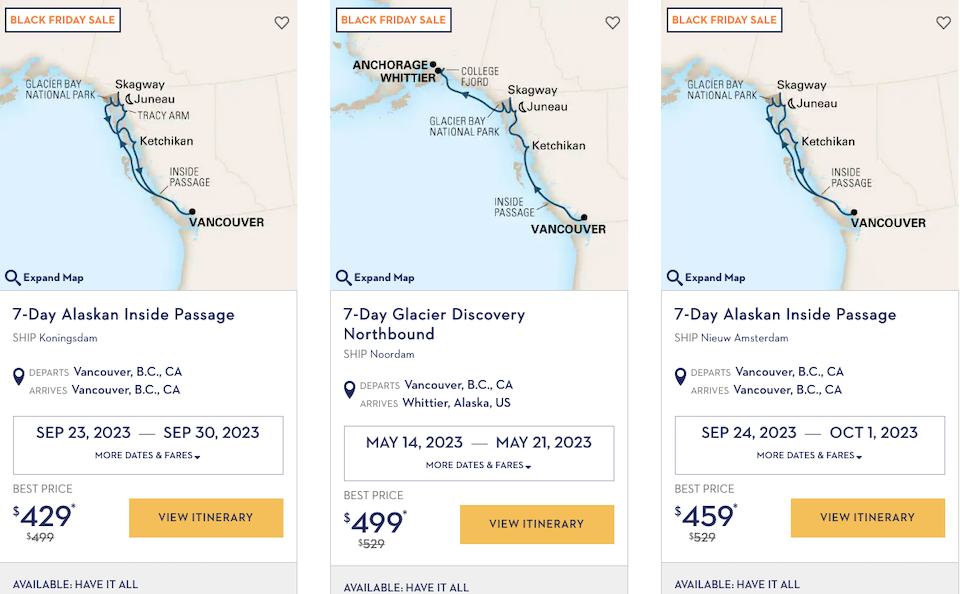 There are some other cruises that aren't for sale but still offer low-cost options that stop in Vancouver. The one-day Pacific Coastal cruise departs from Seattle on April 28, 2023, and sails into Vancouver the following day on April 29, 2023.
The cruise ship for this voyage is the Eurodam, which is Holland's first Signature-class ship. It has a tennis court, a basketball court, 12 bars and lounges, a disco, a movie theatre, two pools, a spa, an arcade, and much more.
The total cost for an interior stateroom for two people costs $435 including all taxes and fees, which breaks down to $217.50 per person.
Not only does that cost include your transportation on a beautiful five-star vessel, but it also includes meals, entertainment, snacks, and lodging. The only thing it doesn't factor in is alcohol and beverages, but you may opt to purchase a drink package that can reduce the cost of your spending.
To return back to Vancouver, you can catch a flight from Seattle International Airport (SEA) to Vancouver International Airport (YVR) or you can take advantage of the recently-launched North American bus service called Flixbus. The company provides service between Downtown Vancouver and Seattle with several departures daily.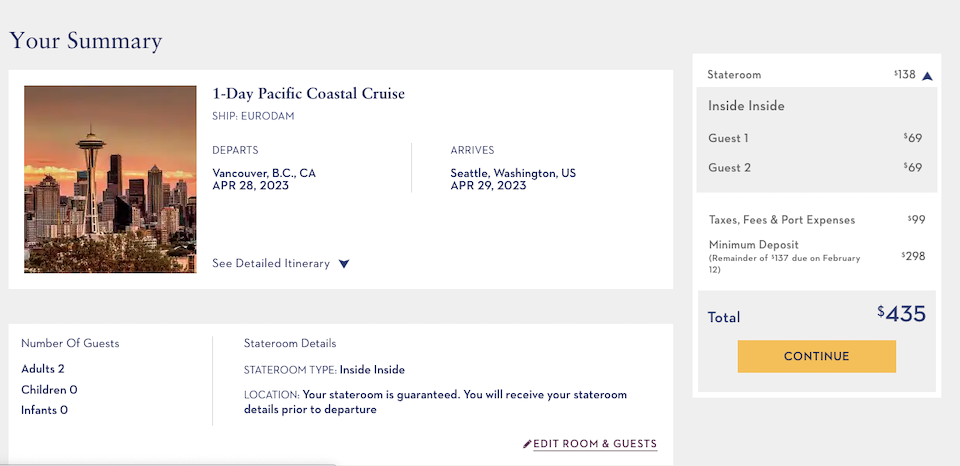 Other Black Friday Sale travel offers that include Vancouver
Norweigan Cruise Line is also offering a massive Black Friday Sale that features some sailings on "mega-ships" that visit Vancouver in the new year.
The Norwegian Encore will disembark in Vancouver following a four-day Pacific Coastal sailing on the Norwegian Encore. The cruise departs from Los Angeles on May 1, 2023, and sails up the Pacific Coast for a couple of days before overnighting in Vancouver on May 4. Passengers then leave the cruise on May 5.
The Encore is an awe-inspiring five-star vessel with room for 4,000 passengers on board. It features everything from a spiraling waterslide on its top deck to the Haven -- an exclusive area with cabanas and butler service for Haven guests.
NCL is a favourite among cruisers who enjoy a more relaxed atmosphere on board, without sacrificing quality and style. There's no dress code or scheduled dining times but guests can still enjoy elegant dinners in specialty restaurants onboard.
The total cost for two people in an interior cabin with the discount is $913.08 including all taxes and fees, which breaks down to $456.54 per person. The cruise would regularly cost $1,138.96, meaning you'll save $225.88.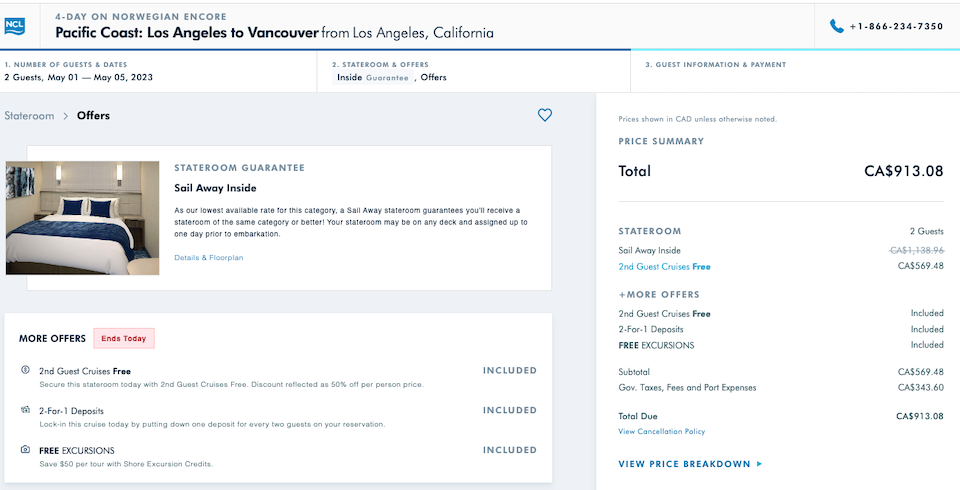 Princess Cruises is offering discounts on numerous cruises for its Black Friday Sale, including 60 cruises under $60 USD per day and hundreds more under $100 USD per day.
A three-day Pacific Coastal sailing on the Royal Princess departs San Francisco on April 30, 2023, and spends one day at sea before stopping in Victoria on May 2, 2023. The cruise disembarks in Vancouver on May 3.
The total cost for an interior stateroom for two people including all taxes and fees is $894.40 or $447.20 per person including all taxes and fees. This cost works out to a per person cost of roughly $149 per diem.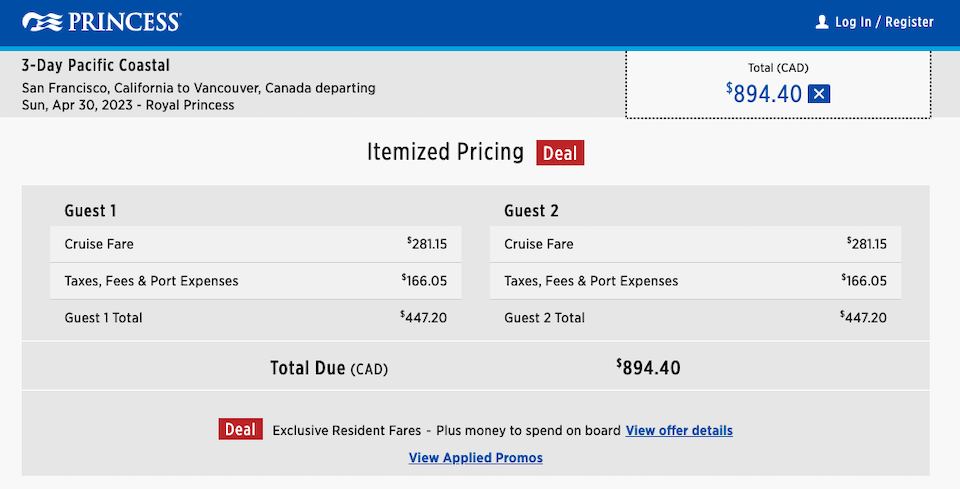 Early this year, I sailed on another cruise line's first voyage to Vancouver since the onset of the pandemic. Read my experience sailing from San Diego in April.