UPDATE: 4 p.m.
You will need a passport, or similar document, if you want to drive into the U.S. and then back up into the B.C. Interior to get around flood closures.
U.S. Customs and Border Protection confirmed to Glacier Media that travel requirements have not changed. Individuals entering the U.S. must possess a Western Hemisphere Travel Initiative document, such as a valid passport, trusted traveller program card, enhanced driver's licence or enhanced tribal card as well as proof of an approved COVID-19 vaccination.
A spokesperson said they are monitoring the situation closely and if any updates are made, they will pass on the information.
---
ORIGINAL: 1:50 p.m.
Canadian border agents will be waiving COVID-19 test requirements for people choosing to drive through Washington State to bypass highway closures between the Lower Mainland and the Okanagan due to flooding and landslides.
"Given the current situation in B.C., travellers who must transit through the United States to get to their residence in Canada are exempt from the COVID-19 pre-arrival test, the test in Canada, and quarantine requirements," stated a Canada Border Services Agency (CBSA) spokesperson by email.
CBSA expects to be using pre-existing exemptions within federal government orders to apply to travellers who are simply transiting Washington State highways, such as between the Osoyoos border crossing and checkpoints entering Surrey.
For example, the government orders on COVID-19 testing requirements state an exemption for a pre-arrival test by land exists for "a person who enters Canada to return to their habitual place of residence in Canada after carrying out everyday functions that, due to geographical constraints, necessarily involve entering the United States."
Exemptions will be based on what information a traveller provides.
"There are many factors that come into play when a CBSA border services officer is determining which instructions are provided to a traveller with regards to their public health obligations. CBSA officers use all of the information available to them when a traveller is seeking entry into Canada to determine which set of instructions apply to the traveller."
Vaccination passports are still required by American border agents.
Such travellers could face a journey of up to seven hours between Surrey and Osoyoos, according to Google Maps — which would amount to about an extra two hours on the road.
Heading east to west, for example, because Highway 20 through the Skagit Pass, between Omak and Mount Vernon, is closed for the season, drivers will need to head well south, to Wenatchee, and pass over Stevens Pass on Highway 2 to get to Everett. They'll then need to head back north on Interstate 5 to the border at Blaine, in order to cross back into Canada.
This detour will exist so long as Highway 3, between Princeton and Hope, remains closed.
On Wednesday B.C. Minister of Transportation Rob Fleming said Highway 3 will be re-opened by "the weekend" but the government will "likely" be enforcing non-essential travel bans beyond Sunday, so as to make the route more accessible for essential travel, emergency vehicles and goods shipments.
"Route 3, that's our focus right now," said Fleming.
"We will make it clear it will likely be restricted traffic. We want to get trucks queued up.
"We can punch a hole through but then we need to clear up the debris and get the highway to a much higher state of functionality so we can open more than one lane."
Fleming said he expects single-lane traffic and slow conditions in the early stages.
The closures have raised questions about the food supply for the Lower Mainland, which will be further impacted by the fact the eastern Fraser Valley, a significant source of local dairy products, is under water.
In a statement to Glacier Media, Sobeys stated all food shipments in and out of the Lower Mainland are on hold and they are not currently envisioning taking Washington State routes.
"We are working diligently with our suppliers and our transport network to ensure goods are available to customers at our Safeway, Thrifty Foods and FreshCo stores across B.C. and are exploring all avenues to get product to our stores as quickly and efficiently as possible.

"We are also closely monitoring and assessing information updates from B.C. highways and the Ministry of Transportation and Infrastructure on plans to move products around the highway closures, and we thank everyone for their patience.

"We're asking our customers to maintain their regular shopping habits, as this will help with availability of essential goods for everyone," stated Sobeys spokesperson Paul Wyke.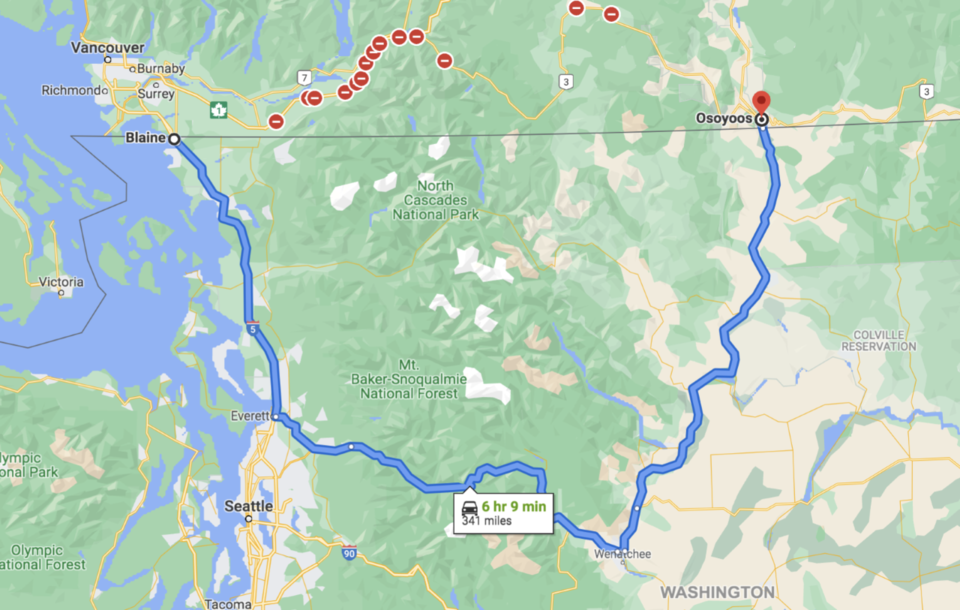 With a file from Castanet