A new low-cost airline will offer its first flights to air passengers on one of Canada's busiest routes this week.

Canada Jetlines will commence operations out of its travel hub at Toronto Pearson International Airport (YYZ) on Thursday (Sept. 22), with its first scheduled route into Calgary International Airport (YYC).
The Toronto-based carrier will offer biweekly service between the two cities on Thursdays and Sundays. Flights out of Toronto will depart at 7:55 a.m.(EDT) and land in Calgary at 10:00 a.m.(MDT), while Calgary flights to Toronto depart at 11:40 a.m.(MDT) and land in Toronto at 5:20 p.m.(EDT).
Starting Oct. 13, the airline will increase its service to three flights per week, Thursdays through Sundays.
"Canada Jetlines is proud to launch our initial flights between Toronto to Calgary – two vibrant Canadian cities with numerous tourist destinations including Niagara Falls, lakes of Ontario, and the CN Tower in the east, and Banff, Kananaskis, Canmore, Lake Louise, Jasper, and the Rocky Mountains in the west," said Eddy Doyle, CEO of Canada Jetlines.
"The two cities represent cultural diversity, economic trade, and significant investment opportunities. We are encouraged to continue expanding our reach, with the goal of serving as Toronto's preferred airline."
The flights start at $99 CAD for a one-way fare.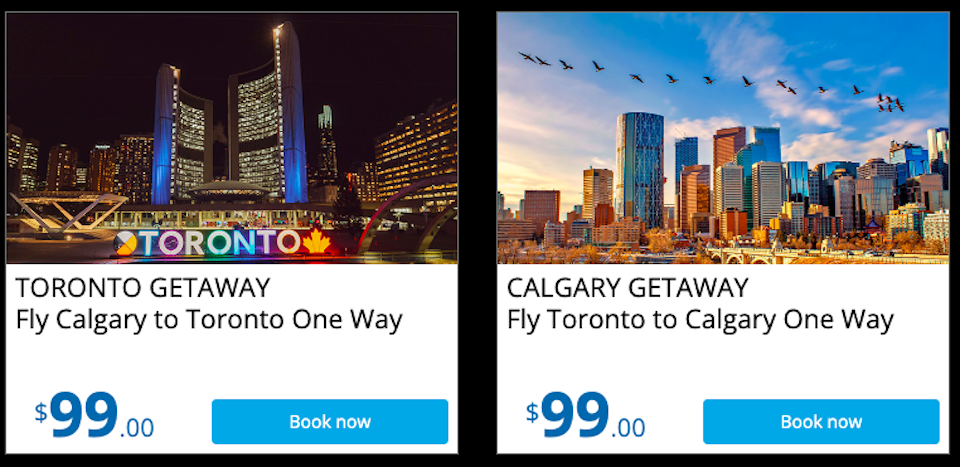 Will the airline offer YVR flights in the future?
While the Toronto to Calgary service is its first route, Canada Jetlines says Canadians should anticipate "more routes to exciting destinations to be announced soon."
Previously, the leisure airline stated that it also planned to offer "affordable travel with a variety of travel options including popular sun destinations."
Getting closer to welcoming you on board! 🙂 ✈️

Visit https://t.co/v1HjbeQCfL to learn more + book packages with your preferred travel agent today. ✈️#LaunchWeek #CanadaJetlines #FirstFlight #Toronto #Calgary #CanadaTravel #LeisureAirline pic.twitter.com/XrZgSH7LFx

— Canada Jetlines (@CA_Jetlines) September 20, 2022
Entertainment on Canada Jetlines
The new carrier has chosen Moment, a technology company that has developed a wide range of infotainment solutions in the transportation industry, to equip its growing fleet of Airbus 320 aircraft.
The "Flymingo Box" system will offer a flexible, aircraft-powered digital suite with wireless inflight entertainment options including real-time travel information.
Canada Jetlines states that passengers will be able to easily connect to a local cloud via their browser and access entertainment services directly on their mobile devices.
"Designed as a compact, battery-operated or aircraft-powered server, the system has the capacity to provide video streaming to 100 passengers simultaneously," they explain.
Find out more with Canada Jetlines.