Canada's newest low-cost airline will launch a new service out of Vancouver in October.
Lynx Air launched its first flights out of Vancouver in April 2022, with direct service to Calgary. The airline has also provided service from the city to Toronto, Kelowna, and Winnipeg.
Now, the airline will launch a direct service between Vancouver and Edmonton commencing on Halloween (Oct. 31). Travellers can catch an 8 a.m. departure out of Vancouver International Airport (YVR) with thrice-weekly service on Monday, Wednesday, and Friday.
Flights out of Edmonton International Airport (YEG) depart at 11:20 a.m. on the same days of the week.
YVR's social media team took to Instagram to celebrate the upcoming service, writing that "it feels really good to be using our first pumpkin emoji of the season for this exciting announcement!"
One-way tickets start at $49.01 CAD including all taxes and fees with return tickets starting at $98.1 CAD.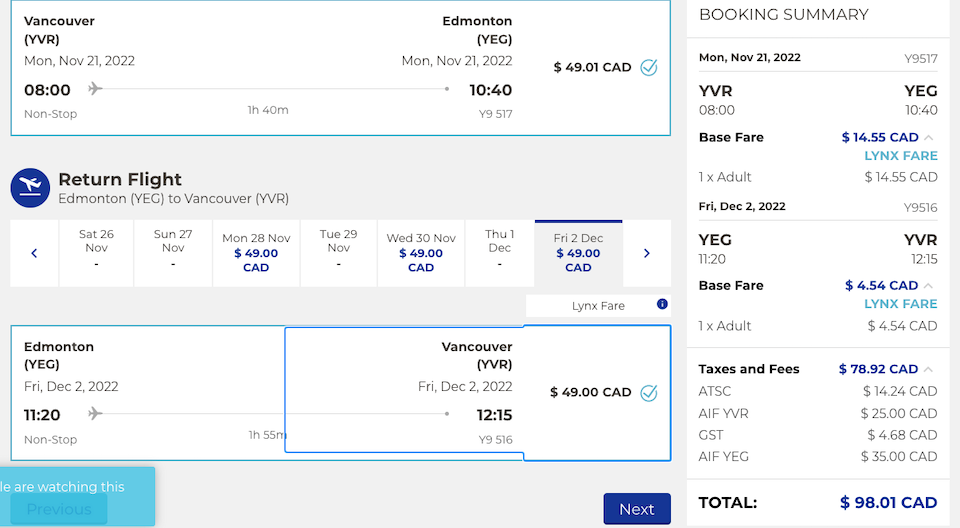 Book tickets with Lynx Air online.
What to know about Vancouver Flights with Lynx Air
Lynx has a fleet of new Boeing 737 aircraft and "firm orders and lease agreements" in place for a total of 46 aircraft over the next seven years to meet anticipated demand.
While the airline offers an alternative for travellers who have had nightmare experiences with other Canadian carriers such as Air Canada and Flair Airlines, there are still a few things to keep in mind before you purchase a ticket.
At first glance, Lynx offers strikingly low fares on all of its routes. But the low-cost options aren't all-inclusive. The ticket price only includes one personal item for your flight. A personal item is different from carry-on luggage, which generally only fits in the overhead compartment in the cabin. Personal items are generally purses, small backpacks, briefcases, laptop bags, camera bags, and other small pieces.
There isn't a flat fee for baggage, either. Falling in line with other airlines, Lynx offers a sliding scale of costs depending on the length of the flight. The prices are divided into three categories: short flights (under 1000km), medium flights (1000km to 3000km), and long flights (over 3000km). These fees apply to both your carry-on luggage and any additional checked luggage.
Tip: Save some fees on bags by paying for your checked items and carry-on bag in advance online.
Find out more information about Lynx's baggage policies online.