Want to have a Game of Thrones inspired sleepover? Look no further.
Located five minutes outside of Princeton in the Cascade Mountains, the Castle Resort offers an aesthetic that you'd be hard-pressed to find anywhere else in the province. For one, the resort has a stately, castle-like structure across from its office, as well as ruins that date back to 1910. What's more, the location is stunning, with soaring mountain ranges framing the pristine lakeside accommodation.
The resort is also situated on 110 acres of land, and offers a plethora of activities for guests to enjoy. From canoeing to beach volleyball, snowshoeing to tobogganing, there's something to enjoy at any time of year. Pedal boats and kayaks are also popular activities, and the resort offers both for rental.
Vancouver Is Awesome spoke to Kaylie Gibb, Operations Manager, who explained what guests have to look forward to when they stay at Castle Resort.
"While you can't sleep in the castle, guests are able to look at the ruins that date back to 1910," she explains.
"The ruins are from a cement plant that was abandoned after it was built. They are currently under construction, but guests are able to view them from the outside."
Gibb explains, however, that not all of the "castle-like" features are relics of the past. For one thing, the part that looks most like a castle was built much later. She adds that the ruins look medieval because they were damaged during a fire - this gives them their jagged, weathered appearance and lends to their "royal" flair. Nevertheless, the ruins are striking, and the resort's lodge, chalets, cabins and gazebo circle them.
The resort offers a number of accommodations to choose from, and also has a number of animal inhabitants on the property.
"We have a couple of lamas - one is named Brittany and the other Koco. And we have pigs and about a dozen peacocks," remarks Gibb. "We are definitely pet-friendly."
Aside from the domestic animals, the resort also sees a number of birds, deer, and even the occasional black bear.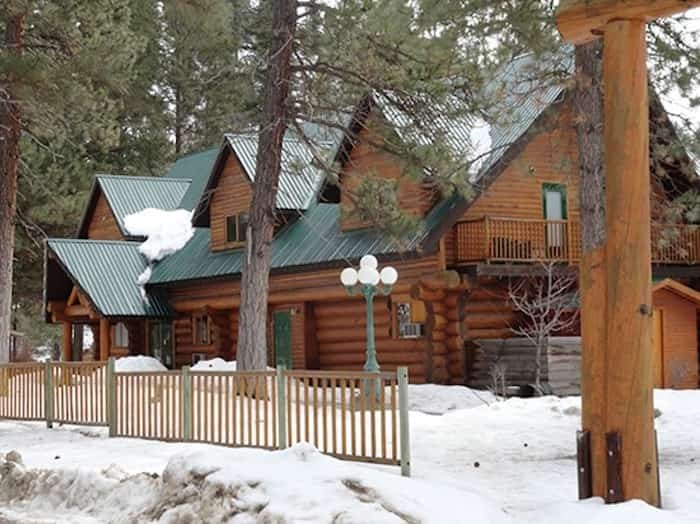 Accomodation Photo: Castle Resort
The Castle Resort is located at 325 Rainbow Lake Rd C 10, Princeton.