Canadians looking to score the cheapest airfare may want to consider more than their destination.
When it comes to booking the lowest price on a ticket, a recent report finds that there are certain days of the week that offer the best deals. Moreover, prices vary by destination by the amount of time before departure that the ticket is booked.
Online travel agency and metasearch engine Skyscanner has compiled a list of popular destinations for Canadians and noted the best day of week to depart to get the cheapest price as well as the number of weeks to book before departure.
The travel company found that Canadians save an average of $310 per person when booking 23 weeks ahead of their scheduled departure. Additionally, folks scored the best deal departing on a Saturday from Canadian departure points.
Metro Vancouver travellers can use Skyscanner's 2023 Savings Generator to calculate savings from their city. After entering their departure city, users are prompted to enter a month that they would like to travel in 2023 and then their destination.
For an example, Vancouverites flying to Paris in June can expect to pay an average of $846. The best time to book 17 weeks ahead of travel to save an average of $345. The cheapest day to travel is on Thursday, while the most expensive day to fly out of Vancouver International Airport to the "City of Love" is Monday. Travellers can expect to save an average of $144 on their ticket to Paris, France by booking on the right day, according to the data.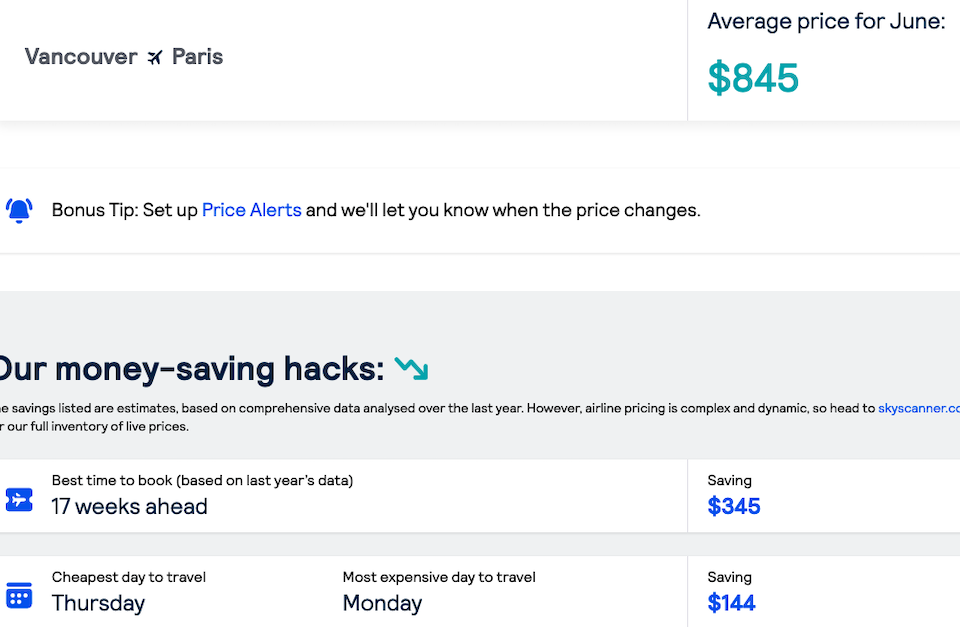 Book cheap flight deals to destinations around the world in 2023
Skyscanner analyzed thousands of booking data from 2022, drawn from 10 origin countries to its top 15 destinations, looking at metrics such as average seat price, best and worst days to travel, the associated cost, and the best time to book.
The best way to guarantee a good price is to compare options across multiple operators, dates, and destinations. Use Skyscanner's travel smart tools including "calendar view," "Everywhere"  search, "nearby airports" filter, and by setting up price alerts.
"Most people aren't aware of some of the simple tips and travel hacks that could open up vast savings for them, which is now more important than ever. These insights don't have to be driven by industry hearsay: at Skyscanner we have access to thousands of data points powering our recommendations to unlock this intel for everyone," explained Laura Lindsay, Skyscanner's Destinations Expert.
Have a look at some average, cheap ticket prices to cities in Canada, the United States, and around the world from Canadian airports.