If you're looking to score a ticket to the happiest place on earth this year, you will be hard-pressed to find a cheap one this summer.
If you can wait until late summer or early fall, however, there are multiple options from Vancouver to Orlando for under $400, which is roughly $370 less than an average ticket.
It's always a good idea to book your hotel well in advance of travel, particularly if you plan on going to this popular destination. Cheap options sell out fast, as well as more convenient ones.
Walt Disney World Resort is a sprawling attraction and, depending on where you stay, you'll be afforded extra amenities and inclusions, such as priority theme park entry and extended evening hours. In other words, you'll get to maximize your time at the park. Of course, you are paying a premium to stay at Disney, so you'll have to determine if it makes sense for your budget.
United Airlines is offering several cheap flights in September. For example, one cheap flight from Vancouver International Airport (YVR) departs on Sept. 3 and makes one stop in Houston before arriving at Orlando International Airport (MCO); the return flight includes one stop in Chicago. It costs a total of $377.76 CAD including all taxes and fees.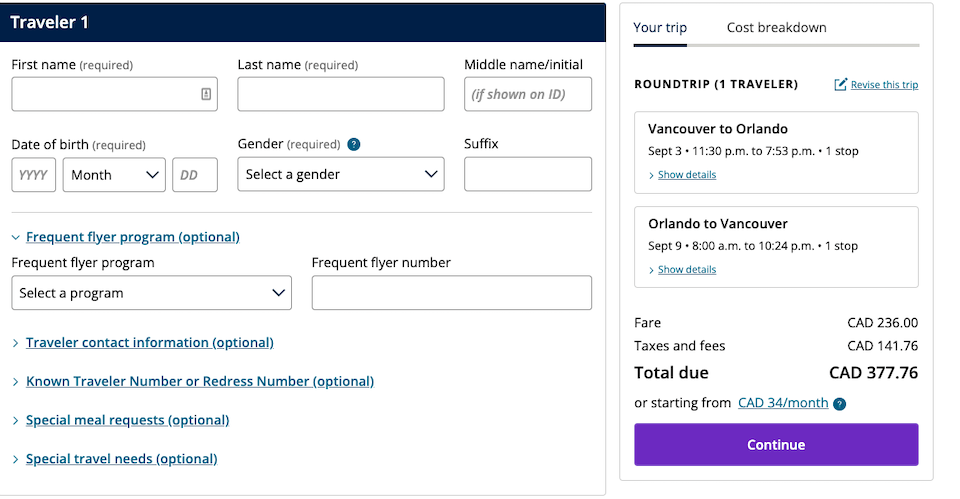 You can book your flight with United Airlines online.
Metro Vancouver residents: What to know about travel right now
Canada dropped its COVID-19 testing requirement to enter the country but many health restrictions remain in place.