Vancouverites can visit five cities on an ultra-affordable and convenient cruise out of the city this fall.
The last Pacific Coastal sailing to California departs out of Vancouver's Canada Place Cruise Terminal on Nov. 2 with Princess Cruises and sails down to sunny Los Angeles.
On Nov. 3, guests will stop in Victoria before the ship sails down to Astoria, Oregon. After one day at sea, the ship makes a stop in San Francisco on Nov. 6 before spending a final day at sea on Nov. 7.
The cruise makes a stop in Santa Barbara on Nov. 8 before disembarking in the "city of angels" on Nov. 9.
One-way flights back from Los Angeles start at just over $100 with Flair Airlines in November.
Date
Port
Arrive
Depart
Wednesday, November 2
Vancouver, B.C., Canada
4:30 p.m.
Thursday, November 3
Victoria, B.C., Canada
7:00 a.m.
6:00 p.m.
Friday, November 4
Astoria, OR
8:00 a.m.
6:00 p.m.
Saturday, November 5
At Sea
Sunday, November 6
San Francisco, CA
7:00 a.m.
10:00 p.m.
Monday, November 7
At Sea
Tuesday, November 8
Santa Barbara, CA
7:00 a.m.
5:00 p.m.
Wednesday, November 9
Los Angeles (San Pedro), CA
6:30 a.m.
Cruise from Vancouver with Princess Cruises to Los Angeles
The total for two guests in an interior stateroom works out to $1,529.92 CAD including all taxes and fees, which works out to $764.96 CAD per person. Since the cruise is eight days long, this works out to a per diem cost of under $100 CAD per day at $95.62 CAD per person.
Not only does that cost include your transportation on a beautiful five-star vessel, but it also includes meals, entertainment, snacks, and lodging. The only thing it doesn't factor in is alcohol, but you may opt to purchase a drink package that can reduce the cost of your spending.
The cruise ship is the five-star Crown Princess, which offers four swimming pools, seven hot tubs, a live theatre, tennis, mini-golf, renowned spa treatments, movies under the stars, a jogging track, a video arcade, and much more.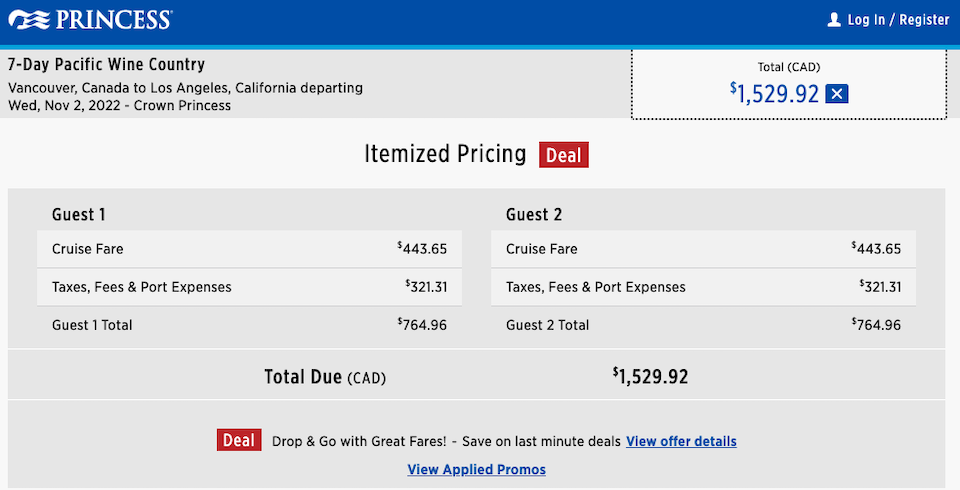 Book your cruise with Princess Cruises online.
Earlier this year, I sailed on another cruise line's first voyage to Vancouver since the onset of the pandemic. Read my experience sailing from San Diego in April.