If you are looking for a ticket out of the Lower Mainland next month, Flair Airlines is offering a massive sale on all its flights—but you'll have to move quickly.
The discount carrier is offering 100 per cent off all base fares on flights between Feb. 1 and Feb. 18, 2022. There are no blackout dates.
You can fly from Vancouver to a litany of popular destinations for only $33.73 including all taxes and fees, including Calgary, Toronto, and Montreal. Considering flights to Toronto and Montreal often cost over $200 CAD, Metro Vancouverites are only paying just over 15 per cent of what a regular fare would cost with a competitor.
The sale will end at 11:59 p.m. on Thursday (Jan. 27) or while seats last. You must use the promo code "FREEFAREFEB" to take advantage of the sale but if you book a flight in February it should input the code without you having to fill it in. Additional baggage fees and charges for optional services and products may apply.
The screen should look like these examples below, which read: "whoo hoo! Your promocode has been applied. Enjoy the lower fare."
To keep the fare at this first price that you see, you'll need to select the "Bare Bundle" package. This means that you only have a personal item included in the fare, such as a purse. A "basic bundle" costs $51.77 but also includes a carry-on bag and a checked one, too.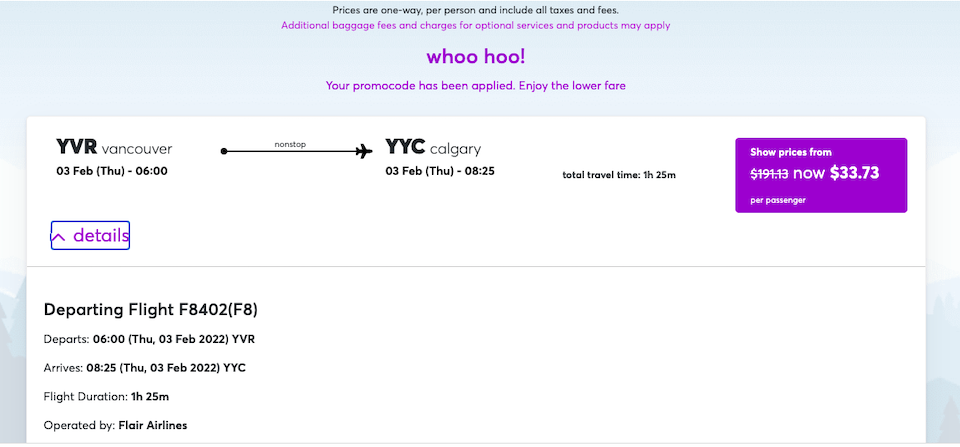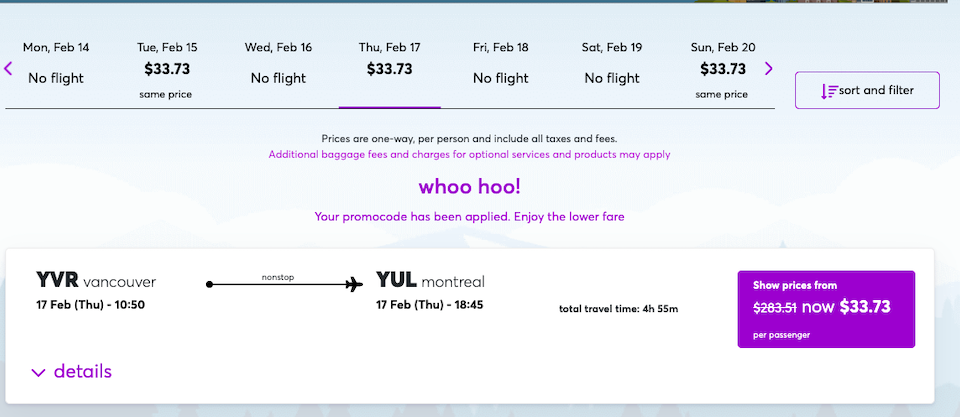 Browse flights with Flair Airlines online.
What B.C. residents need to know about travel during the pandemic
Disclaimer: Vancouver Is Awesome does not support travel during the non-essential travel advisory. Many foreign governments are implementing strict travel restrictions due to the spread of the Omicron variant and international transportation options may be limited. As a result, you may have difficulty returning to Canada.