Many Canadians are ready to return to their pre-pandemic, globetrotting lifestyles, despite some risks involved with travel.
But while some people are eager to get back on the road, the majority of them are less excited to do so than they were before the pandemic.
HelloSafe, an online insurance comparison platform, conducted a survey of 726 people between Feb. 22 and March 7 to get some insight into the travel motivations of Canadians two years after the beginning of COVID-19.
When asked if they had travelled outside of Canada during the pandemic, over 80 per cent of the respondents answered "no." Further, the majority of people (51.3%), stated that the pandemic has decreased their desire to travel abroad.
The survey also revealed that a significant portion of people don't plan to travel this year, with 40.8% of respondents stating that they haven't planned a vacation.
As for those who want to travel, the majority (more than 50%) say they have planned a trip outside North America -- the rest being divided between travelling within Canada or elsewhere in America.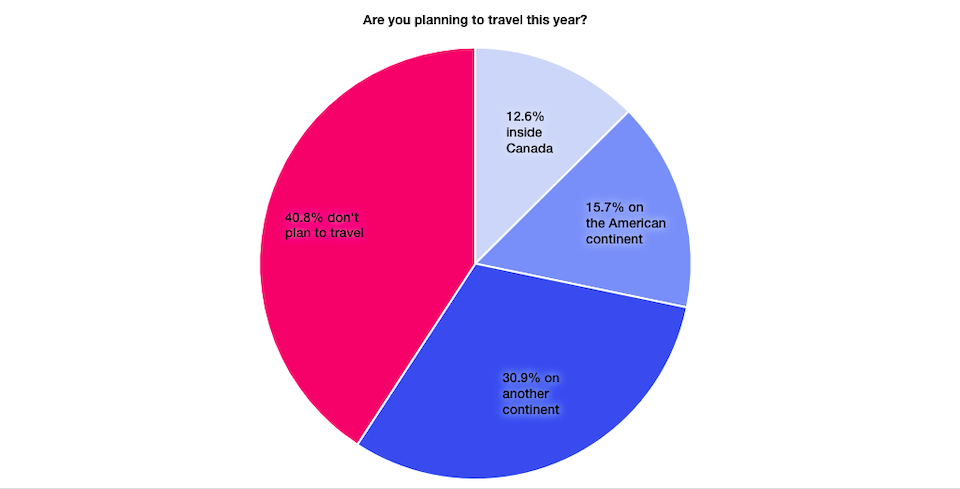 When asked where respondents were most eager to visit this year, most Canadians, perhaps unsurprisingly, said they were excited to visit the United States. Following that, the second-highest number of people wanted to visit Italy.
Mexico was the third most sought-after destination for travellers from the Great White North.

After Mexico, Canadians were interested in visiting the Dominican Republic, Cuba, France or North African countries (especially Algeria and Tunisia in particular).