If you are looking to travel to Mexico in the near future, there are several things to consider before you pack your bags.
Deciding what region of Mexico to visit will dramatically determine what kind of experience you enjoy while you are in destination.
If you aren't a fan of the super-sized parties, you might find the atmosphere at Cancun's famous club, Coco Bongo, a little oppressive. But if you're down to dance until the sun rises, this is most certainly the place for you. Of course, the region's glistening white sand beaches and crystal-clear waters are nothing to scoff at, either.
But Metro Vancouverites looking for something a little more lavish needn't venture to the Caribbean side of the country to experience awe-inspiring beauty, delectable cuisine, and luxurious accommodation.
Los Cabos has been added to the roster of some of Canada's low-budget airlines, which means there are several direct flights servicing Vancouver to this world-class destination.
Once largely the exclusive stomping grounds of the Hollywood elite, several resorts have opened in pristine areas of the fast-growing destination. Several A-list celebrities have homes there or frequently vacation in the region, including Leonardo DiCaprio, George Clooney, Will Smith, Jennifer Aniston, Oprah Winfrey, and many others.
But the high-life isn't reserved for stars.
Several jaw-dropping, ultra-luxurious resorts offer all-inclusive stays that provide service and amenities that many consider unparalleled in Mexico.
I recently visited the scenic area in early December 2021, right before the government issued the non-essential travel advisory. For details on what it was like getting through international airports in the age of coronavirus, you can read about my experience in this flight checklist and guide.
Mexico's fastest-growing resort area includes the two towns of Cabo San Lucas and San José del Cabo. While each town offers multiple places to explore on foot, there are a few excursions that offer unique ways to soak in the local culture and scenery. Have a look at some of the best ones in V.I.A.'s Los Cabos activities guide.
If you're looking for a place to stay while in Mexico, Le Blanc Spa Resort Los Cabos offers a five-star, oceanfront accommodation that includes a luxurious spa, attentive and friendly staff, well-appointed rooms with butler service, and several fine-dining options.
Le Blanc is the only adults-only, luxury resort in the region, which offers the "pinnacle of elegance" in paradise. From the moment I stepped through the doors of this pristine accommodation, I was overcome with a sense of awe. The grandness of the resort never ceases to impress the senses, with a soaring ceiling in every area and a friendly face anticipating your every need.
The pampered experience began during the check-in portion of my stay when I was gifted a beautiful rose and given a welcome drink. From there, I was taken up to my room where sparkling wine was chilling in an ice bucket on one of the tables in my suite. Of course, it wasn't the first thing my eyes were drawn to.
With a complete ocean view, I had a jaw-dropping perspective of the pacific ocean from the comfort of my room. And let me tell you: sunrises and sunsets in Los Cabos are the stuff of dreams. On the second day, I woke up exceptionally early (particularly for a night owl like myself) so I could head out on an ATV excursion in the desert area.
But getting up was worth the early morning groan.
Not only was breakfast delivered to my room so I didn't have to get myself together and hustle downstairs, but as soon as I opened the curtain on the floor to ceiling window my heart stopped: the dark sky was pierced with a fiery red so vibrant I went a little weak in the knees. I watched the colourful manifestation burn poetically above the gentle ocean waves for a while and let myself get lost in its beauty while I sipped my coffee. I forgot I was tired.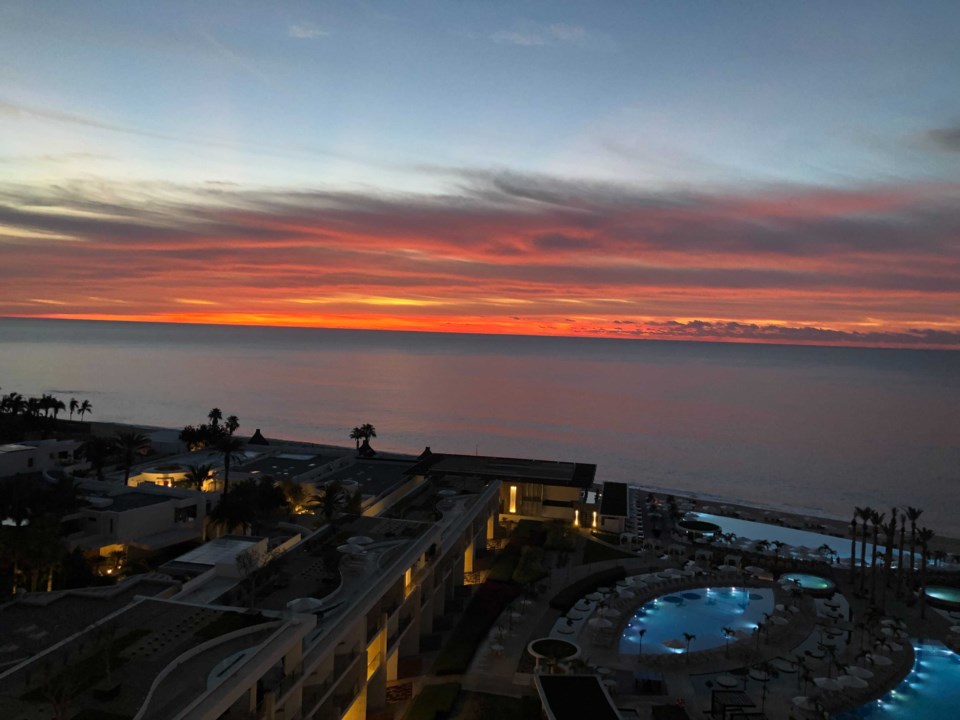 There are so many magical things to experience at every turn in this property, however. You can't swim at the beach but it truly doesn't matter. I love swimming in the ocean but the trade-off is you'll experience superior, attentive service, modern furnishings and elevated dining experiences. Every meal I ate at this property was full of flavour and decadent details. Having my desert transformed on a table before my eyes was a particularly mesmerizing experience, as the chef put on an artful display that tasted equally as impressive.
And then there are the rooms themselves. If you want to fall asleep in absolute comfort, or simply hang out a bit on a patio that offers one of the best views in the world, an oceanview stay at Le Blanc is for you. I was astounded every time I returned to my room, as the cleaner had expertly arranged every item in meticulous detail, including my makeup, clothing, and little parcels.
Le Blanc is an elegant escape from the hustle and bustle of everyday life—but it is also the perfect place to experience this unique part of Mexico in absolute style and comfort.
Metro Vancouver residents: What to know about travel right now
Disclaimer: Vancouver Is Awesome does not support travel during the non-essential travel advisory. Many foreign governments are implementing strict travel restrictions due to the spread of the Omicron variant and international transportation options may be limited. As a result, you may have difficulty returning to Canada.
All opinions and inclusions are those of the author and were not guided or influenced in any way, and Le Blanc Resort Los Cabos was not granted any previews of the story prior to publication.