Locals looking to take a bite of the Big Apple have a new low-cost option that will take off the ground this June.
Starting on June 9, JetBlue will offer a direct service between Vancouver International Airport and John F. Kennedy Airport.
While there are several affordable trips to New York from Vancouver, all of them involve at least one stop.
Cathay Pacific stopped flying to JFK from YVR in March 2020. The Hong Kong-based carrier has flown out of its home base to Vancouver since 1983, and it added flights between Vancouver and New York in 1996. At the time, the route carried the airline's only flights to the Big Apple.
How low are ticket prices on the new route?
Ticket prices fluctuate based on availability and people have already started buying seats for the 2022 summer season. That said, there are still some deals available for June and September that compete with the lowest fares offered by Canadian competitors that do not offer a direct service. For example, a flight departing Vancouver on June 9 and returning on June 21 costs a total of $421 CAD including taxes and fees.
In order to take advantage of the low-cost fare, book two separate tickets with JetBlue instead of a round-trip ticket.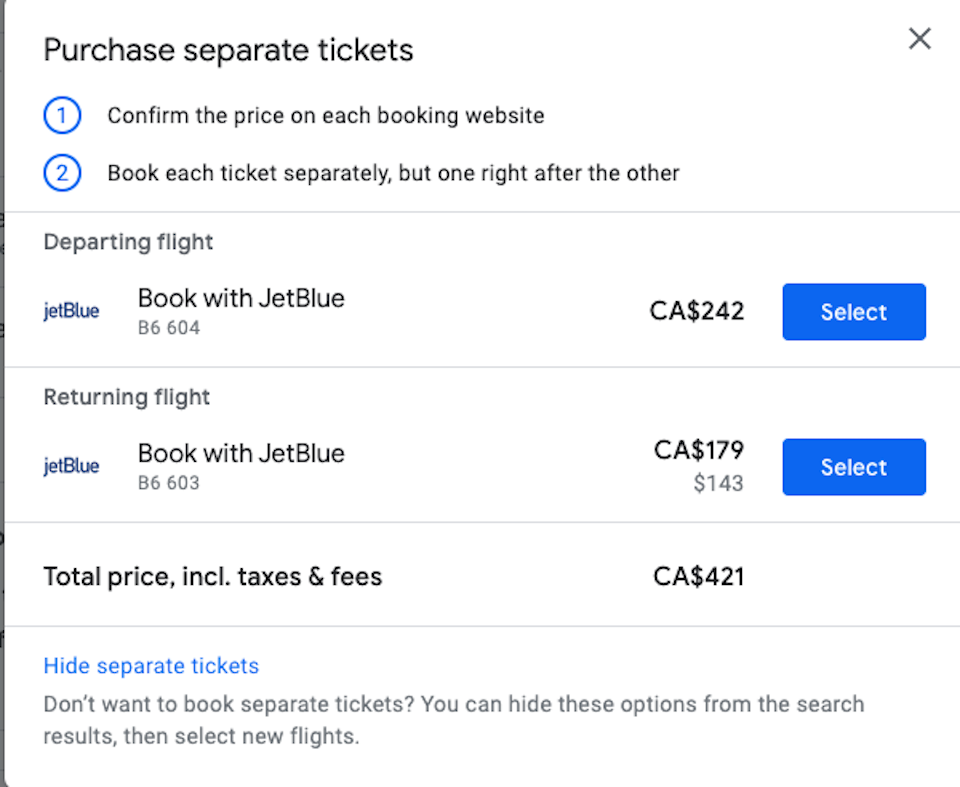 On June 16, the low-cost, New York-based airline will also offer direct, seasonal service between Vancouver and Boston, too.
There are numerous tickets available for the Boston/Vancouver route that cost just under $400 CAD including taxes and fees.
JetBlue Fares
JetBlue has five different fare classes, as well as two memberships. For members, the rules for each fare class will change, allowing for more flexibility and inclusions than other guests.
The fare classes are Blue Basic, Blue, Blue Plus, Blue Extra, and Mint. For non-members, the lowest fare class, Blue Basic, won't allow for a great deal of flexibility or perks. For example, changes or cancellations come with a $100 USD or $200 USD price tag and don't include a carry-on bag (except for the new London route). Checked bags also cost extra, too.
JetBlue was also rated the best airline for Passenger Comfort in North America and the best Low-Cost Airline in North America in 2020 by TripAdvisor travelers.
Find out everything you need to know about the JetBlue experience.
Metro Vancouver residents: What to know about travel right now
Canada is dropping its coronavirus testing requirement to enter the country but many health restrictions remain in place following the federal government's announcement.