If you're looking to travel over the Labour Day long weekend, you are not alone.
While Canadian travel news is ripe with horror stories, including numerous incidents of lost baggage, massive flight delays, and brutal cancellations with little compensation from airlines, people continue to book air tickets outside of Vancouver and B.C.
But not all domestic and international destinations are created equal.
Some destinations, such as Paris, London, and New York, are quintessential holiday "must-sees," popular with families, couples, friends, and solo travellers alike.
With this in mind, a couple of destinations have emerged as top vacation favourites among Canadian travellers, such as Istanbul and Lisbon.
Kayak, an American online travel agency and search platform, says "searches for international flights over Labour Day weekend are up 104 [per cent] since last year, proving Canadians are embracing the YOLO attitude and hopping on planes to celebrate the last long weekend of summer."
Long weekend 2022 summer travel destinations from Vancouver
For residents of the Great White North looking to travel locally, Vancouver flights had some of the lowest prices in the country, with round-trip tickets averaging $419 CAD.
But Vancouver didn't crack the top four cities people plan to travel to over the long weekend. Instead, Kayak found Calgary landed in the top spot, with searches increasing 41 per cent since 2019.
Toronto followed Calgary in second, with Montreal landing in third. Halifax, Nova Scotia, rounded out the top four trending domestic flight destinations.
For international travel, Canadians have their sights set on Istanbul, Turkey, with searches up a staggering 38 per cent since 2019. Lisbon, Portugal followed in second, with searches increasing an impressive 34 per cent.
Rome, Italy, a long-time favourite destination among travellers, came third. Dublin, Ireland rounded out the top four.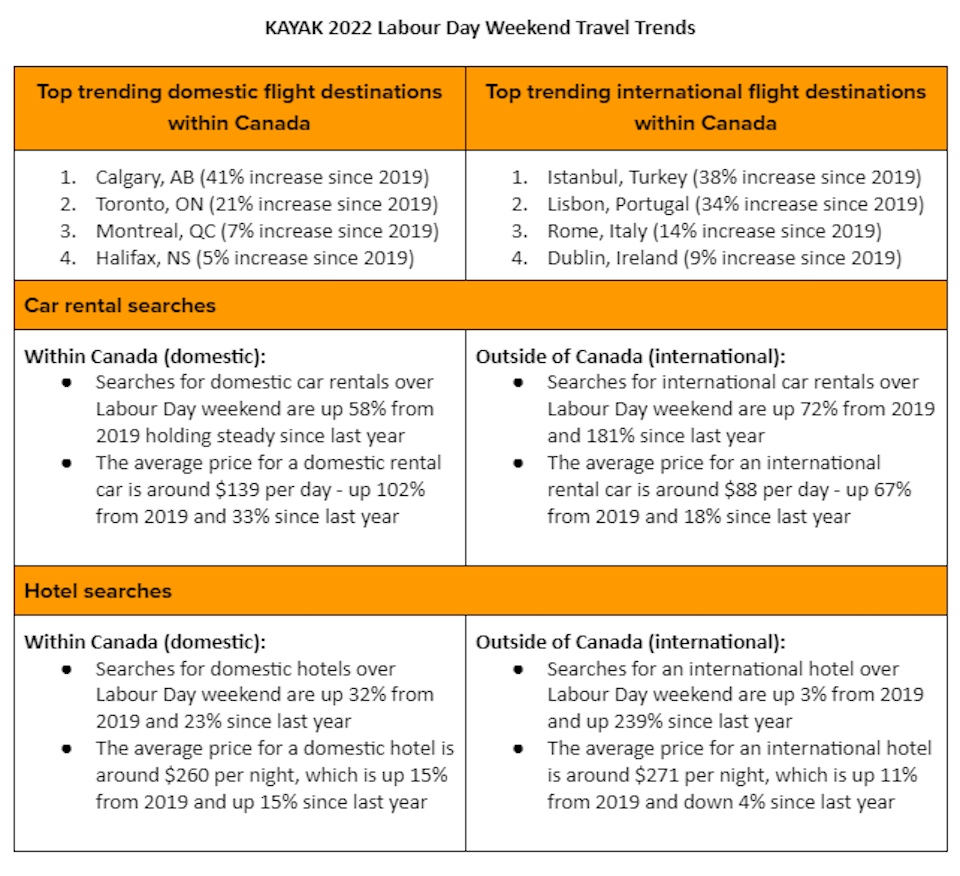 Cheap flights from Vancouver over the Labour Day long weekend
Folks looking for cheap travel options can visit Calgary (averaging $330 CAD for return airfare), or Toronto (averaging $391 CAD for a round-trip ticket). While Kayak has Halifax sitting in the second spot, this kind of pricing is fairly unrealistic for folks on the west coast. However, if you find yourself in one of the eastern provinces during this time period, take advantage of the low fares.
New York has several low-cost options available — even for Vancouver folks — but a quick search through Google Flights will show you that these prices require some flexibility on your part. In other words, you might not get that perfect Friday night departure with a late Monday night return flight home (Saturday through Tuesday currently works best — subject to change, of course).
Again, Lisbon and Paris' prices are averages from across Canada: you'll be hard-pressed to score a ticket to Portugal at that price for the long weekend at this point out of YVR. That said, if your heart is set on having an Emily in Paris moment, or you simply feel the pull of Lisbon's lush rolling hills and colourful buildings soaked in the sunshine, then you can still score something in the $1,100 to $1,300 range, with flexibility. Keep in mind, however, that it's a long way to go for a "long weekend." Trips overseas usually require at least a week's visit, if not more.