Flair Airlines is offering a significant discount on all of its flights departing out of the Lower Mainland.
Metro Vancouverites looking to catch cheap flights in 2022 still have several options to choose from, depending on their destination and the flexibility of their travel dates.
Flair is dropping prices on some of its already ultra-low fares to entice locals to buy tickets during the travel lull at the end of summer and the beginning of fall.
You can take 35 per cent off base fares on all of Flair's destinations across Canada, the U.S., and Mexico. Simply enter the promo code "SAVE35" before you check out.
The sale runs until Aug. 18 and is valid for travel between Sept. 6 and Nov. 29. However, there is a blackout date for travel between Oct. 7 to 11.
One of the lowest routes out of Vancouver is to Edmonton, where a one-way ticket now costs as little as $43.65 CAD on several dates in October.

Folks looking to fly across the country this November can take advantage of fares under $70 CAD, as the popular Vancouver to Toronto route only costs $69.66 CAD with the promotion.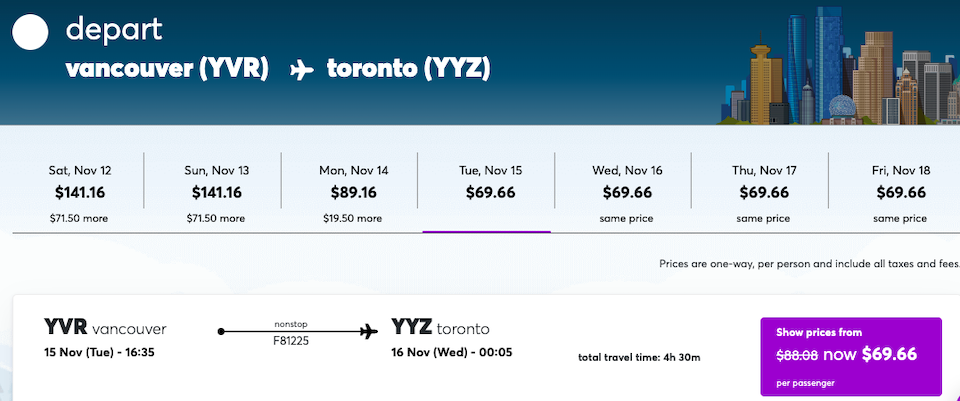 The "City of Saints" just got cheaper, too. Locals looking to check out Quebec's largest city can do so for under $100 CAD with the promotional fare this November. Several dates offer one-way trips from Vancouver International Airport (YVR) to Pierre Trudeau International Airport (YUL) in Montreal for only $89.16 CAD.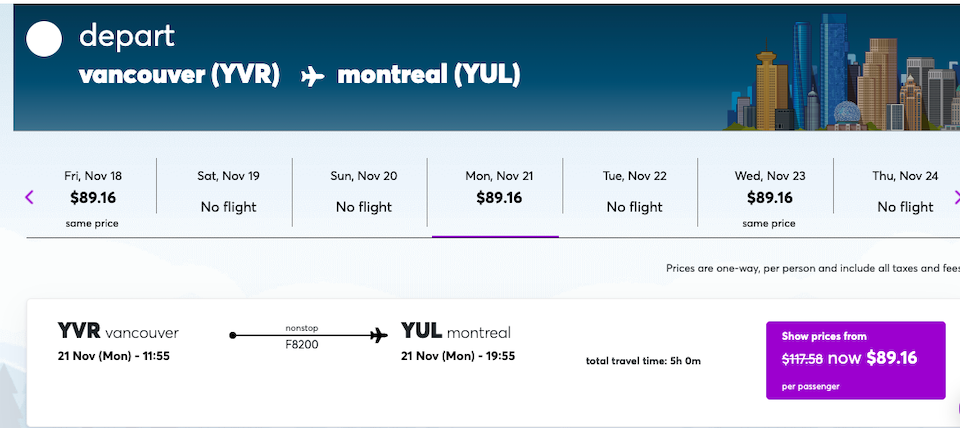 You can book your flights and find more information with Flair Airlines.
What locals need to know right now about flights to Vancouver
Canada dropped its coronavirus testing requirement to enter the country and some vaccine requirements but many health restrictions remain in place following the federal government's announcement, particularly for cruising.