Locals looking to skip a long, hot car ride to Kelowna this summer have a new flight option.
Lynx Airlines, a new low-cost carrier, promises to revitalize the affordable travel landscape. The airline launched its inaugural flight out of Vancouver International Airport on April 7 to Calgary International Airport.
Now, the economical carrier will connect Vancouver with a few key cities: Toronto, Kelowna, Calgary, and Winnipeg.
One-way flights from Vancouver to Calgary and Kelowna start at $49 CAD including all taxes and fees. However, Lynx is offering 50 per cent off base fares on all Kelowna flight to celebrate the launch of flights to the city commencing Friday (May 6).
The sale ends on Wednesday at 11:59 p.m. and is not applicable to add-ons, including your carry-on bag, checked bags, seat selection, and priority boarding. Simply enter the promo code KELOWNA to take advantage of the offer.
Depending on availability, the promo code can bring the one-way cost of airfare from Vancouver to Kelowna down to as little as $30.87 including all taxes and fees.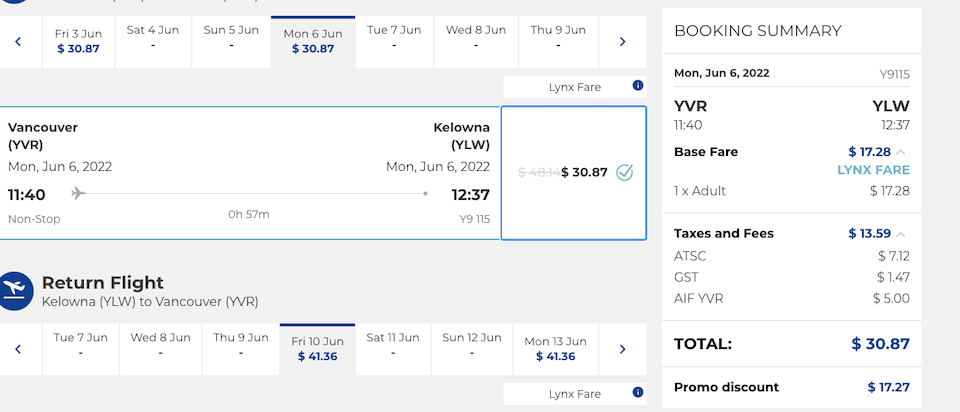 If you're looking to fly back east, the discount carrier is also offering low-cost flights to major cities like Toronto and Winnipeg. Prices to Toronto have increased for the summer months but there are still numerous options for $79 CAD in October.
Canada has introduced relaxed coronavirus travel requirements for children and fully vaccinated travellers but some measures remain in effect.