Welcome to the twelfth instalment of our "On the Road to..." series! The deal is simple: manufacturers loan us vehicles, we drive them to sweet locations, shoot photos along the way and then share that experience with you.
We've taken you out in Chevrolet's Trax (HERE and HERE) as well as their Traverse (HERE) which we put a canoe on top of, and today's vehicle is quite a bit more urban. The Impala.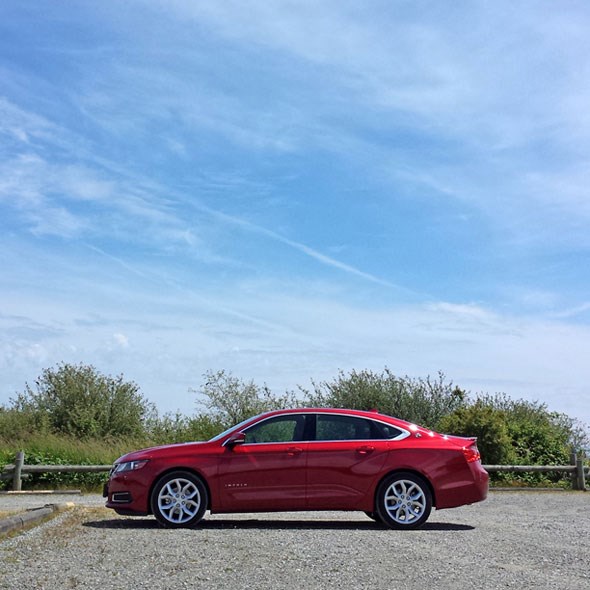 Our trip out to Boundary Bay in this thing started with a stop to Cartems Donuts in the DTES to pick up a dozen donuts that my son had won. They did a contest for International Donut Day where they were asking people to submit their ideas for their dream donut and Arlo drew THIS "Grape Tower of Glaze". They loved it so much that they awarded him more donuts than he could eat. He's good at sharing so the 5 of us who made this trip all had our fill.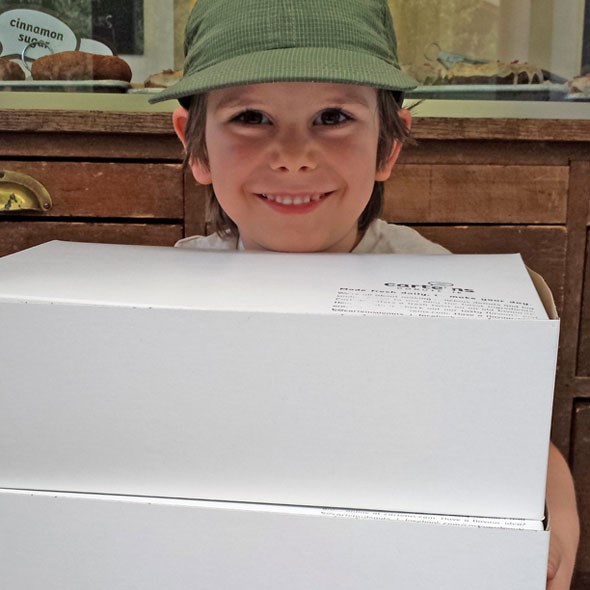 If you've never been to Boundary Bay, it's about 25 minutes of out Vancouver in Tsawwassen. I'm not sure if this is a photo of the United States but the park is very close to Point Roberts. I shot this right before the entrance to the park, on the side of the road.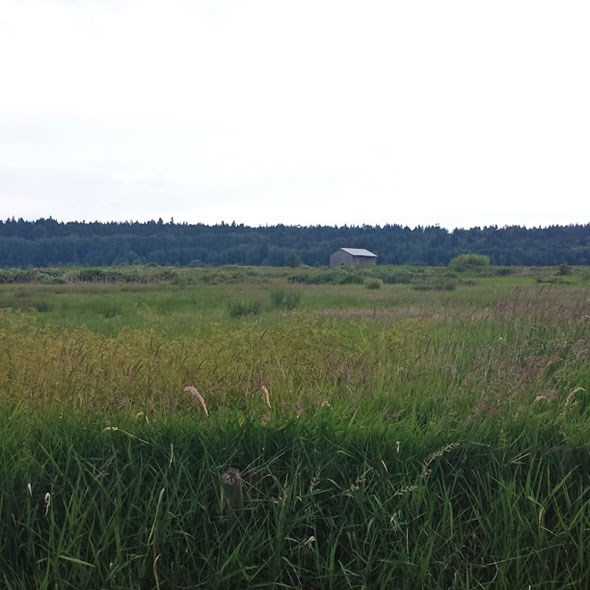 We mostly went there to fly kites, as the wind is pretty amazing. Ours is the red one, our friends brought the other two and the huge one with the double tails actually has a GoPro HD camera on it. HERE is one of the photos my friend grabbed with it. I'm the really tiny speck in the pink shirt on the left.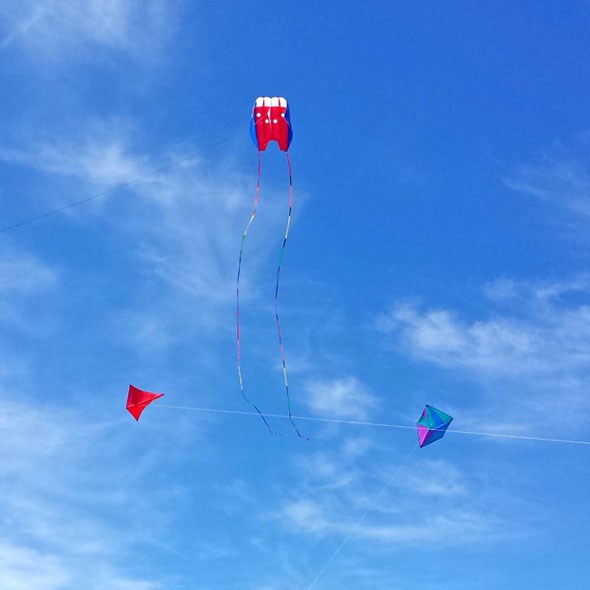 This is how you fly a kite after you've eaten a donut that you won.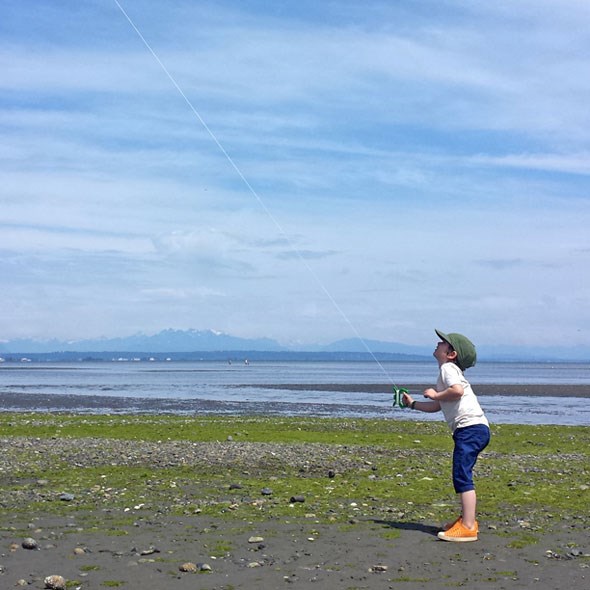 This last photo of a blueberry field near Ladner on the road back to Vancouver is a bit of a preview of another story we're working on right now: Someone recently told me that BC is the blueberry capital of the world, and I'm going to look a little bit deeper into that.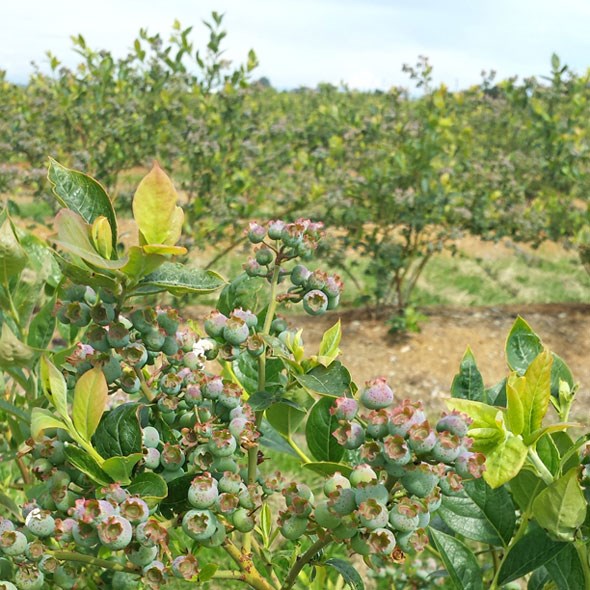 Driving all of these vehicles for this series has spoiled me a bit. Touch screens, USB ports, blind spot indicators, Bluetooth connectivity, rear vision cameras, satellite radio, keyless access and voice recognition are all things I look for right away. The Impala checked all of those boxes and more, acing my tech test. It actually jumped up a mark about 30 seconds after I turned it on and a Kathryn Calder song that I love started playing on the Bose sound system; my Android phone had somehow automatically linked to the car and it opened up my music player and started playing my music for me. This could have been because I had previously linked to a Chevy on a test drive, but it was a nice surprise to not have to fiddle around for a couple of minutes trying to link my phone like I've done with vehicles in the past. Oh! And it's got one thing I don't know if I've ever seen on any car, driven by me or not: a secret compartment that comes standard! At the press of a button (which I didn't discover until a few hours in) the touch screen in the dashboard lifts up with help from a little motor and reveals a compartment about 8 inches by 8 inches that you can hide stuff in. There's a TV commercial for this car in which the people driving it put popcorn in it (huh?) but if this were mine I might put something like, say, my wallet, in there. Or my garage door opener.
The actual driving, beyond the technology, was a lot of fun, if it did take a bit of getting used to because the car is quite large. And back to technology - fuel technology - they've managed to keep the economy to 6.4l/100KM, which isn't too shabby despite the size of the engine and the pick up it has.
Lastly, just by looking at this vehicle you can see that it's a premium sedan. I won't lie, driving it made me feel like the Boss. I had it in Kits one sunny afternoon and as I was stopped at a light an older gentleman who was walking across the street stopped right in front of me, looked the car up and down and gave me the "A-okay" hand signal along with a knowing nod. I like to think that maybe he had an Impala back in the day and approved of where's it's come. It was a neat moment.
Learn more about the 2014 Impala HERE.