Is Paris calling your name?
As one of the world's most popular travel destinations for decades, new service to the "city of love" always creates a buzz in the travel industry.
And while there is no shortage of flights to Paris from cities across North America, not all of them are easy on the wallet.
For folks who live in Miami, or for those who plan to vacation there, a new route to France's iconic capital has recently been announced. Travellers will fly with French Bee — a low-cost carrier that was formerly known as French Blue — that is based at Paris Orly Airport and serves several cities across France, the United States, and French Polynesia, as well as Saint-Denis (RUN) on Réunion Island and Punta Cana in the Dominican Republic.
Within the last 10 months, the airline launched two Paris routes from Los Angeles (LAX) and New York (EWR). Flights from Miami will commence on Dec. 15, with three weekly nonstop flights to Paris. By April 2023, this number will increase to four flights weekly.
From Miami to a Paris hotel
French bee's introductory fares from Miami to Paris include three à la carte ticketing tiers (Basic, Smart and Premium); they may also book air and train packages for itineraries beyond Paris.
A direct trip departing Miami International Airport on Feb. 16, 2023, and returning from Paris on Feb. 27, 2023, costs $592.97 USD including all taxes and fees. Based on the current exchange, that works out to approximately $763.43 CAD.
Keep in mind, however, that the lowest fare class will not afford a great deal of flexibility. A carry-on bag is included in the Basic fare but you'll have to upgrade to the Smart fare if you want it to include a checked bag or a meal. That said, French Bee allows changes before travel regardless of the fare class you book; you only have to pay the difference in the ticket price, if there is one.
Only the Premium class ticket is refundable.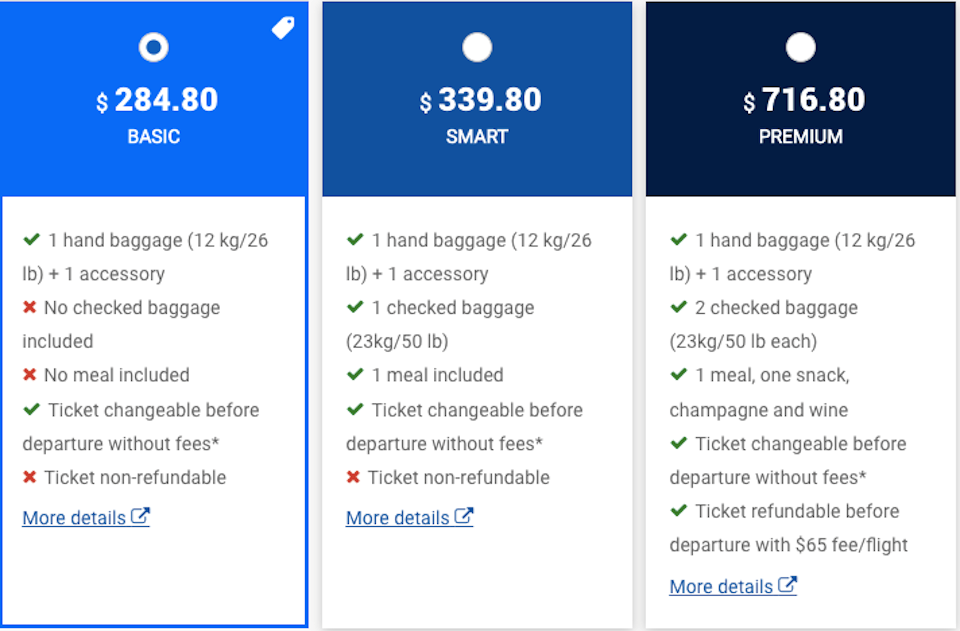 French Bee rating and inclusions
The airline has been rated as a three-star airline by SkyTrax — the International air transport rating organization. While the airline's premium class is a good premium economy standard, it notes that economy seating "is high-density and narrow." All food and beverage must be purchased in the economy section, too.
The onboard service is described positively but staff are not always present, the organization adds.
French bee's flights are fully operated by five Airbus A350s, equipped with mood lighting that mimics sunrise and sunset with 100 percent LEDs — improving sleep quality and reducing jet lag.
All leather seats include adjustable headrests, USB and electrical ports, headphone plugs, and unlimited in-flight entertainment on extra-large HD touch screens.