As soon as we made the turn off the road in Pentincton, following the signs pointing to Naramata, I could immediately understand why people tell me they fall in love with this charming town on the southeastern shore of Okanagan Lake.
Interspersed among the many wineries dotting the expansive hillsides you'll spy spots for cider, craft beer, and spirits, as well as locally-made cheese, and other goodies. The Kettle Valley Rail Trail cuts through the area, drawing cyclists, runners, and casual walkers to its 20-kilometre Naramata Bench stretch where folks on their feet or wheels can take a break from activity by doing a wine tasting or sipping a cider flight.
The town itself offers a humble slice of old-fashioned Main Street life. Spanning a couple of blocks of Robinson, just shy of the waterfront, you can get a taste of local life in this special community thanks to its general store, cafés, and shops. In conversation with locals, I learned quickly that Naramata is home to a close-knit crew of collaborative-minded folks who love to honour the land, work together, and share that love with visitors.
Here's your guide to discovering beautiful Naramata, B.C., including the best places to stay, where to eat and drink, and things to do.
Where to stay in Naramata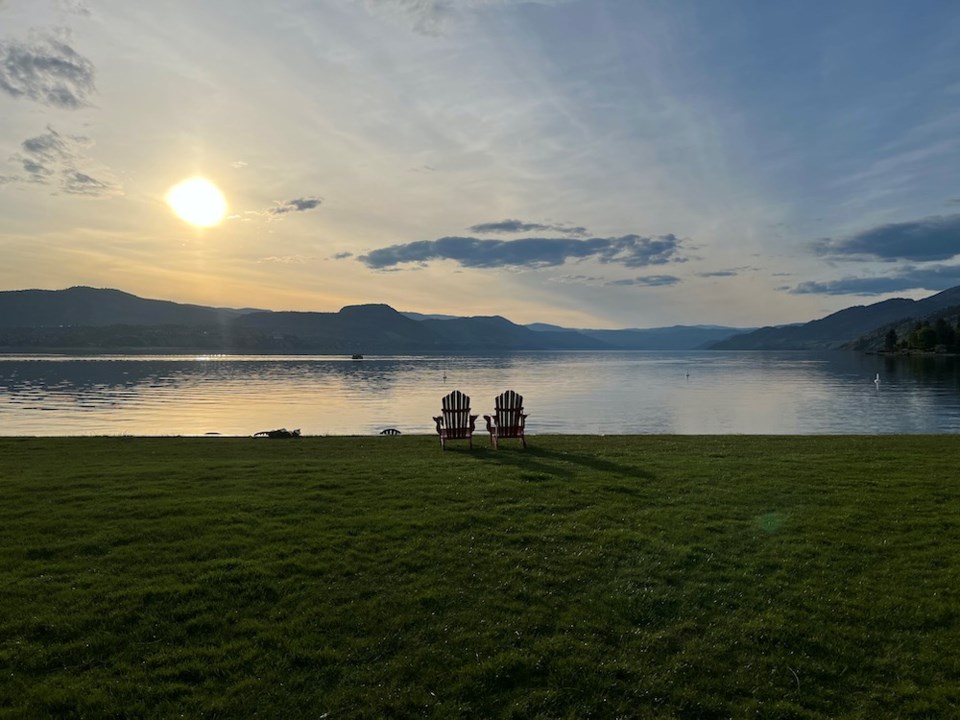 When it comes to impeccable accommodations in Naramata, it would be criminal to overlook a stay at the historic Naramata Inn. Situated at the cap of Robinson Avenue, the 1908-built mission-style hotel relaunched just two years ago, and is owned and operated by four veterans of the hospitality industry, including some prominent Vancouverites: chef Ned Bell, communications specialist Kate Colley, designer Maria Wiesner and retired A&W Canada CEO Paul Hollands.
The rooms are cozy and updated and are perfect for peaceful slumber after a hard day's exploring (and/or drinking and eating). Step into a clawfoot tub for a soak, or use your exterior door key to let yourself back into the property after an evening out. In the morning, enjoy a breakfast option in the restaurant (you pre-select the night before) before getting your day going.
For another kind of stay, there's Sandy Beach Lodge, perched on prime waterfront space with your own lake access and sweeping shoreline views. There is a central building with rooms, or you can opt to stay in one of the private rustic-style cabins on the property. The cabins are set up with all the conveniences of home (minus the TV, because, come on, you're at the lake) including a full kitchen, deck with a grill, and even a rack for drying your wet swimsuits.
If you need a little entertainment, you can grab puzzles, games, or books from inside the main lodge, or try your hand at shuffleboard, croquet, or ping pong. The lodge also has tennis courts, and you can certainly head out in your kayak from its shore, too. Take a dunk in the pool and a soak in the hot tub, and kids staying at this very family-friendly resort will enjoy the small playground.
Both properties are conveniently located right by the centre of town and offer easy access to the area's abundant wineries and other activities.
Experiences for any fitness level
Whether you're a seasoned outdoors enthusiast with a bicycle or hiking boots or you just prefer casual strolls along the lakefront, Naramata puts you right in the midst of numerous options to move your body and engage with nature. Take a simple walk around lakeside Manitou Park and enjoy the green space, playground, and beach, or meander the shoreline to the site of the old pier at nearby Wharf Park.
Yoga is a popular option in Naramata, and is often offered to guests at hotels like the Sandy Beach Lodge, or you can find a class through one of the many local practitioners. You can even arrange to say your namaste amidst the animals at a private farm; these intimate classes can be booked for Naramata Inn guests or by contacting Upper 5 Farm.
Trails for hiking and biking are easily found in Naramata, as are water activities like stand-up paddle-boarding (SUP) or kayaking. Locals suggested the Naramata Creek Park Waterfall hike, though we did not get the chance to take them up on it.
Be sure to stop at the Naramata General Store to look at the bulletin board to see what events are going on around town; you may find yourself at a garage sale, farmers' market, or local craft fair while you're in town.
Where to eat in Naramata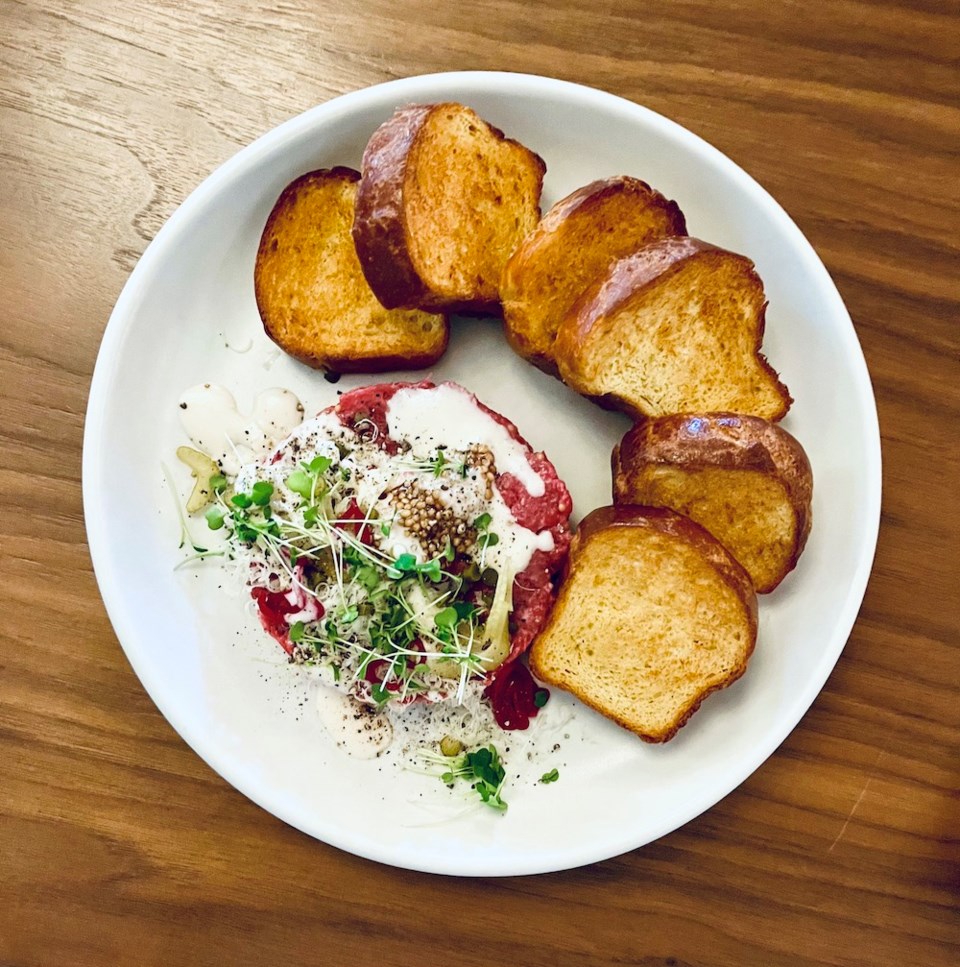 Central to any visit to Naramata is what's for breakfast, lunch, and dinner - and a few snacks in between. Many of the wineries offer dine-in options, and there are a couple of key spots for grabbing coffee or tea. If you're staying somewhere with a kitchen you can provision up in Pentiction, though the General Store does have a great - albeit small - grocery selection for filling in the gaps or adding a few locally-sourced treats in the mix (including ice cream).
You would be remiss to not make dinner at the restaurant at the Naramata Inn a focal point of your trip, however. The dining room buzzes with happy conversations and clinking glasses as guests partake in the terroir-driven menu that showcases the culinary team's immense prowess and the incredible bounty of British Columbia. From the thick slices of the Inn's famous house-made sourdough bread with fresh butter that you can't not begin your meal with to a range of seasonally-driven starter and main course options that make the most of a sustainable "use the whole" animal or vegetable philosophy, the food here is - not surprisingly - stunning.
You can opt to have a two- or three-course meal at the Inn and make the most of the visit. A recent springtime menu featured one of the best beef tartares I've ever had (it tasted, in the best way possible, like the purest, freshest cheeseburger you can imagine); scallop crudo; halibut and clams in a kelp and chardonnay broth; and a dry-aged Fraser Valley duck with decadent beet and potato terrine. There are ample wine and cocktail options, and, for non-imbibers or kids, there's classic A&W root beer (remember who one of the owners is?).
Of course, not every meal on your itinerary need be a multi-course fine dining experience. You'll want to grab take-out pizza and wings from Real Things one evening - the struggle will be narrowing down which of their many, many staff-created topping combos (along with what kind of crust or cheese) you want. And be sure to plan to pay a morning visit to Just Baked for a coffee and pastry. All of their treats are made in-house (the apricot chocolate chip cookie is top notch) with the exception of the gluten-free Nanaimo Bar, made by a local specialty baker.
And some will recognize the name of Naramata's newer Neverland Tea Cottage. That's because it's a sibling operation to the Vancouver teahouse, offering unbelievable afternoon tea service with delectable sweet and savoury nibbles (available in versions for vegetarian or kiddo customers, too) and their hot or iced teas in a charming atmosphere. You can also enjoy goodies and tea by the cup onsite or to-go and shop from their selection of loose-leaf teas.
Where (and what) to drink: Wine, cider, beer, or spirits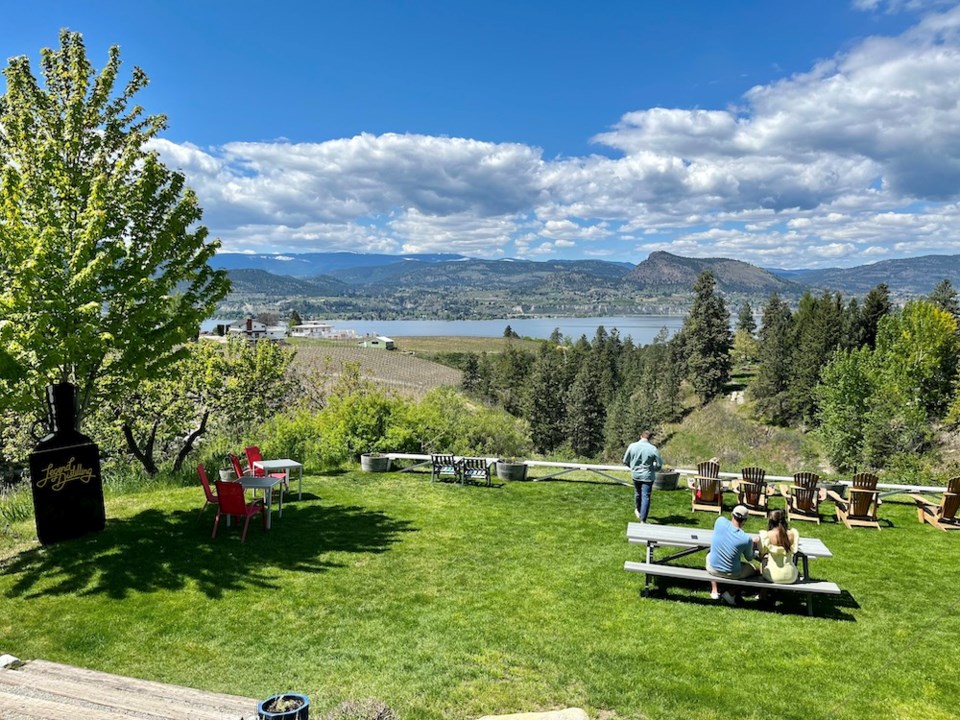 Welcome to wine country and the Naramata Bench. There are about 40 wineries within a 20-minute drive in Naramata, ranging from familiar major players to small boutique operations. The Naramata Bench's most prolific varietals are Pinot Noir, Chardonnay, Merlot, and Pinot Gris. "The vineyards of Naramata Bench boast ideal conditions for full-flavoured white varietals, as well as earlier ripening, elegant reds," describes Wines of British Columbia.
You can venture up into the hills to sip organic sparkling wines and see the farm animals at Bella, or kick back closer to the lake to sip at a spot like JoieFarm (and take some of their canned wines to-go). You'll likely know names like Poplar Grove, Nichol, or Lock & Worth but if you're a wine lover, be sure to set aside time to visit some of the other local operations, like Three Sisters, Tightrope, or Mocojo.
Many Naramata wineries require or strongly suggest reservations for tastings and dining, so be sure to check before you head out, lest you be disappointed.
Not all the libations in the area are made from grapes, mind you. Cider fans will want to check out La Petite Abeille, Creek & Gully, and the Naramata Cider Company while in town. Beer devotees take note of stops in the area on the Pentiction Ale Trail, like Abandoned Rail and Cannery.
Naramata is also home to an incredible distillery called Legend, which set up shop in an old doctor's office (which is why some of their bottles look like old-timey medicine vessels). You can shop from their boutique and have a flight of their spirits, including several gins as well as their amazing coffee liqueur and Naramata-inspired amaro. Out back is a beautiful lawn with tables for you to sit down and enjoy eats from their in-house restaurant, or you can order up an amazing charcuterie spread to take on the go, too.
Thanks to the Naramata Inn, Sandy Beach Lodge, Discover Naramata and their partners for their assistance with facilitating portions of this trip. All opinions and inclusions are those of the author's and were not guided or influenced in any way by the hosts or facilitators.