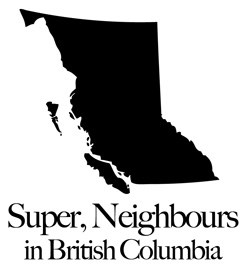 Welcome to the latest series of Super, Neighbours blog posts where we highlight incredible travel destinations in British Columbia!
After coming out publicly as a sportfisherman in my recent Creative Mornings lecture (HERE) I figured it was time to start sharing angling adventures with you more regularly. I brought you on a RIVER DRIFT in Tofino, then to the Pacific Salmon Foundation's 25th Anniversary GALA as well as showing you their accompanying VIDEO, then I had a hankering for getting out onto the ocean and catching salmon and sharing the awesomeness in that.
I contacted Oak Bay Marine Group (a BC company celebrating their 50th anniversary this year) to see if they might be interested in doing a Super, Neighbours series on one of their nearby properties and I was thrilled when they agreed to host us at April Point Resort & Spa on Quadra Island.
PART 1 was all about the adventure of getting there with BC Ferries and a leisurely island drive, PART 2 was about the accommodations. Have a look back on those posts and then join us as we go beachcombing and exploring the property!
There's a certain strain of outdoorsy/adventurous people in BC who enjoy traversing rock cliffs, packing their homes on their backs and travelling days on foot to reach their ultimate scenic destination. We are not those people. I won't speak for my wife but I can say that while I still consider myself an outdoorsman I am downright lazy and will drive right up to the lake/ocean/mountain and hope to only have to walk a few hundred meters to get to my where I'll be laying my head. This isn't to say that I won't spend hours poking around and exploring, I just feel it's always nice to have it right there, you know? If I would have cropped this photo below a little differently you'd be able to see that it was shot about 50 feet from the main lodge and is quite literally a stone's throw from the restaurant and sushi bar where we ate all of our meals.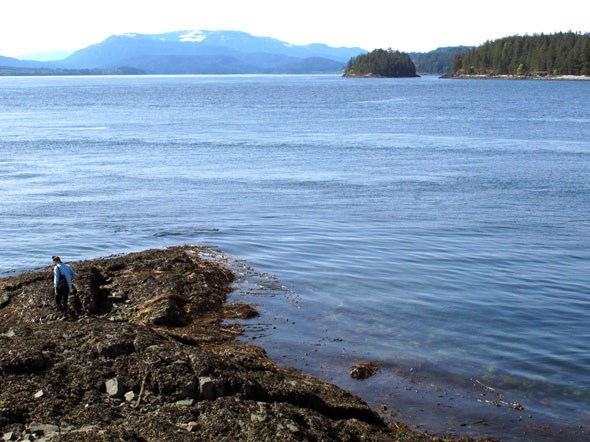 When presented with ocean wildlife like this I often have to resist from telling you that "You'll never see this on Kits Beach!", because it's not fair to compare an (admittedly great) urban beach with one that's relatively untouched and certainly not combed over by humans as thoroughly and regularly. So as a rule, I don't tell you that. But today I'm going to break that rule and say, you'll never see this on Kits Beach! Like times a million. This is a sea urchin shell that I found right in front of the lodge, and there are thousands of live ones to be found just off the shore of April Point's property.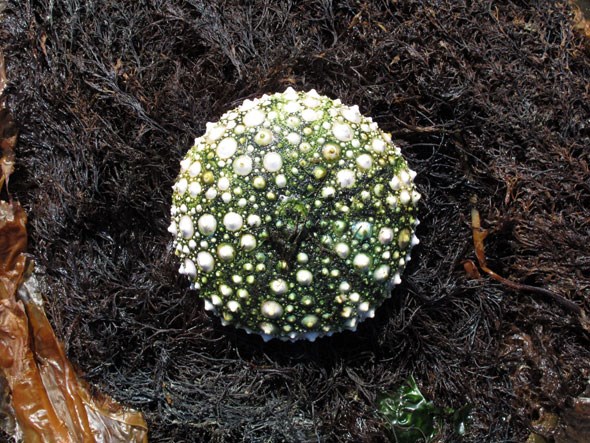 Live ones like these. There's nothing to give them size reference here but the larger ones are about a foot across. There are beds that have much bigger ones as well.
This harbour seal made quite a few appearances with a friend of his throughout our stay.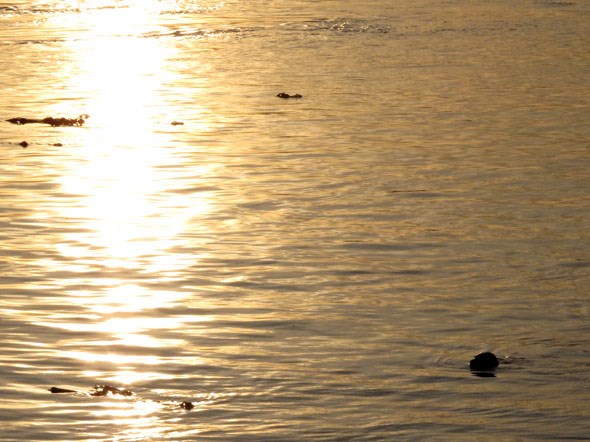 And while we did see a fair bit of him, I shot about 30 photos of him like this one below; seals always prove to be quite elusive to my lens!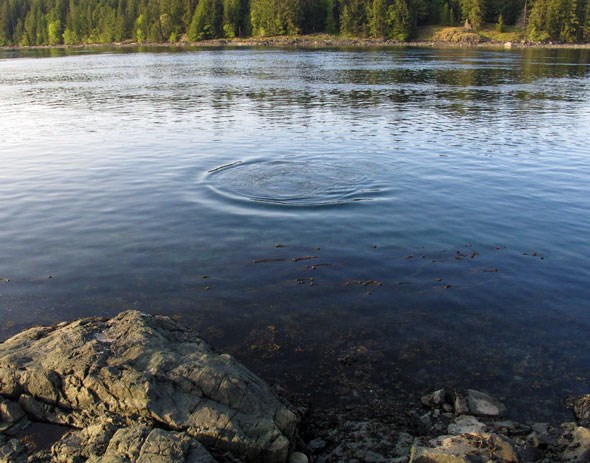 Let's get back to me being a self-professed lazy bastard, shall we? I'm not actually. As proof, April Point has a marina that they operate that's about a kilometre down the road from the resort, and I walked there. Exercise!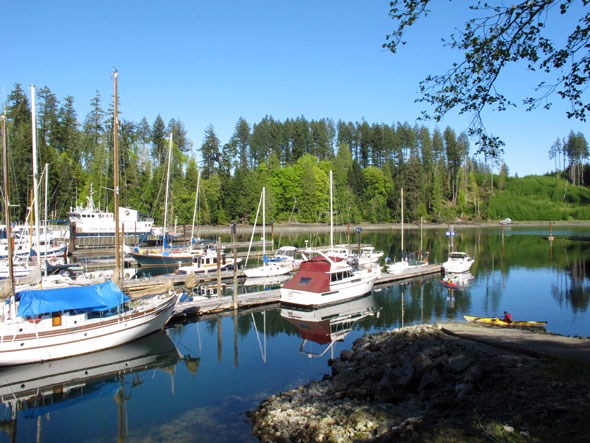 Here's the view from one of the long piers that I took a short walk down at the marina.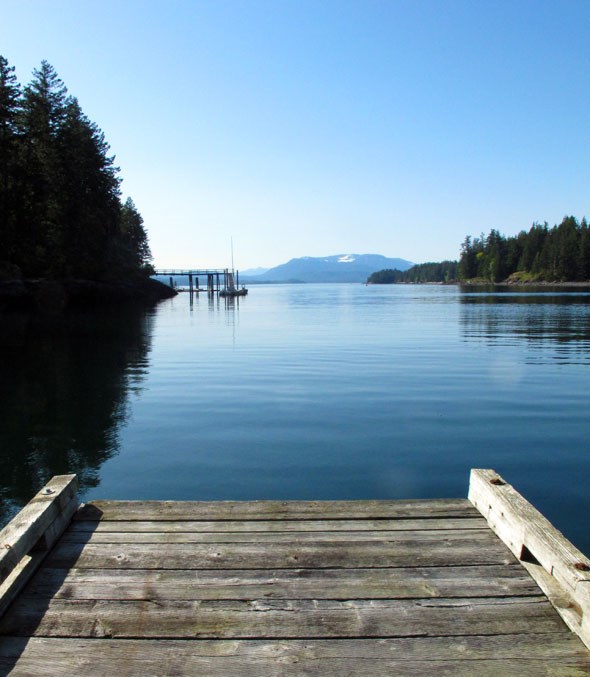 Something to do after you've returned from the marina and have rehydrated and recuperated after that rigorous activity is to grab one of these fishing rods they've got and throw a line in off the pier. I think they're actually meant for kids to use, but don't let that stop you; fishing is for everyone and if you don't keep a rod and reel in your trunk like I do that's not to say you shouldn't try fishing off the dock.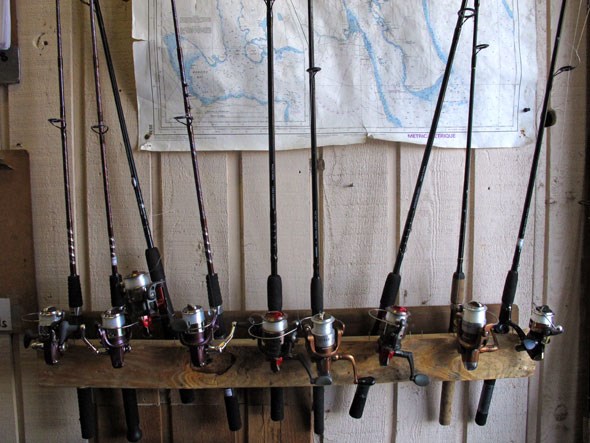 Here I am at sunset, seconds before reeling in the first greenling I've ever caught! We'll bring you on a salmon adventure complete with trophy photo in our last post, so stay tuned.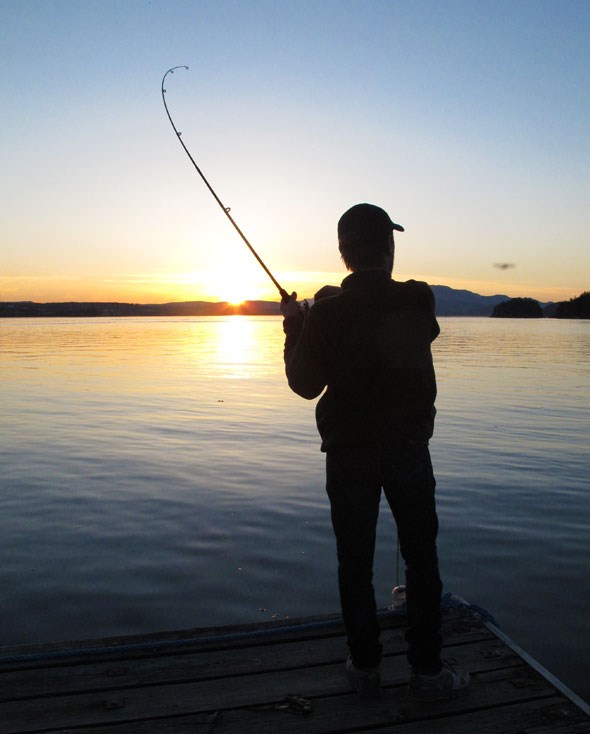 And check back in a couple of days for Part 4 of this series about our trip to April Point Resort & Spa when we share some meals with you.