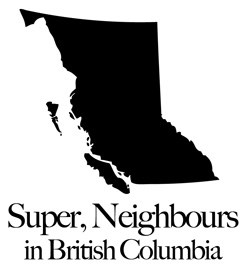 Welcome to the latest series of Super, Neighbours blog posts where we highlight incredible travel destinations in British Columbia!
After coming out publicly as a sportfisherman in my recent Creative Mornings lecture (HERE) I figured it was time to start sharing angling adventures with you more regularly. I brought you on a RIVER DRIFT in Tofino, then to the Pacific Salmon Foundation's 25th Anniversary GALA as well as showing you their accompanying VIDEO, then I had a hankering for getting out onto the ocean and catching salmon and sharing the awesomeness in that.
I contacted Oak Bay Marine Group (a BC company celebrating their 50th anniversary this year) to see if they might be interested in doing a Super, Neighbours series on one of their nearby properties and I was thrilled when they agreed to host us at April Point Resort & Spa on Quadra Island.
PART 1 was all about the adventure of getting there with BC Ferries and a leisurely island drive, PART 2 was about the accommodations, PART 3 was a little beachcombing adventure, PART 4 had me sharing all of the wonderful meals we ate and this final installation on our trip to April Point is all about the trip we took to catch our own food!
Last summer I wrote a few pieces about our trip to Sonora Resort up in Desolation Sound including THIS ONE about the first salmon I ever caught. My wife, Katie, was with me on that trip and while she was happy that I was able to catch my first salmon she was also hoping to get one on the line for the first time in her life, but it just wasn't to be on that trip. The tables turned at April Point though as she landed a 6.7 pound Chinook and I walked away happy for her!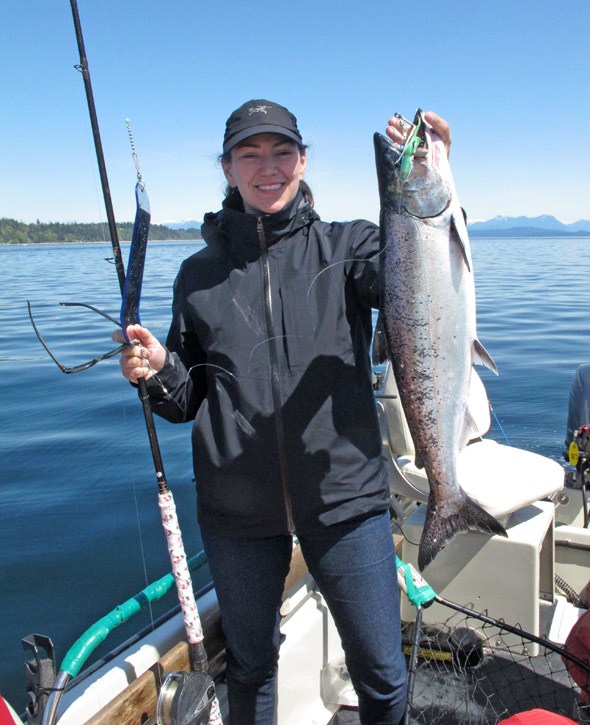 But I'm putting the cart in front of the fish here as a proper introduction to our guide, Ron, is in order! Ron picked us up from the dock, steps from our front door, and whisked us into Discovery Passage on a Boston Whaler.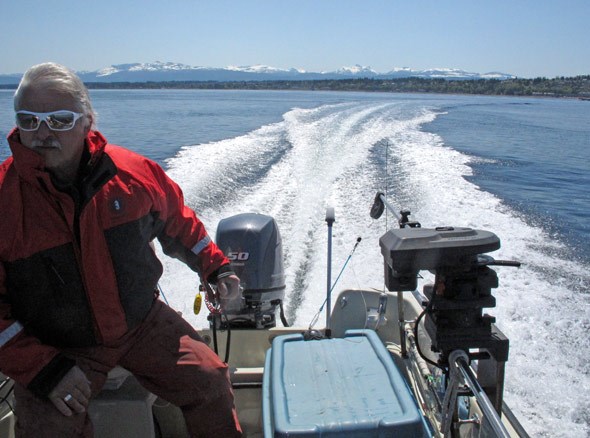 As we were making our way out into the Passage we happened by the April Point Connector that goes back and forth between Quadra Island and Oak Bay Marine Group's property, Painter's Lodge, which is just across the water in Campbell River. If you stay at either resort you have access to the amenities of both! Or if you don't want to drive onto Quadra Island when staying at April Point you can arrange to take the Connector over with your luggage. It's a subject I didn't have the space to really get into in this series but one I be able to take a crack at at a further junction, perhaps if we stay at Painter's next time we'll take you back to April Point for a recap!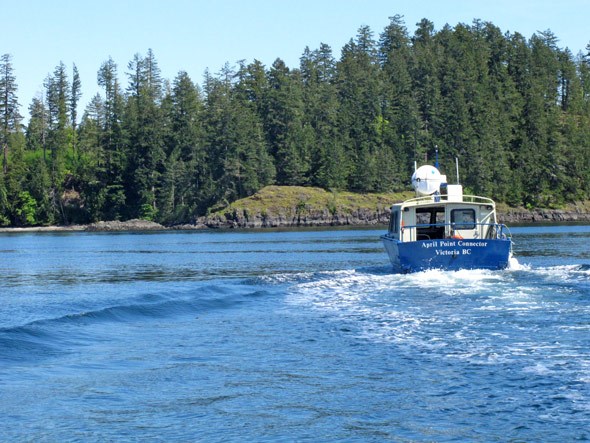 One of the best things about getting a charter as opposed to renting a boat and trying to figure out how to fish a new area is exactly that: you don't have to figure anything out. You don't even have to bait your own hook or manage your line, typically the guide will know what kind of hooks are working, how deep he should set the lines, and exactly where the fish are going to be. Here's what he put on our lines, it's called a "hoochie" and yes I realize that's a pretty hilarious name for a fishing lure.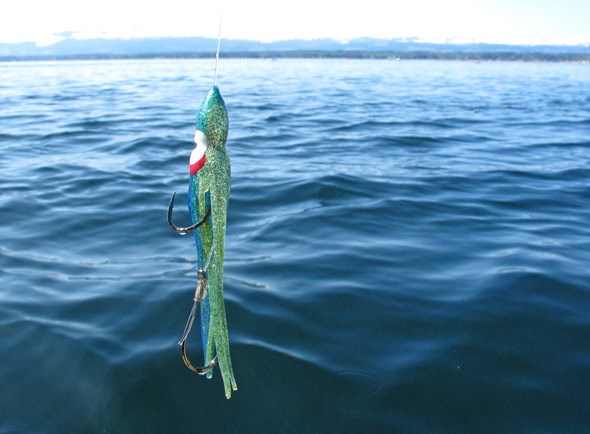 After the lines are let out you basically wait around for something to happen.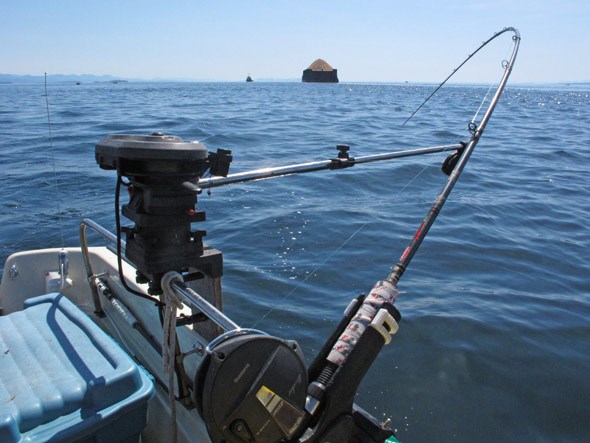 Enjoy the views of Quadra Island.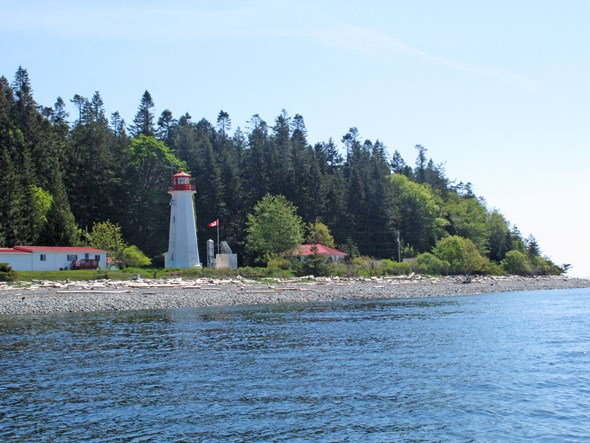 And when Ron tells you to grab the line and set the hook because you've got a fish on, you grab it and do just that! Then you reel it in and once it's at the boat he nets it for you. I don't have a photo of this happening because I was busy shooting a video, which I'll share with you soon.
Then after you've had enough of fishing for the day you head back to the resort. Here's how it looks from the water.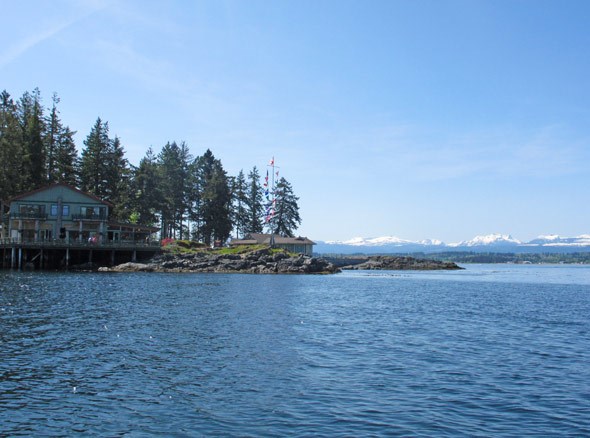 Once back at the dock your guide weighs your fish for you and then cleans it and readies it for you to bring home. Katie's weighed in at 6.7 pounds. Not bad!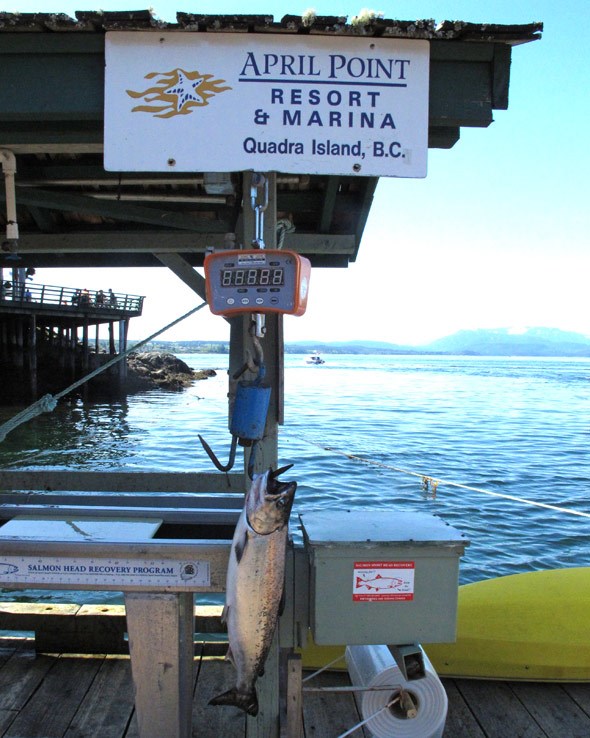 Here's how it looked on the dock. It really was a beautiful fish.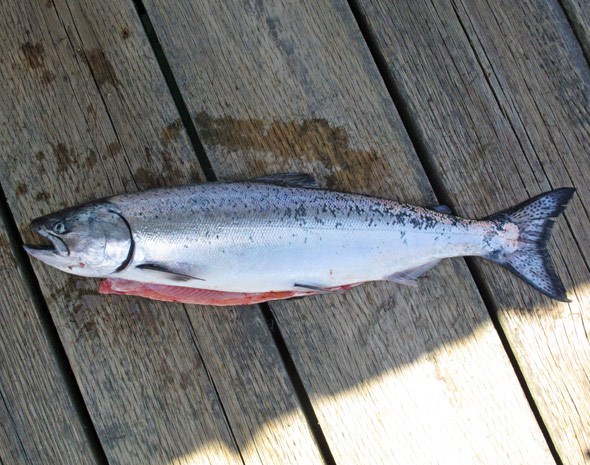 As I mentioned above, I'll be sharing a video of our adventure shortly and in it there's a part where Katie's reeling in and landing her fish. For now I'll leave you with this victory photo!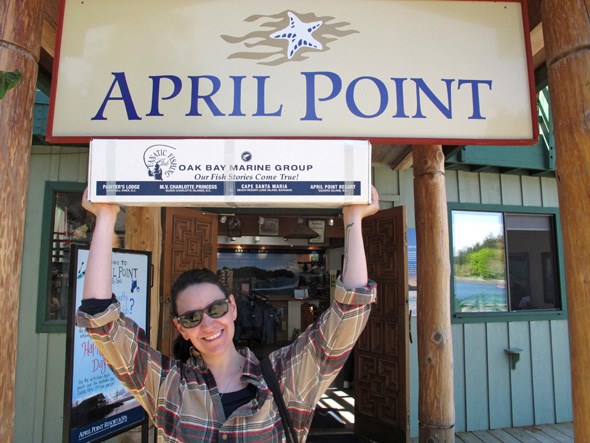 Learn more at AprilPoint.com.