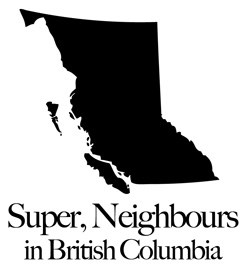 A couple of weeks back my 3 year old son and I traveled up to Whistler and I shared THIS quick post about the first weekend that the mountain was open for skiing this season. When it comes to winter sports I'm nothing more than a casual observer (unless the "sport" is tobogganing or snowman building or shovelling the sidewalk, all which I do poorly) and with a toddler as my sidekick I couldn't even have my arm twisted to strap a snowboard on for the sake of delivering a sportier travel piece. So strap in to leisure, my friends! I'm about to take you to Whistler simply to enjoy what's awesome about being there and staying at the Westin.
But before we go any further I'd like to point out that if you want less of a "tourist from Vancouver" look at Whistler you should check out our sister site, WhisterIsAwesome.com. They've got their finger on the pulse and are not as googly-eyed over all of the Olympic legacy stuff that I'm going to share with you in this piece.
So, my fellow tourists from Vancouver, let's talk Olympic legacy. At the beginning of our trip we found ourselves on the Sea To Sky Highway, which I've traveled many times in the past. Long before the $600 million in improvements were made to it, during those improvements, and now long after them, it's definitely not all in my head that the trip is much less dangerous now and is actually a pleasure to drive; THIS piece from CBC back in April says that in 2010 there were 66% less crashes on the road. Aside from added safety and more lanes in places, the 2010 Winter Olympics also brought these new road signs that raise awareness of the heritage of the land you're traveling on and to.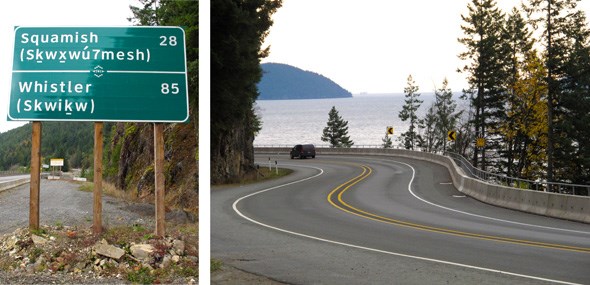 During the drive, one of my favourite places to stop is Porteau Cove. It's a Provincial Marine Park that we've POSTED about a few times in the past and it's been updated with a couple new features recently. The first is a feature now shared by all BC Parks: FREE PARKING!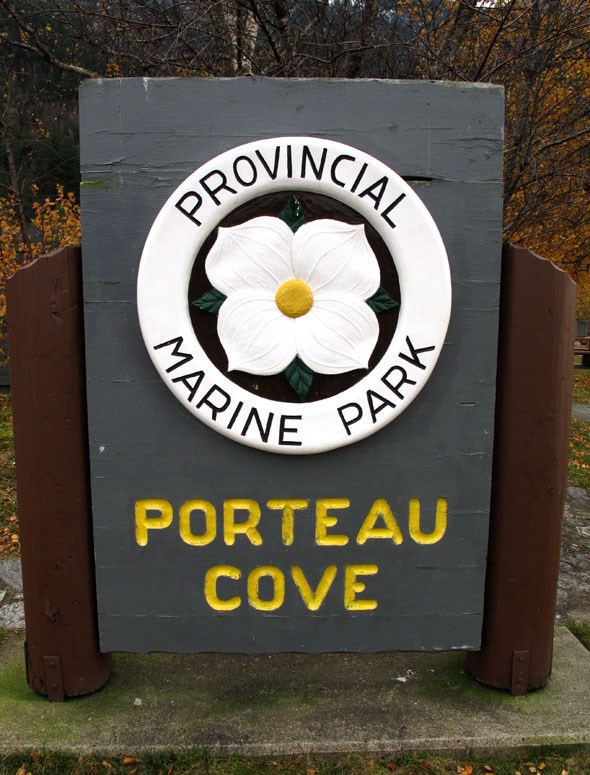 And while Porteau Cove is a great place to stop for a rest on the drive they also have a pretty deep campground if you want to stay overnight (be sure to reserve a space far in advance). Adding to the offerings of accommodations now are these two Olympic Legacy cabins pictured below. They were used during the Games at SFU and BCIT as information kiosks and a showcase of BC Parks, and have been relocated and can be rented out for a couple hundred dollars a night. I'm really hoping to do a Super, Neighbours feature specifically about them in the coming months.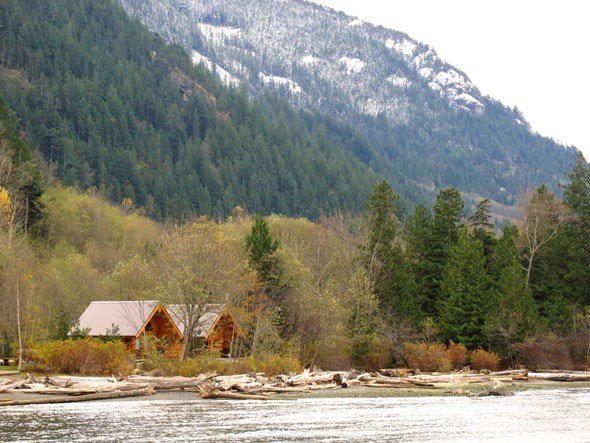 The emergency ferry dock is still at the Cove, and it's still a nice place to sit and stare out at the ocean and the mountains and the Sunshine Coast on the other side of the inlet.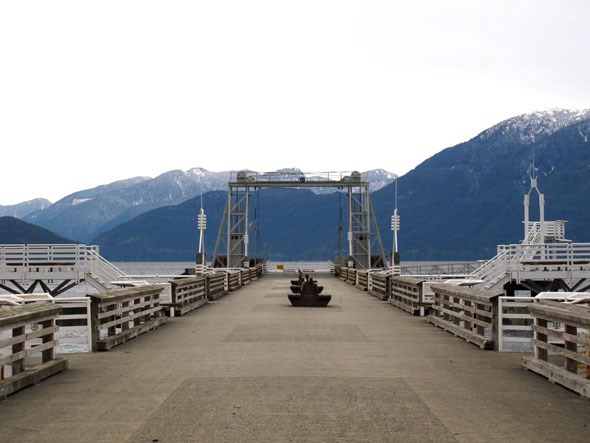 After Porteau Cove you'll drive for a while, you'll pass through Squamish and eventually you'll hit some relatively treacherous snow conditions. You're going to need to have winter tires on your car if you're driving up to Whistler in the winter. Here's a view from the side of the road that I wanted to capture to illustrate the conditions.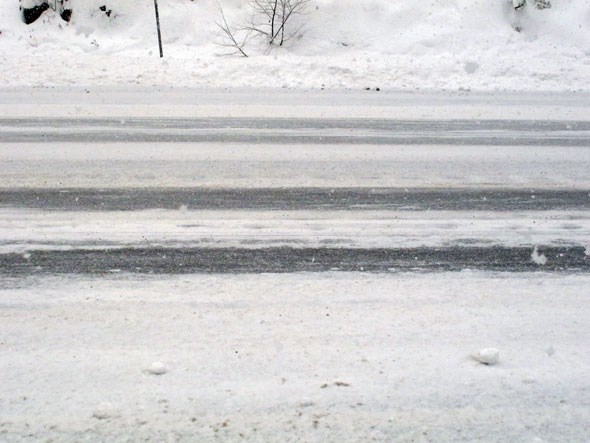 And if you've got crazy winter tires and you're also a little bit crazy you can turn off the Sea to Sky and explore some of the backroads. We didn't, we stopped here because Arlo had to pee.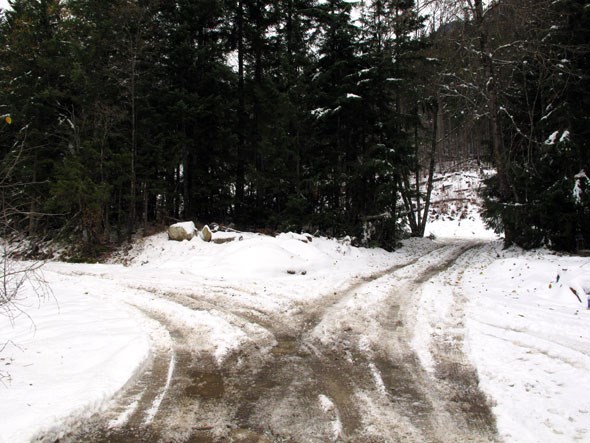 While Arlo was writing his name in the snow I captured this photo of what I think is a Downy Woodpecker.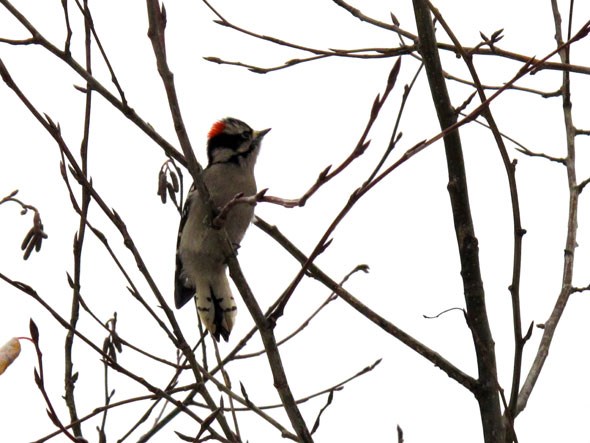 In all it's about a two hour drive and you know you've arrived at the Whistler Village when you see this guy!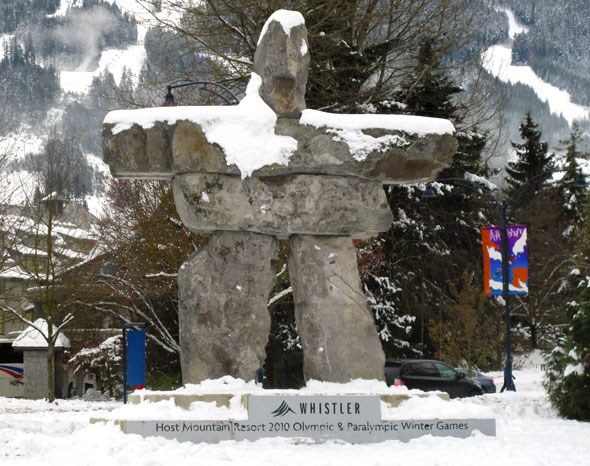 Stay tuned for Part 2 as we check into our room at the Westin and Arlo checks the quality of the beds by giving them the jump test.