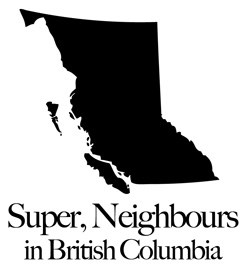 A couple years back in the Georgia Straight's BEST OF awards we took home an editor's pick for "Best Navel Gazing Web Site", and while our non-profit organization that supports our web site (Vancouver Is Awesome, Inc) is focused on celebrating all of the awesome things that make up our city one of those things is it's proximity to other awesome places. In this series of features entitled Super, Neighbours in British Columbia we take you on adventures to other BC locales that we think you should check out.
For this third edition we ventured over to Victoria, the capital city of British Columbia and one of my absolute favourite BC cities to visit for a weekend. While it's not typically known as a winter destination it seriously feels like a wonderland over there. Maybe it was the parade of Christmas boats, or all of the horse drawn carriages (which are there year round), or the ever-present influence of the Queen (which I somehow find incredibly festive), but despite it being a little chilly we had an amazing trip.
In our first Victoria post we took you on this Helijet trip which took off from Vancouver's Heliport near Canada Place and 35 minutes later dropped us off only a couple of blocks from The Inn at Laurel Point, the cozy, modern hotel we stayed at.
It's an independent hotel that's walking distance from downtown Victoria, which is pretty much all of Victoria, one of the most walkable cities in all of Canada. Here's what we saw from our private patio off of our room in the wing which was designed by none other than Vancouver's own late, great, Arthur Erickson. It looks out past their Japanese garden and into Victoria Harbour. What a view!

Inside the rooms are super comfortable and modern, as I said earlier. Had we been in town another day I probably would have finished reading my book on this sweet chaise next to the bed. The book is an advance copy of The Beggar's Garden written by Victoria author, Michael Christie, and I'll tell you more about it in a few weeks. It was actually a fluke that I brought it on the trip, it honestly was not on purpose but it makes for a great tie-in doesn't it? Hmmm.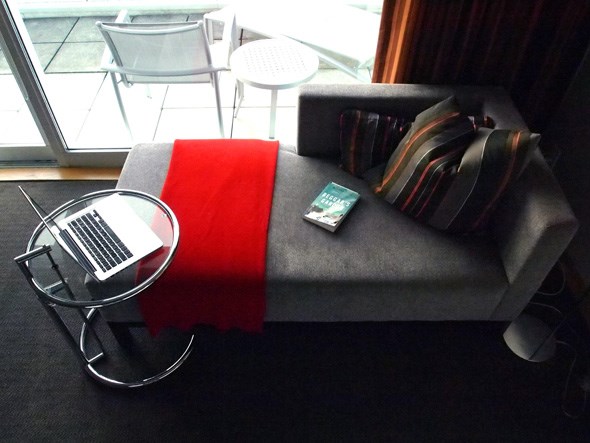 Fine art lines the hallways of the hotel and bleeds into the rooms in the form of paintings and sculpture like this pottery found on our dresser (left) and this blown glass by the bedside (right)...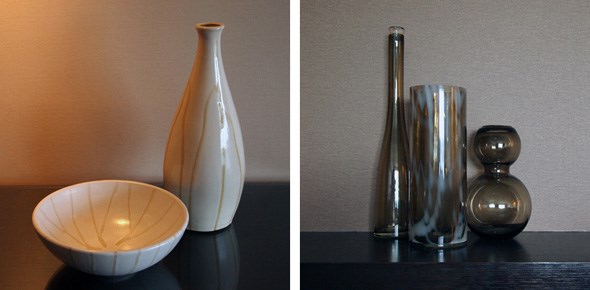 You wouldn't think so by the looks of this place but it's actually quite affordable. Rates start at a little over $100 a night. Have a look at The Inn at Laurel Point's web site for more details and photos of the entire place, including the different rooms available. Stay tuned for the next installment where we'll be eating three square meals in their on-site restaurant, then another one where I meet with one of the most important "people" working at the Inn.