If Mexico is calling your name, a couple of jaw-dropping deals are available out of the Lower Mainland -- but they might involve a pinch of flexibility.
While there are some affordable deals to Mexico that depart out of Vancouver International Airport (YVR), Swoop, WestJet's discount carrier is offering a sale on tickets to a couple of sun-soaked Mexican cities at a steal for folks willing to travel to the Abbotsford International Airport (YXX).
The airline's weekly "Flyday Deals" promotion runs weekly on Friday and includes several great deals for Metro Vancouver travellers. This week, two options are available as part of the sale: Los Cabos and Puerto Vallarta.
Travellers can get 25 per cent off the aforementioned cities on travel between June 1 and June 28 but tickets must be booked by Friday, May 26 at 10:59 p.m.
Enter the promotional code "FLYDAY" during the checkout process to take advantage of the offer.
A one-way ticket from Abbotsford to Los Cabos departing on June 5 regularly costs $109.94 including all taxes and fees and the base fare is $29.79. This means that you can take 25 per cent off the base fare of the flight, which is $7.45. The final price then works out to $102.49.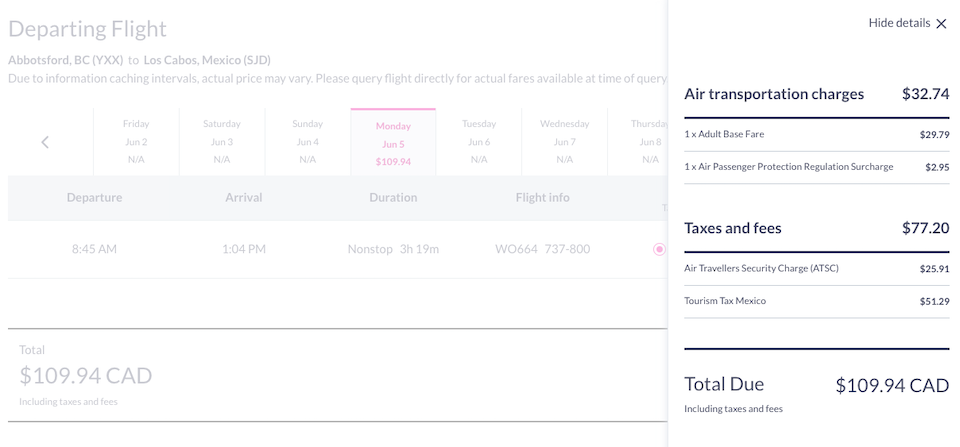 Travellers can enjoy the same discount on flights to Puerto Vallarta, where a one-way ticket departing June 8 regularly costs $119.93 including all taxes and fees. The base fare is $39.78 and 25 per cent of that is $9.96. The total price works out to $109.97.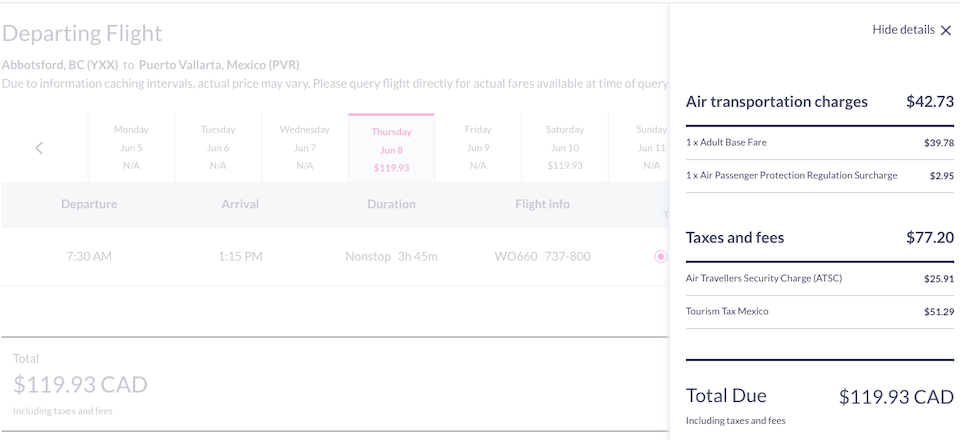 Other low-cost flight options with Swoop
Travellers can also find a couple of ultra-low-cost options across the country with Swoop by taking advantage of Friday's "Swoopon" with flights between Abbotsford and London, Ontario.
Unfortunately, the travel window is small, meaning that the deal only applies to travel between June 2 and 4. That said, you can take a sizeable 40 per cent off the base fare of the flight as part of the promotion, which is quite high on this route.
For example, a flight departing June 4 that regularly costs $59 has a base fare of $45.12. This means that you can take $18.05 off the total cost of the flight, meaning you'll only pay $49.95 for a flight across the country.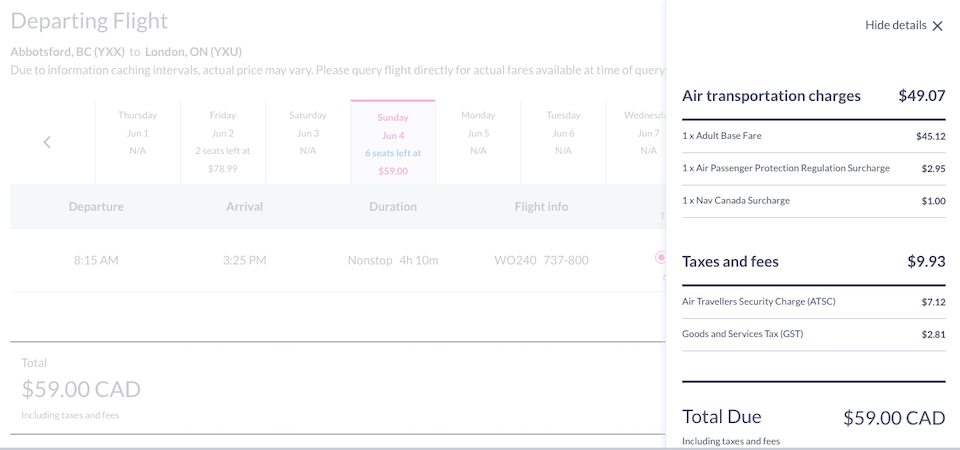 Important considerations with the Mexico travel advisory
The United States is warning travellers to completely avoid travel to six Mexican states due to increasing violent crime and kidnapping; Los Cabos and Puerto Vallarta are not located within any of them.
While the Canadian government hasn't instated a "do not travel" warning, it advises tourists to avoid "all non-essential travel" to 13 areas across the country due to violence and organized crime.
Find out more information about the Mexico travel advisory.