A popular budget Canadian carrier has expanded its reach south of the border by adding five new destinations to its network this summer.
Swoop, WestJet's discount carrier, announced Tuesday (Feb. 15) it will offer service to New York, Chicago, Los Angeles, San Francisco, and Nashville starting in May and June.
The airline will also expand its current seasonal services to San Diego, Palm Springs, Las Vegas, St. Pete-Clearwater, Orlando (Sanford) and Phoenix (Mesa) into the summer season.
"As part of our planned growth in 2022, we're excited to be adding five new popular U.S. destinations to our network," said Bert van der Stege, Head of Commercial & Finance at Swoop. "As Canada's leading ultra-low-cost carrier, we are growing our fleet, expanding our network, and adding service to existing destinations to ensure we are ready to meet Canadian's pent-up demand for travel experiences south of the border."
Unfortunately, residents of the Lower Mainland won't have direct access to any of the new destinations as part of the new expansion. For now, Swoop will offer service from its three main Canadian bases in Toronto, Hamilton, and Edmonton.
But locals looking to take advantage of the low cross-border fares can combine cheap flights from Abbotsford to Edmonton or Toronto with some of the new options. For example, flights from Abbotsford to Toronto start at as little as $49 CAD including taxes and fees, which can be added to the new route from Toronto to New York starting at $99 CAD. As such, a one-way ticket to New York will cost around $148 CAD including all taxes and fees and round-trip tickets will cost under $300 CAD.
Swoop's announcement comes as the carrier reports increased domestic passenger numbers and bookings, which it states are "on par with pre-pandemic demand."
The low-cost carrier also expects to see Canadian COVID-19 travel requirements updated by Mar.1, when current government measures are expected to expire.
Here are the full details of Swoop's expansion.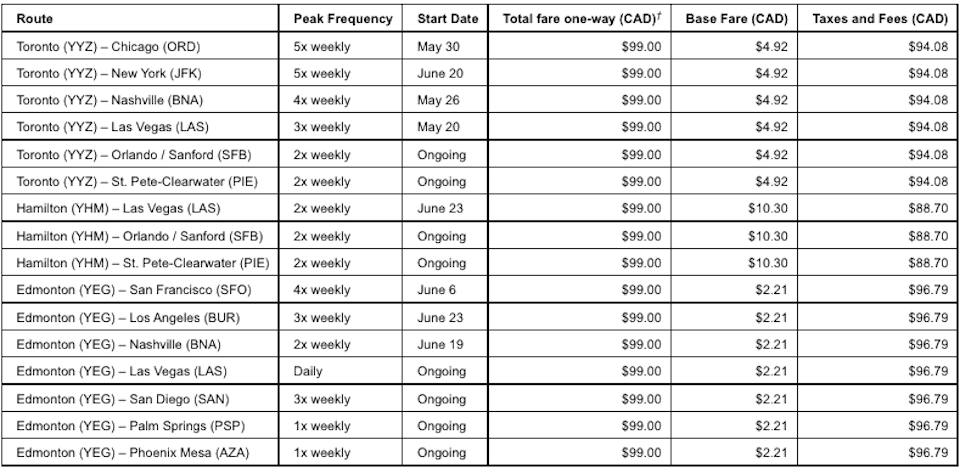 Find out more information with Swoop online.
Metro Vancouver residents: What to know about travel right now
Disclaimer: Vancouver Is Awesome does not support travel during the non-essential travel advisory. Many foreign governments are implementing strict travel restrictions due to the spread of the Omicron variant and international transportation options may be limited. As a result, you may have difficulty returning to Canada.