Canada recently dropped its mandatory pre-entry coronavirus testing requirement on April 1, ushering in a collective sigh of relief for travellers to the Great White North.
But locals looking to visit other countries may not have the luxury of skipping a test — even if they are only flying into or through the United States.
While rapid antigen COVID-19 tests may be picked up for free at Metro Vancouver pharmacies, people hoping to use a test to travel likely won't get the green light from any airline using self-administered tests that aren't supervised.
Depending on what country you visit, the pre-entry testing requirements vary from supervised rapid tests to PCR ones performed by health care professionals in labs. Find out exactly what the requirement is before making a decision.
If you require a supervised test but you are short on time, one of the most convenient options is located at the Vancouver International Airport (YVR). I recently got a rapid antigen test performed at the airport before flying down to San Diego. The process was extremely efficient and I didn't have any problems.
But there are still several things to consider about getting tested at the airport.
Wait times at Vancouver International Airport are increasing
If you are hoping to get your test and pass through security for a flight to the United States all in a two- or even three-hour window, this option is not for you. Right now, YVR is advising passengers to give themselves at least three hours prior to flights travelling outside of the country. But some people say they barely made it through security, even with a generous three-hour time frame. On the other hand, some people have told me that they passed through security in a breeze, particularly if they held a Nexus card. Ultimately, it really depends on what day you visit the airport.
As travel ramps up, however, you will encounter lines and longer waits more frequently. For myself, I allowed a generous amount of time before my flight and for my test. I wound up waiting for a couple of hours and having something to eat (but I'm one of those weird people that enjoys being at the airport).
Time your coronavirus rapid test
Travellers to the United States must show a negative COVID-19 viral test result taken no more than one day before travel, or documentation of having recovered from COVID-19 in the past 90 days before they board their flight.
I was unable to get a test done during hours when travel clinics were open prior to my day of travel because of when the test needed to be conducted. Instead, I could allocate four hours prior to my flight.
CVM Medical Ltd is the official provider of Rapid Antigen Testing at the airport. Rapid testing starts at $79 CAD and is available seven days a week. You should book your test well in advance of travel to ensure you can secure a spot that works with your itinerary.
Testing procedure
The testing protocol is straightforward. You will be asked to present your booking information along with your identification before you are moved to a booth with a health care professional. Once inside, you'll simply be asked to tilt your head back as they perform the nasal swab. If you've never had one before, it can feel quite uncomfortable and strange, although it doesn't exactly hurt. It's not really a feeling you can compare with anything else.
The test only takes about five minutes to complete and then you'll be asked to wait nearby for your result to be emailed to you. While this can take some time, my results were processed in roughly 20 minutes. From there, I simply showed the result on my phone to an Air Canada agent before going through security.
Travel document to use as proof of a negative result
I took a screenshot of my result for easy access when I needed to present the information. It clearly states the type of test at the top, my information, and the times the swab was collected, processed, and reported to me.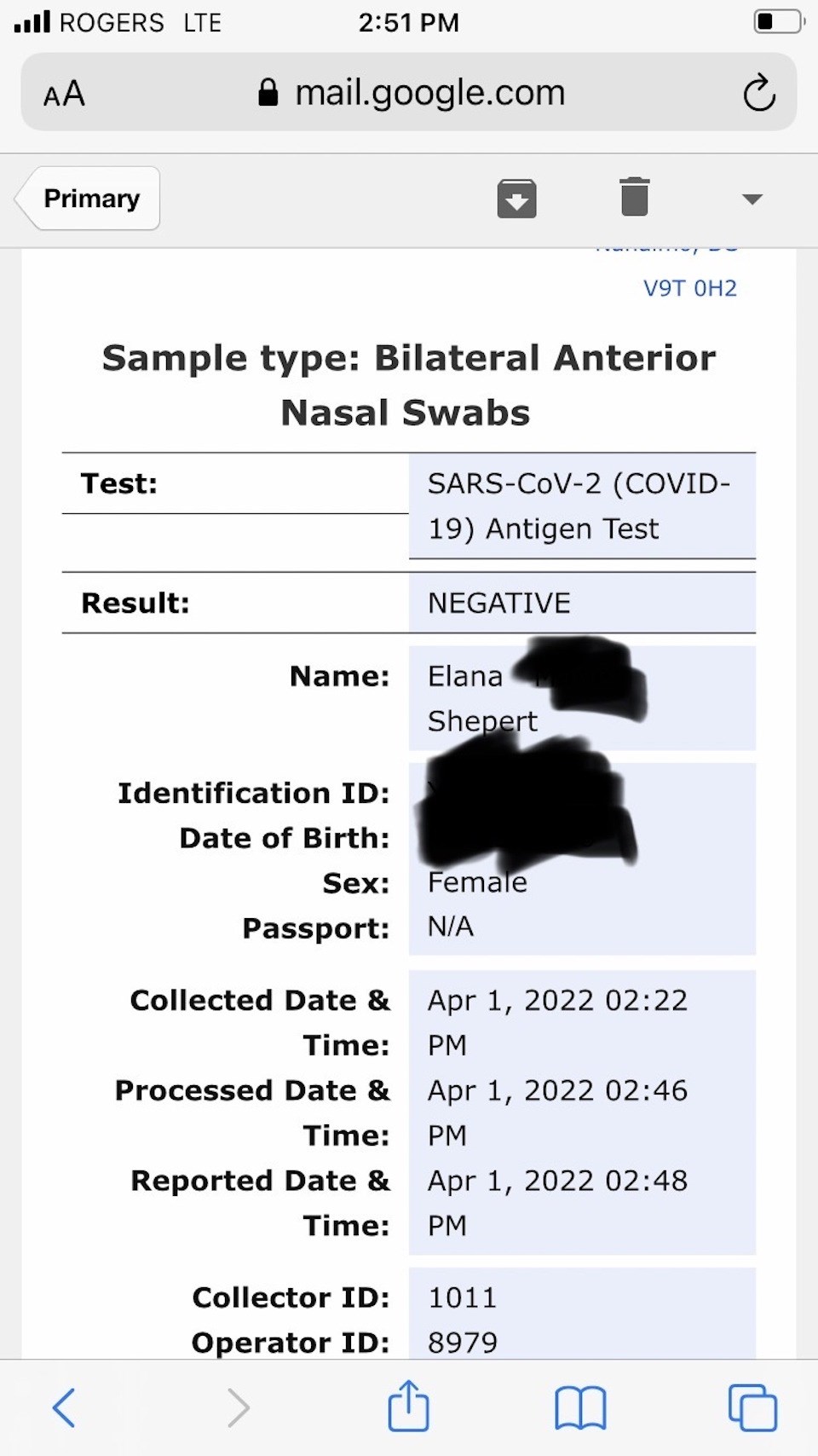 Metro Vancouver residents: What to know about travel right now
Canada dropped its coronavirus testing requirement to enter the country but many health restrictions remain in place following the federal government's announcement.