While it is the most popular sailing out of Vancouver, locals looking to cruise along Alaska's awe-inspiring coast typically have to pay a premium.
But travellers hoping to visit the United States' own "Land of the Midnight Sun" for less have a couple of low-cost options available to book right now.
Depending on when they'd like to travel, Vancouverities can browse numerous options that depart from Canada Place from now through September. Most of these options depart from the city and spend seven nights cruising up and along Alaska's coast or do the reverse route, cruising from Anchorage back down to the city. However, there are a few options that offer a round-trip sailing from Vancouver to Alaska and back.
Norwegian Cruise Line (NCL) is a favourite among cruisers who enjoy a more relaxed atmosphere on board, without sacrificing quality and style. There's no dress code or scheduled dining times but guests can still enjoy elegant dinners in specialty restaurants onboard.
NCL also offers world-class entertainment, luxurious spa facilities, and areas designated for kids and teens.
The cruise line is offering a deal on a cruise that departs from Vancouver on Wednesday, June 7 on its Norwegian Spirit.
Date
Port
Arrive
Depart
Wednesday, June 7
Vancouver, B.C., Canada
5:00 p.m.
Thursday, June 8
At Sea
Friday, June 9
Icy Strait Point, AK
2:00 p.m.
10:00 p.m.
Saturday, June 10
Juneau, AK
7:00 a.m.
8:00 p.m.
Sunday, June 11
Skagway, AK
7:00 a.m.
5:00 p.m.
Monday, June 12
Hubbard Glacier, AK (Cruising)
Tuesday, June 13
Valdez, AK
7:00 a.m.
5:00 p.m.
Wednesday, June 14
Anchorage (Seward), AK
5:00 a.m.
Alternatively, Holland America Line delivers a premium cruise product with attentive service, beautiful accommodations, and upscale dining options for a reasonable price. It is also known for its high-end entertainment, including inspired performances in its B.B. Kings Blues Club.
Fans of traditional cruising will also enjoy its mid-size vessels and dressing up on gala nights when guests sport their finest formal attire.
The cruise line is offering a low-cost, round-trip option to Alaska out of the city that departs on Saturday, June 3 on the five-star Koningsdam.
Date
Port
Arrive
Depart
Saturday, June 3
Vancouver, B.C., Canada
4:00 p.m.
Sunday, June 4
Inside Passage, AK (Cruising)
Monday, June 5
Tracy Arm (Twin Sawyer Glaciers), AK (Cruising)
Service call only. Access to shore limited to shore excursion guests.
Monday, June 5
Juneau, AK
1:00 p.m.
10:00 p.m.
Tuesday, June 6
Skagway, AK
7:00 a.m.
8:00 p.m.
Wednesday, June 7
Glacier Bay National Park & Preserve, AK (Cruising)
Thursday, June 8
Ketchikan, AK
11:00 a.m.
7:00 p.m.
Friday, June 9
Inside Passage, AK (Cruising)
Saturday, June 10
Vancouver, B.C., Canada
7:00 a.m.
What can guests expect when cruising Vancouver-Alaska with Norwegian or Holland America?
NCL is currently offering promotions for guests that book the June 7 departure to Anchorage from Vancouver. This means travellers can enjoy several "perks" for free or for a reduced rate, depending on the option they select.
For example, guests can take advantage of four free offers for its "Free at Sea" promotion for the highest booking class. The offer includes the unlimited open bar perk, which means you can enjoy all the spirits and cocktails, wines, draft beer, juice, and pop for all guests 21 years or older (valued at US$1,400).
The promotion also includes free meals at the specialty dining for guests one and two, as well as a WIFI package (valued at US$130). NCL also includes US$50 per excursion per stateroom.
For folks who haven't cruised, the WIFI packages can work out to be quick a bit of money. If you plan on checking emails, logging into social media, or surfing the web on board, you'll need the WIFI package. If you plan on having drinks, they are not regularly included on almost any regular cruise line and end up being quite expensive.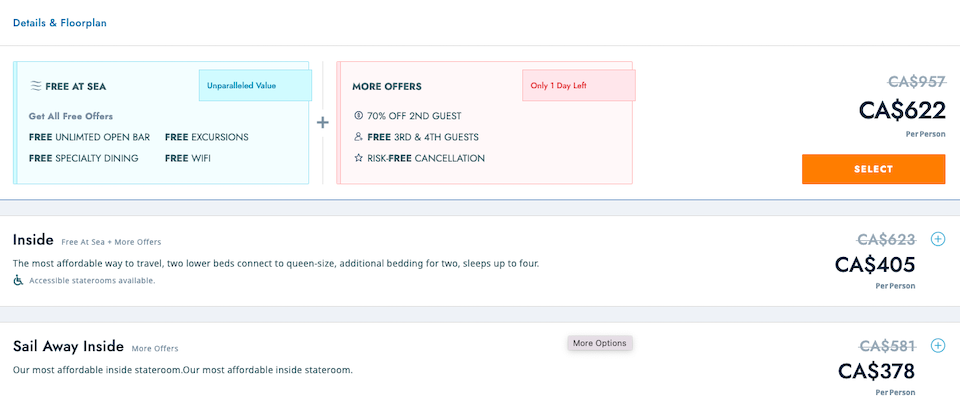 The cheapest option, the "Sail Away Inside," doesn't include the "Free at Sea" promotion but offers an inside cabin for a steal for two people. The total cost of the sailing is $1,422.02 or $711.01 per person.
This total works out to $101.57 per day per person. Not only does that cost include transportation on a beautiful five-star vessel, but it also includes meals, entertainment, snacks, and lodging.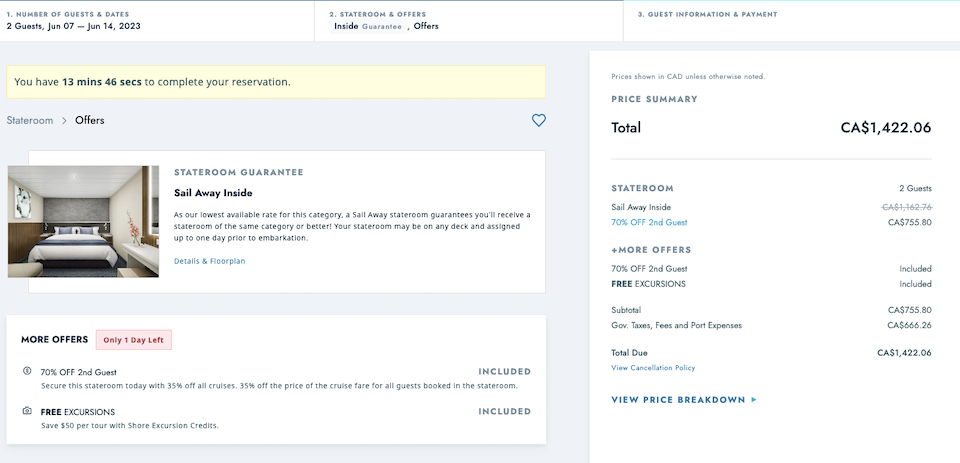 Travellers will have to get a one-way ticket back from Anchorage to Vancouver but it is recommended to spend one night in Alaska after the cruise. If you prefer to fly out the day that the sailing ends, ensure you have adequate time to make it to the airport and allow for extra time to pass through security.
On the day after the cruise, flights start at $356 with one stopover in Seattle with Delta. You can use the Google flights price calendar to find a low-cost date.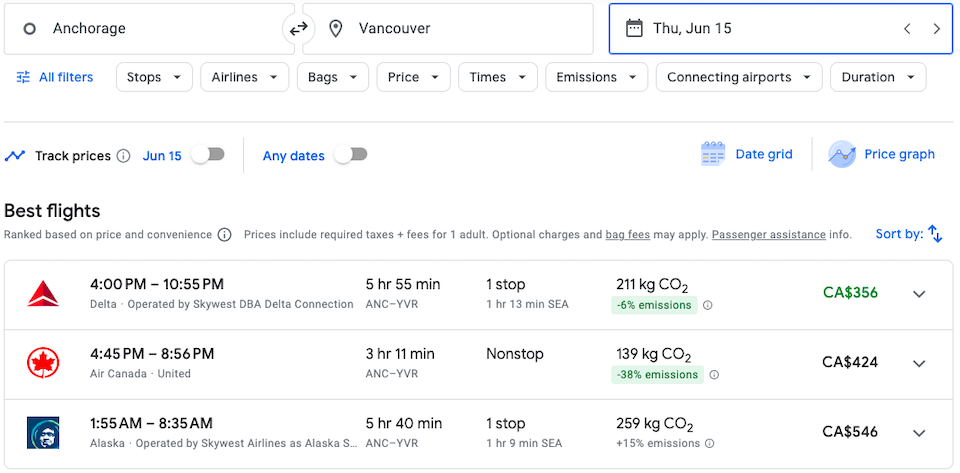 Folks looking to avoid taking a flight who can enjoy the convenience of a round-trip sailing from Vancouver to Alaska with Holland America Line on June 3.
The total cost for an inside cabin for two people is $2,220.40 or $1,110.20 per person. This price works out to a per diem cost of $158.60.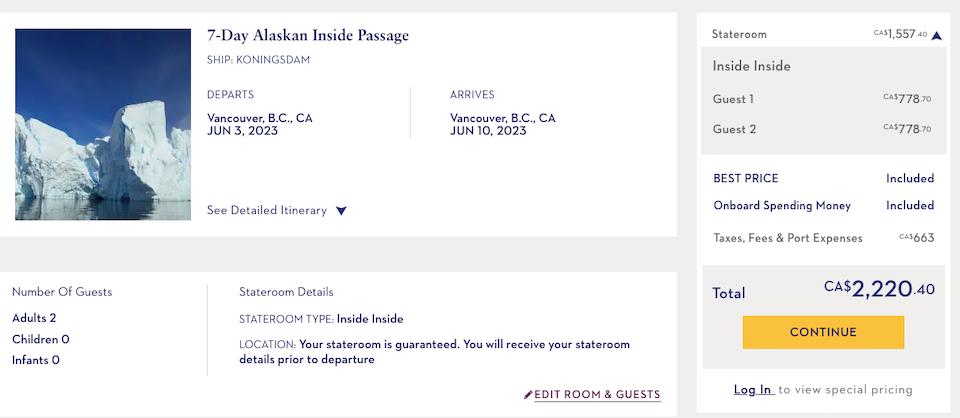 Have a look at what it is like on board a Holland America Line ship.